Here is another link of the video of the Republican National Committee.
Coronavirus continues to dominate the first half hour of the RNC, in a sign of how central the virus is to the November 3 election.
After hearing from nurse Amy Johnson Ford, viewers are treated to a video showcasing Trump's efforts in the health space, before Louisiana surgeon Dr D.E Ghali, who has suffered from the virus, appears on screen.
"As a patient, I've benefited from the expedited therapies made possible by the swift action of this administration. President Trump truly moved mountains to save lives and he deserves credit," he says.
"Thank you President Trump for providing timely access to critical diagnostics and therapeutics during this pandemic. Thank you, Mr. President, for your strong leadership in these challenging times."
Then we cut to Trump in the White House, where he's meeting postal workers, nurses, police officers and small business owners who have also been affected by the virus in some form.
"I want to thank you all very much," Trump says. "You're fantastic people… and we love you all."
Florida Representative Matt Gaetz used some one-liners about the Democrats, saying the auditorium he spoke from was emptier than Biden's "daily schedule." He also mentioned "Biden in the basement", a theme that Republicans have frequently made and which, for the record, has overtones of the Qanon conspiracy theory.
Ronna McDaniel is the Republican National Committee chairwoman. She starts by referencing Eva Longoria, the Desperate Housewives actress who hosted Day One of the Democratic National Convention last week.
"Well, I'm actually a real housewife and a mom from Michigan with two wonderful kids in public school," she says.
"Unlike Joe Biden President Trump didn't choose me because I'm a woman. He chose me because I was the best person for the job."
We've also heard from Matt Gaetz, the Republican Congressman who represents the highly populous state of Florida. The 38-year-old has been known to break ranks with his GOP allies on certain policy issues, such as legalising marijuana.
He was among 34 House members who sent a letter to House Speaker Nancy Pelosi and Minority Leader Kevin McCarthy in April asking that the chamber's leaders ensure legal marijuana businesses access future coronavirus-related stimulus relief.
In another bit of backdrop playing out during the virtual convention, the state of Wisconsin has called out the National Guard to the city of Kenosha following protests – sometimes violent – after police apparently shot an unarmed black man in the back.
29-year-old Jacob Blake was shot by police on Sunday in front of his children, following a domestic dispute he reportedly sought to defuse.
Blake is in serious condition at the hospital.
Video of the event spread quickly and crowds gathered on the scene.
The incident occurred months after the death of black man George Floyd in police custody in neighbouring Minnesota triggered nationwide, even global protests, over structural racism that normalised police shootings of black people.
How the Republicans may try to seize on this news is not clear, and yet Trump has consistently tried to paint the Democrats as the party of chaos.
Now we're hearing from more "ordinary Americans".
Rebecca Friedrichs, a "school choice advocate", was first up. She says she's here "to give voice to America's great teachers- because our voices have been silenced for decades by unions who claim to represent us."
"They do not," she says.
Then comes Tanya Weinreis, a small business owner who was forced to close some of her Mountain Mud Expresso coffee huts when Coronavirus hit.
She believes that Trump is the man to lead the country through its current economic crisis.
"I'm worried we have a generation of Americans who have been told that the American Dream doesn't look good. That's a lie. I know because I live that dream."
Actor Jon Cryer proposes a game based on the likely rhetoric to be used during the convention.
He writes: Tonight's #RNC will be stomach churning and we are going to need an army of lawyers for election night. So instead of a drinking game, my friends and I will be playing this👇"
He then added a link to a Democratic fundraising organisation.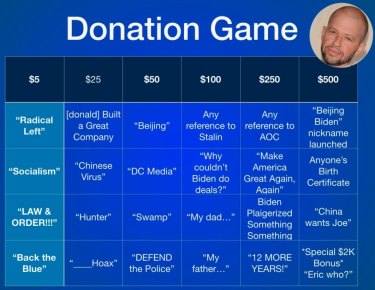 Here is another link of the video of the Republican National Committee.
And we're off….
Trump has had an unofficial production role in this four day extravaganza, so it's not surprising that the Convention kicks off with a flashy video showing images of Americans icons and the president.
It's all part of the key themes to this RNC: America as "a land of promise, opportunity, heroes and greatness."
Archbishop of New York Cardinal Timothy Dolan then appears. He prays, with the statue of Liberty in the backdrop, before the first speaker, Charlie Kirk, takes to the stage.
Kirk is the founder of Turning Point USA, an organisation for young conservatives. Trump he, says, is "the defender of Western Civilisation."
"President Trump was elected to defend the American way of life," he says.
"The American way of life is being dismantled by a group of bitter deceitful vengeful activists who have never built anything in their lives."
And what would a convention be without a theme, right?
The overall theme of this Republican National Convention is "Honoring the Great American Story."
According to campaign officials, it will highlight "the promise and greatness of America" and throw the spotlight on Trump's leadership over the past four years; what his administration has achieved; and some policy ideas for the future.
Each day will also have its own sub-theme.
Monday is "Land of Promise."
Tuesday is "Land of Opportunity."
Wednesday is "Land of Heroes."
Thursday is "Land of Greatness."
Fun times ahead…
For someone who has such a hold on the GOP, it's hardly surprising a third of the convention's speakers this week are people who are related to Trump or work for him.
First Lady Melania Trump will deliver a speech from the Rose Garden on Tuesday, and all of the President's adult children — Donald jnr, Eric, Tiffany and Ivanka — will also have a speaking role.
Here's who you'll get to see today as the four day event kicks off:
–South Carolina Senator Tim Scott
–House Republican Whip Steve Scalise of Louisiana
–Florida Representative Matt Gaetz
–Ohio Representative Jim Jordan
–Former UN Ambassador Nikki Haley
–Republican National Committee Chairwoman Ronna McDaniel
–Georgia State Democrat Vernon Jones
–Campaign aide Kimberly Guilfoyle
–Charlie Kirk, founder and president of Turning Point USA
–Kim Klacik, Maryland candidate for the House of Representatives
–Mark and Patricia McCloskey, a couple from Missouri who went viral after pointing guns at a group of Black Lives Matter protesters
–Sean Parnell, a retired member of the US Army who is running for the 17th Congressional District of Pennsylvania
–Donald Trump jnr, the president's oldest son.