There are two press conferences to choose from at the moment.
You can either watch NSW Premier Gladys Berejiklian's daily coronavirus update, which is due to start at 11am:
Or you can watch the Victorian update with Premier Daniel Andrews, which started at 10.30am and should shortly be opening up to question time:
Depending on your settings, both videos might start to play at once. Make sure you pause or cancel autoplay on the one you do not want to watch.
According to Victoria's health department, Wednesdays are mask-washing day:
I wonder if anyone has ended up with pink resuable face masks after making the classic 'left a red item of clothing in with the whites' mistake.
Victoria Police handed out 156 fines to individuals in the past 24 hours, including 22 issued to people not wearing a face mask without an approved reason, 16 at vehicle checkpoints and 46 for curfew breaches.
Police said they intercepted a woman in Carlton, in Melbourne's inner-north, about 12.45am on Wednesday who was driving without her headlights on. Officers asked why she was out and she told police she was going to a convenience store to buy some donuts.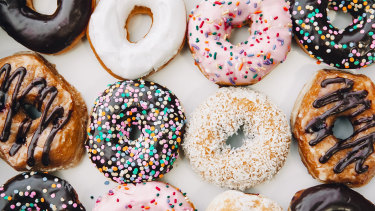 Several other people were also caught outside curfew hours in the metropolitan Melbourne area, telling police they had left home to buy fast food.
In another example, a man was located drunk in the passenger seat of a vehicle at 4am and told police he'd just come from a party at his friend's house.
In the past day, police checked 17,298 at checkpoints and conducted 4474 spot checks on people at homes, businesses and public places across the state.
More than 300,000 of these checks have been done since March.
NSW has recorded six new cases in the latest 24-hour reporting period, five of which were locally acquired without a known source.
Two of the locally acquired cases were a man and woman from western Sydney who are household contacts, Chief Health Officer Kerry Chant told reporters on Wednesday morning. The man was a trainee bus driver who worked one shift while infectious.
"He was wearing a mask at the time, so we do think the risk to any passengers is very low," Dr Chant said. "But we are working with Transport to identify people that may have been on that route and we'll provide that in an update."
Additionally, cases have been detected in a man in his 60s from south-east Sydney, an unrelated woman in her 40s from south-east Sydney, and a woman in her 30s from Sydney. The movements of these cases led to the health alerts for a Pitt Street gym and Broadway Shopping Centre reported last night.
The remaining sixth case was detected in hotel quarantine.
As reported earlier this morning, Riverstone High School, Schofields Public School and Wyndham College in Sydney's north-west have all closed today due to positive cases.
These cases were detected after the 8pm reporting period deadline, Dr Chant said.
Of the group, a Year 12 student is being retested after returning an "equivocal" result yesterday, a teenager has returned a result which is "clearly positive" and the two other children have returned negative tests but are being "retested as a precaution".
The new cases bring NSW's total to 3808 coronavirus cases since the start of the pandemic.
Premier Gladys Berejiklian said it was pleasing to see there were 25,874 tests recorded during the reporting period, although the state was "not out of the woods yet".
"Can I please stress to everybody in NSW that, while we have been doing well the last few weeks, we are by far not out of the woods yet," she said.
"Every day is a battle. Every day we need to be vigilant."
Premier Daniel Andrews says he is confident of reaching an agreement with key crossbenchers to pass a 12-month extension of the state of emergency.
Mr Andrews said his government was in "very productive" conservations with upper house MPs, some of whom have expressed opposition to the plan.
The government has said it would still be required to justify each four-week block for which an emergency declaration was required. The changes would simply allow the government to continue making these declarations for another year if required, according to the government.
Mr Andrews has reiterated the extension has no bearing on the time at which the current lockdown would end. Rather, it would allow the government to continue enforcing rules like mask-wearing and COVID-safe plans for workplaces.
"The key to opening up is not going from stage four to stage zero where there are no rules … [It] covers simple things like risky industries, dangerous industries from a COVID-19 point of view, having compulsory safety plans, things like people who are positive, having to stay at home for that 14 day period," he said.
"I can report to you that we're having very, very productive discussions with the crossbench, and I'm very hopeful that we will get an outcome that allows the Chief Health Officer to continue to do his important work
"[It] will allow The team to continue to make decisions based on science and evidence that are proportionate to the challenges we face, that will underpin us opening up."
(The Victorian coronavirus update is still going and you can watch the video live in the pinned post on this blog.)
The average time it takes to receive COVID-19 test results in Victoria is less than one whole day, according to Premier Daniel Andrews who said the government was working to make testing more convenient in order to arrest falling testing numbers.
Mr Andrews said it was crucial people continued to get tested. He said the low test numbers recorded today (13,000) were, partly, the result of low testing numbers due to the weekend's bad weather.
"All of that activity, all of those rule changes are predicated on us having what the experts believe is a credible and accurate picture of how much virus is out there in the Victorian community," he said.
"There's every chance you get your result back on the same day if not within the 24 hour period.
"It's so important people come forward and get tested, not after you've been symptomatic for two or three days… As soon as you get the onset of symptoms, please come forward.
"We're going to look over these next few days at whether there's anything we can do differently to make the testing experience even easier."
Premier Daniel Andrews has begun his daily media briefing by confirming 149 new cases and 24 additional deaths recorded over the past 24 hours.
Of the deaths, 21 are linked to aged care.
The deaths include: a woman in her 60s, three men in their 70s, three women and seven men in their 80s, and six women and four men in their 90s.
The total number of deaths in the state has increased to 462.
More than 50 cases have been categorised as cases of community transmission with no known source.
There are now 578 Victorians in hospital with COVID-19, 39 fewer than yesterday, and 39 in intensive care, four more than yesterday.
About 13,000 tests were returned over the past 24 hours and the number of active cases among healthcare workers decreased to 434.
A press conference with Victorian Premier Daniel Andrews and Health Minister Jenny Mikakos is due to start shortly.
You can watch it live below:
A person with a Queensland-NSW "border bubble" border pass found more than 1000 kilometres north of the zone has been fined and placed into quarantine.
Queensland Police deputy commissioner Steve Gollschewski said in the past 24 hours, 64 flights had entered Queensland and 2904 passengers processed, of which two were refused entry.
At the state's road border, 3412 vehicles were intercepted and 107 people refused entry. Another 455 people were placed into hotel quarantine.
Mr Gollschewski said only two of the 94 remaining young people who had been released from the Brisbane Youth Detention Centre were yet to be found by authorities for testing, after a cluster of cases linked to the facility.
He said there were low concerns about those two people, and it was expected they would be found within the next day.
A total of 22 notices to appear for breaches and criminal offences have been issued, with 78 on the spot fines for border breaches.
"We've also seen some disappointing behaviour of people, there was an intercept at a road random breath test in Mackay in the last 24-hours with a person with an X-pass that only allows them to go within the border bubble was found in Mackay," he said.
"That person for their trouble has been issued with an on-the-spot fine and also placed into quarantine."
Queensland's Chief Health Officer said she issued two exemptions for Victorian workers to set up the boxing ring in Townsville for the Horn v Tszyu fight tonight after it was made clear there were no other experts available to install the ring.
Dr Young said she was told it was "highly specialised work" and there were no locals available to work on the ring. The two workers are only able to travel between their hotel and the stadium, and cannot attend the fight.
This year's Falls Festival has been cancelled after organisers lost faith that social distancing and border restrictions would be lifted in time to allow the major music event to be a success.
Paul Piticco and Jessica Ducrou, who run both Falls Festival and Splendour in the Grass, optimistically announced in May that the summer music staple would proceed in December and January with an all-Australian line-up, but now say that will not be possible.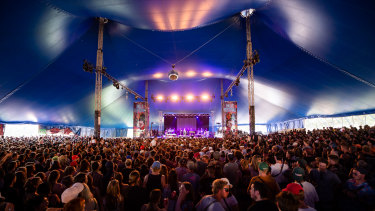 "In May, as the nation seemed to be moving into recovery mode, we were optimistic about forging ahead and supporting our local industry with an all Aussie edition of Falls Festival," the pair said in a statement released on Wednesday morning.
"However, given the current status of things and border restrictions in place, it won't be possible to hold Falls Festival in our regular New Year's time frame."
The multi-day festival usually takes place in Lorne, Marion Bay, Byron Bay and Fremantle from New Year's Eve until early January and has hosted international acts including Childish Gambino, Blondie, Kings of Leon, Vampire Weekend as well as locals including Silverchair, Flume and Darryl Braithwaite.
In the statement, Piticco and Ducrou said they would work with health authorities to get Falls "back in the calendar" with safety as the priority.
"Consider this a raincheck and please know we will be back with more information as it comes to hand."