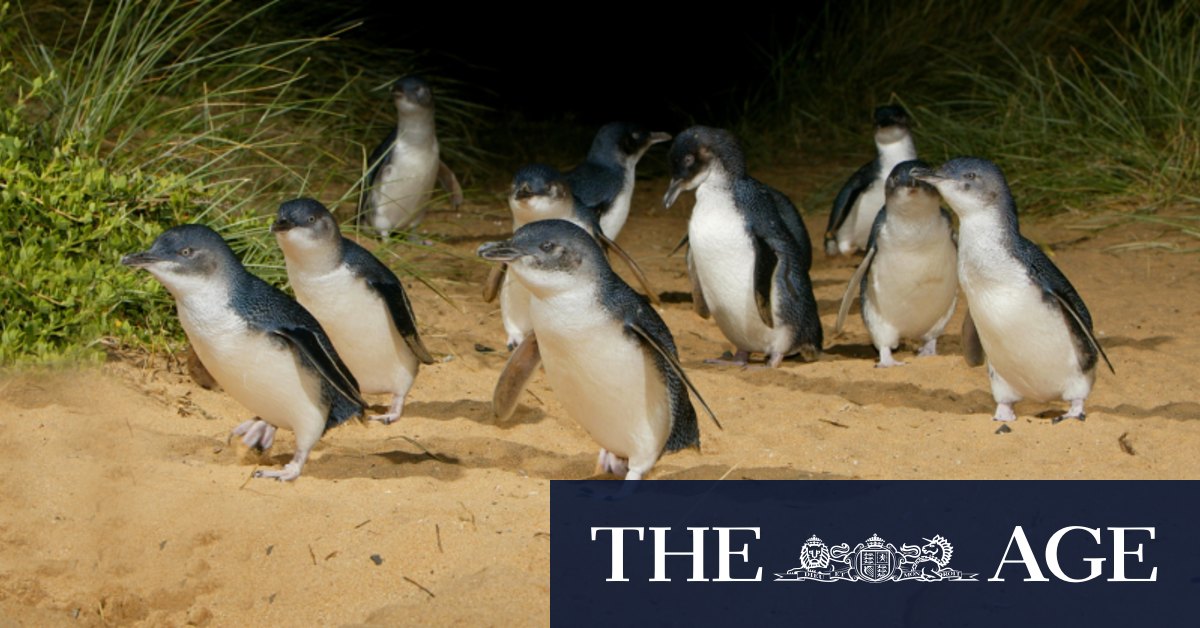 Ms Nichol offered everything from tips on loungeroom waddling to the science behind some of the penguins' activities, as viewers submitted questions for her live via Facebook.
It was the first night Phillip Island Nature Parks live-streamed the parade, and the organisation now has a countdown on its website until the next one, due at 6pm tonight. You can find it here, at the penguins' Facebook page.
The 49-minute broadcast on Facebook and YouTube, showed 900 penguins, in groups, waddling ashore from Bass Strait home to their nests.
The parade was spruiked by Premier Daniel Andrews in one of his daily media briefings this week.
"It's working really well," Catherine Basterfield, the nature park's chief executive, said.
"The wonderful feedback we received from around the world last night has highlighted the love for our little penguins.
"We have seen pictures posted on social media of entire families watching the parade on their computers and devices. It is great to be able to put smiles on faces during these challenging times."
Ms Basterfield said cameras had been set up on the structures where thousands of people would usually sit to watch the parade near the shore – on the boardwalk and a special stand.
"The penguins just don't notice them. The lighting hasn't changed. We've invested in cameras that are wildlife-friendly," she said.
With breeding season around the corner, the number of penguins is set to swell.
Like other tourism operators, the nature park has lost its revenue flow due to the pandemic. Ms Basterfield said the organisation was lucky because it was supported by the state government and did not need to lay off staff.
The live stream is free but donations to the park are welcome. "This initiative is just about bringing a smile to people at a difficult time," she said.
Loading
It's one of a number of Victorian wildlife experiences that people can beam into their homes to help distract them during lockdown.
Penguins feature in a few of them – including Melbourne Zoo's "animals at home" cams (the penguin enclosure is best viewed during feeding times, from 9am to 10.30am and 3pm to 4pm) and feeds from Sea Life Melbourne Aquarium.
The aquarium is streaming vision from its oceanarium, providing a soothing slow-TV feed of marine life, including sharks and rays.
The aquarium has also launched a new online program called Marine Mindfulness, which includes guided meditation sessions focusing on moon jellyfish.
Get our Morning & Evening Edition newsletters
Kate Lahey is a producer for The Age.
Paul is a reporter for The Age.