A live stream of day two of the RNC:
There's an awkward reality when it comes to live blogging a Trump Republican convention in real time.
Things are happening so rapidly, and in order to report the speeches and segments blow-by-blow, we can't do what we otherwise would if we had the benefit of time: fact check every misleading claim as it's made.
This piece by the Washington Post is well worth reading in that context:
In a play for the Evangelical vote, we've just heard from,Cissie Graham Lynch, the daughter of Franklin Graham, one of Mr. Trump's most prominent evangelical supporters.
Lynch also serves as a member of the evangelical advisory board of the president's Faith Advisory Council.
After Lynch, abortion advocate Abby Johnson appears. She used to work at Planned Parenthood, but now runs a pro-life group called And Then There Were None, which employees at abortion clinics to leave them.
She's tells a pretty graphic story about abortion, before highlighting Trump's achievements.
"I now support President Trump because – he has done more for the unborn than any other president," she says.
"During his first month in office he banned federal funds for global health groups that promote abortion. That same year he overturned an Obama Biden rule that allowed government subsidy of abortion.
"He pointed to a record number of pro life judges including two supreme court justices. And importantly, he announced a new rule, protecting the rights of healthcare workers objecting to abortion."
Some striking comments by Cissie Graham Lynch, the granddaughter of the legendary Reverend Billy Graham.
"The radical left's God is government power," she said.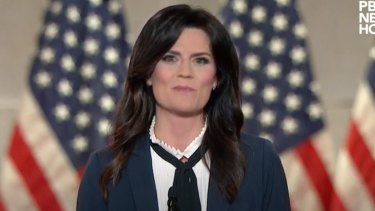 "The Biden-Harris vision of American leaves no room for people of faith."
A quick fact check: Joe Biden is a practising Catholic.
The first night of the Republican National Convention averaged 15.9 million viewers on Monday, a sharp drop of 28 per cent from 2016.
The audience figure from Nielsen was also below the opening night of last week's Democratic National Convention which averaged 18.7 million viewers over the three major English language broadcast networks and three leading cable news channels. The audience for the Democrats on the first night of their convention was also down about 28 per cent from 2016.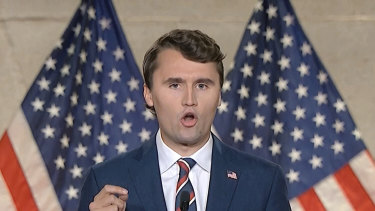 With additional channels added, the final total was 19.7 million for the Democrats on August 17. A total for coverage of the Republicans' proceedings on Monday will be issued later today.
Fox News was the most watched channel for coverage between 10 and 11pm New York time, with an average of 7.1 million viewers, followed by CNN (2 million), ABC (1.97 million), NBC (1.7 million), MSNBC (1.6 million) and CBS (1.5 million).
Los Angeles Times
A Republican congressional nominee from Georgia who supports the QAnon conspiracy theory and was congratulated by President Donald Trump on her primary victory has been invited to the Republican National Convention.
Marjorie Taylor Greene posted a photo of the invitation to her Twitter account on Tuesday. She wrote that she was "honoured and thrilled to be invited to attend President Trump's acceptance speech Thursday evening at the White House."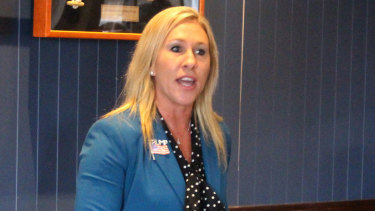 A person familiar with Greene's invitation says it is legitimate. The person was not authorised to speak publicly on the matter and spoke to The Associated Press on condition of anonymity.
Trump praised Greene as a "future Republican Star" after she won her primary earlier this month. He has courted the support of QAnon believers, saying, "I heard that these are people that love our country."
Other Republicans, including Vice President Mike Pence and Republican House leader Kevin McCarthy, have rejected the conspiracy theory, which centres on an alleged anonymous, high-ranking government official known as "Q" who shares information about an anti-Trump "deep state" often tied to satanism and child sex trafficking.
AP
Last night we heard from plenty of non-politicians and ordinary Americans, who shared their stories about Trump.
Today, we're hearing from a few more. There's Jason Joyce, a lobsterman in Maine who spoke about Trump's trade and fishery policies.
There's also Cris Peterson, the chief financial officer of a dairy farm in Minnesota, who credits Trump for bringing back her industry.
And there's also John Peterson, the owner of Schuette Metals in Rothschild, Wisconsin. He talks about how he purchased his uncle's business almost 38 years ago, which now employs 165 people today.
Trump is a businessman, says Peterson. As such, "he knew what it was like to build a company, and create jobs."
"One of the first things he did was to cut red tape and put an end to draconian type banking regulations," he says.
"He also cut taxes on small businesses, allowing us to be more competitive both domestically and internationally. In fact, we increase revenues by 25% for two years in a row by getting rid of the job killing NAFTA, and negotiating the US Mexican Canada trade agreement.
"President Trump ensured a more competitive playing field for American companies."
The Republican senator from Kentucky is son of the former congressman Ron Paul, who represented a libertarian wing of the Republican Party. To a degree, Rand follows a similar path. An ophthalmologist by training, Rand Paul is a sceptic of US military power and government debt.
Like many Republicans who opposed Donald Trump in 2015, only to come around to him and speak on his behalf in 2020, Rand Paul is following a similar path.
Here is a video of the duo tangling in 2015.
Here is Rand Paul speaking on behalf of Donald Trump, and his desire to prevent so-called "endless wars".
"I fear Biden will choose war again," says Paul.
President Donald Trump is now in the White House doing something unprecedented: granting the pardon of Nevada man, Jon Ponder, a convicted bank robber.
Ponder has turned his life around: he now leads a program in Las Vegas that helps former prisoners reenter society, called Hope for Prisoners.
As Trump signs the pardon papers, Ponder says: "I can't tell you how grateful I am to have the opportunity to speak to you today.
"Not so long ago, my life was running from the police, fearing the police and avoiding the police, not because of anything that police had done to me personally, but due to the animosity I had allowed to grow inside of me making me believe that they were my enemy.
"But today, praise God, I am filled with hope. A proud American citizen who has been given a second chance."
Unlike some other presidential pardons, this move is likely to go down well with the public, despite the political setting in which it took place.
And we're off…..
Like last night, the RNC begins with a slick video, showcasing inspirational images of Trump's America as a "bright shining light, an example for all to see."
It fits tonight's theme, which is America "A Land of Opportunity."
Pastor Noram Urrabazo from the International Church of Las Vegas begins with a prayer, including a prayer for Jacob Blake, the 29-year-old black man who was shot from behind seven times by a police officer in Kenosha, Wisconsin.
After this, we hear from Myron Lizer, the vice president of Navajo Nation, who is talking about how native Americans were never invited into the American dream: "that is, until President Trump took office."
"President Trump delivered the largest financial funding package ever to Indian country," he says.
"Whenever we meet with President Trump, he has always made it a priority to repair their relationship with our federal family."