Both the ANZ and NAB believe the recession is being most felt in Victoria.
Loading
ANZ believes the nation's second largest state economy will contract by 5 per cent, or by more than $22 billion, this year after a flat 2019-20. The NAB is more bearish, tipping a 9.2 per cent contraction this year which would equate to a $41 billion hit.
Such a large fall in activity would result in the Victorian economy retreating to where it was in early 2016.
The largest annual contraction by a state or territory economy, as measured by the Australian Bureau of Statistics, occurred in 1991-92 when the NT economy shrank by 3.6 per cent during that year's recession.
NAB senior economist Tony Kelly said it appeared the broader economy was maintaining its recovery momentum until late July when the stage four restrictions came into force in Victoria.
He said Victorian output could fall by 15 per cent in the September quarter alone as the state endured its six week lockdown.
"Nationally that would take around 3 per cent off September quarter GDP," he said.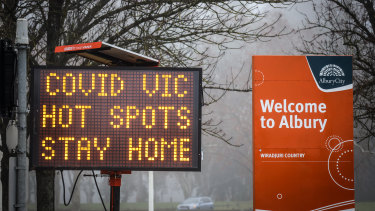 ANZ senior economist Cherelle Murphy said no state or territory would be immune from the fallout from Victoria's lockdown.
"The confidence hit from Victoria's second lockdown and the international border closure is likely to be a negative for the Sydney housing market for a while," she said.
Australian Bureau of Statistics data on Wednesday showed the impact of the recession on the housing sector, with residential construction tumbling by 5.5 per cent in the June quarter.
It was the seventh decline in the past eight quarters with activity down 12.1 per cent over the past year, the biggest annual drop in 19 years. New housing construction in NSW alone has fallen to where it was in March 2014.
In a new report on global macroeconomic performance, Moody's downgraded its expectations for Australia, noting "we expect third quarter activity … to remain depressed because of new lockdown measures in Victoria".
After saying in June it expected the Australian economy to contract by 4.9 per cent this year, it now believes it will be closer to 5.3 per cent.
The larger contraction, however, is expected to be offset by a larger jump in activity next year. In June, Moody's tipped the Australian economy to grow by 3.7 per cent in 2021 but it is now expecting a 4.3 per cent lift.
The jobs market is still tipped to be sluggish. Unemployment is expected to average 8.5 per cent this year after averaging 5.2 per cent in 2019. Through 2021, it is still expected to be around 7 per cent.
Moody's also downgraded expectations for Japan, Italy, South Korea, Indonesia and Argentina.
Get our Morning & Evening Edition newsletters
Shane is a senior economics correspondent for The Age and The Sydney Morning Herald.