Victorian Premier Daniel Andrews is due to hold his daily press conference at 11am, which you can watch live, below.
If you prefer, you can continue watching Victoria's hotel quarantine inquiry, where public servants are giving evidence today:
NSW Health is contacting all known attendees of the Hunters Hill Bowling Club indoor dining room on 23 August from 12pm to 2pm to advise them to immediately get tested and self-isolate for 14 days even if the test is negative.
People who attended other areas of the club are considered casual contacts and must monitor for symptoms and get tested if any develop.
Cases reported today also attended a number of other venues in Sydney. Anyone who visited the following locations during these times must also monitor for symptoms and get tested if any develop:
Four Pines Manly Brew Bar on The Esplanade on August 23 from 3.30pm to 5pm
The Magpies restaurant, Waitara on August 24 from 11.30am to 1.15pm
Destro's Pharmacy at 197-201 Victoria Road Drummoyne on August 22 from 11.20am to 11.40am
Fitness First, Bond Street in Sydney CBD on August 20 and 21 in the afternoon
Fitness First Balgowlah on August 23 from 9am to 12noon
NSW Health is calling all close contacts at the gyms to direct them to self-isolate and get tested.
Premier Daniel Andrews has reminded victims of family violence they are able to leave home and will not be penalised for breaching stay-at-home orders.
The state government will establish Orange Door Network family violence hubs, a key recommendation of the royal commission into family violence, in four new parts of the state.
The locations will be announced at a later date.
"I just wanted to make the point that despite … the stage four lockdown in metropolitan Melbourne … it is always appropriate that if you felt that you needed to leave home for your safety, [you can]," Mr Andrews said.
"If there was a family violence issue, no matter how that manifests in your home, then of course you are able [to leave].
"You're not going to get into any trouble for going and getting the care that you need."
If you or anyone you know needs support, call the 1800RESPECT national hotline on 1800 737 732.
Premier Daniel Andrews says he hopes to be able to lay out a roadmap for easing restrictions in Victoria soon, saying case numbers are set to decrease into single digits imminently.
Mr Andrews said Victorians can be hopeful that focus will soon shift to the mammoth tasks of rebooting the state's economy.
"I think every Victorian can be positive about the fact that these numbers are coming down and the strategies [are] working and there will come a time hopefully soon we're able to see those numbers in double digits," he said.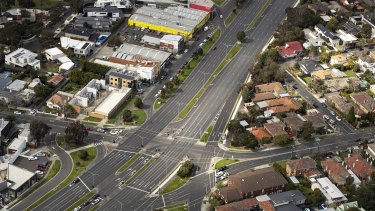 "We quite soon hope to be able to give people a roadmap, a clear plan about what coming out of stage four looks like, what opening up looks like, what finding COVID-normal looks like. I appreciate and understand how very deeply challenging this is.
"And we can have, with greater confidence, a really clear discussion about what the back end of September looks like, what October, November, December, looks like pushing into 2021.
"There will be a singular focus on jobs."
Premier Daniel Andrews began his daily media briefing by confirming Victoria has recorded 113 new cases and 23 deaths over the past 24 hours.
The figures represent the lowest daily case tally since July 5, when the state recorded 74 cases.
Of the deaths, 22 are linked to aged care. The deaths include a man in his 60s, a woman and four men in their 70s, six women and three men in their 80s, and five women and three men in their 90s. Their deaths take the state's death toll to 483.
About 35 cases have been categorised as mystery cases of community transmission with no known source.
There are now 532 Victorians in hospital with COVID-19, 55 fewer than yesterday, and 29 in intensive care, 10 fewer than yesterday.
There are 1412 active cases in aged care homes, a reduction of about 70.
"In general terms, we have seen some stability come to aged care settings. That is a good thing but it's by no means over," Mr Andrews said.
The number of active cases among healthcare workers has also decreased, to 391.
"We send our best wishes to all of those staff who are unwell," Mr Andrews said.
"It's a powerful reminder to every single Victorian that by playing our part by doing what we need to do, following the rules, coming forward and getting tested as soon as we get even the mildest of symptoms we're not just protecting our family … we're protecting those heroes, the last line of defence."
The number of tests conducted over the past day will be made available later today.
Within 24 hours, the key decision-makers for Victoria's hotel quarantine had changed, an inquiry has heard.
Claire Febey from the Department of Jobs, Precincts and Regions has told the hotel quarantine inquiry that she was initially told she would be in charge of establishing the program and her department would be the lead agency.
That decision arose from a national cabinet meeting on March 27, Ms Febey said she was told by her department's secretary Simon Phemister.
But by March 28, she said state controller of health Jason Helps told her that Department of Health and Human Services had taken over as lead agency and was accountable for the program.
Ms Febey said her department remained in charge of contracting private security to work in the hotels, but was no longer responsible for making decisions about how the program would be run and which hotels would be used.
The provision of food to quarantined guests was the role of her department, she said, as was identifying which hotels would have the right mix of rooms.
The allocation of flights to hotels and which hotels "to activate" was the responsibility of the Department of Health and Human Services, she said.
The program was established within 48 hours, with the first returned travellers quarantined arriving on March 29.
Our apologies, we have had some technical issues with the live stream of Daniel Andrews' press conference.
If you refresh your page you should be able to see a new live stream.
NSW has recorded nine new COVID-19 cases in the 24 hours to 8pm on Wednesday.
All the new cases were locally acquired – five linked to a cluster in Sydney's CBD and four linked to previously reported cases.
Three newly diagnosed COVID-19 cases attended the Sydney Tattersalls gym, bringing the total number in the Sydney CBD to eight.
Anyone who attended the gym between 8am and 2pm on 19, 21 or 23 August is considered a close contact and must immediately get tested, self-isolate at home for 14 days, and get tested again if symptoms develop.
Other members of the club who were at the venue during those dates should get tested if they develop symptoms.
There were 30,117 tests carried out over the 24-hour period.
Victoria Police wanted private security contractors to be the "first line of security", the public servant who was initially put in charge of hotel quarantine has told an inquiry.
Claire Febey, an executive director within the Department of Jobs, Precincts and Regions, is giving evidence to Victoria's hotel inquiry about the first 48 hours in which the hotel quarantine program was established.
After initially being told she would be in charge of setting up the program on March 27, it became clear there was going to be a meeting involving multiple agencies as the day went on.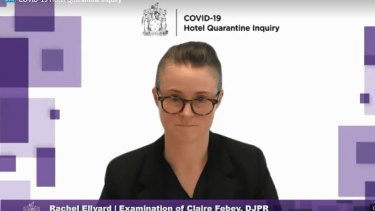 Ms Febey said it was in that March 27 meeting that she first became aware of Victoria Police's view about what their role should be.
Emergency Management Commissioner Andrew Crisp and Victoria Police Commander Mick Grainger were both at the meeting, she said.
"Was that the point, as you describe in your statement … it was Victoria Police's preference that private security be the first line of security?" counsel assisting the inquiry Rachel Ellyard asked.
"That's right," Ms Febey replied.
She said Mr Crisp asked her who would be contracting security and she said it was up to her to take that up.
Ms Febey said Victoria Police saw its role as being there for the entry and exit of returned travellers to and from hotel quarantine and then to respond to incidents.
She said the Department of Health and Human Services' advice was that security should act under the instruction of authorised officers from its department and oversight from Victoria Police.
Ms Febey told the inquiry there was not 24/7 support available from police and she pressed for that assurance to be given.
By the time she changed roles on April 12, she had not "achieved the outcome you thought to be preferable with regards to police response at hotels," the inquiry heard.
Ms Febey said she didn't see the Department of Jobs, Precincts and Regions as the ultimate decision-maker and that the management of detention matters was the responsibility of Victoria Police.
Although Ms Febey was told the department would be in charge of quarantine on March 27, by the next day, there was uncertainty about who was in charge.
Ms Febey asked Mr Crisp to instruct everyone involved that DHHS was leading the program.
"We'd felt we'd been tasked to lead and if that was changing we wanted it to be clear that was the direction."
Prime Minister Scott Morrison has said he is glad Victorian Premier Daniel Andrews has provided further clarity over his plans to extend the state of emergency, noting a difficult balance between certainty and optimism in a pandemic.
"I think the concern the other day was the shock and the surprise to Victorians who were already in a pretty fragile and sensitive state," Mr Morrison told reporters on Thursday.
"And I'm pleased there's been greater clarity around what the Premier announced. I wasn't the only person asking for that."
The Prime Minister said "one of the key lessons in the pandemic [is] you need to take things as they come".
"You need to deal with the information in front of you, because it changes rapidly," he said.
"Lock yourself in too far out, and you can find circumstances change. Sure, you've got to give as much certainty as you can, and you've got to show the direction: the direction I want to clearly set is to reopen Australia again, just like we did back in June – we've had a huge setback in Victoria, but we need to get back on that horse and go forward."
A contractor working at the Thomas Embling secure mental health facility in Melbourne has tested positive to coronavirus.
Forensicare chief executive Dr Margaret Grigg said in a statement on Thursday the contractor was wearing full personal protective equipment and practising physical distancing while at work and therefore the risk of transmission was low. The worker is now self-isolating.
Dr Grigg said there had been no disruptions to the care and treatment of patients in the facility.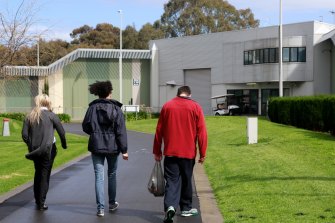 Thomas Embling, in inner-city Fairfield, is a 124-bed psychiatric hospital where prisoners often end up when they are deemed too unwell for jail.
"As a precautionary measure, we are enabling all patients and staff to have asymptomatic testing," she said. "Admissions and discharges have been temporarily halted as a further precautionary measure."
Dr Grigg said Forensicare was working with the Victorian Department of Health and Human Services to ensure contact tracing is undertaken.
"No Forensicare staff have been furloughed," Dr Grigg said.
"The contract provider is working to support close contacts of the identified case. Three contractor staff have been furloughed. As always, our top priority remains maintaining and supporting the health and well-being of our consumers, staff and the community."