"We think it's on the minor end of the scale but we will have scans tomorrow or the day following," Hardwick said.
"Dyl's had some history [with hamstring injuries], so we have just got to be mindful. He is so important for us, one of the best defenders in the AFL so we have got to make sure he is right for when the whip's are cracking.
"We are very conservative with these types of injuries, he's such an important player to the way we play. We just want to make sure when he is back he is right."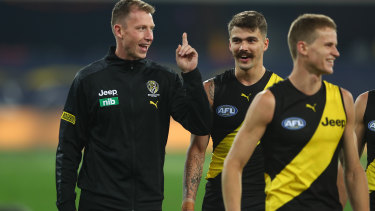 Simpson said of Kennedy: "It [four-day break] will make it difficult. Every case is different. We won't be pushing it, whatever the docs say."
Hardwick lauded the way his team stopped West Coast from playing their brand of footy.
"I was really pleased with our players' endeavour," he said.
"Especially our pressure … West Coast, if they get to play the game their own way they're really damaging.
"Our key forwards were incredible [not letting the likes of Jeremy McGovern and Tom Barass mark]. They didn't take a lot of marks between them but not getting out-marked which is really important."
Simpson said his side missed opportunities in the third term.
"It's not good enough," he said. "I thought we had a swing. We played a really good side in Richmond and they pressured us really well.
"They took eight more contested marks than we did. That's part of our game but it's not the only part.
"We didn't stop their style of play as much as they did ours."
Anthony is a sports reporter at The Age.