Live stream video feed of the Republican National Convention on day three of the proceedings.
After Karen Pence's speech comes Kellyanne Conway, who has been an adviser to Trump for years.
She played a pivotal role in his 2016 election, but is stepping down at the end of the month to focus on her family. (Her husband, George Conway, was part of the anti-Trump Lincoln Project, and is also stepping down for the same reason.)
Conway begins by talking about women in leadership roles still being viewed as a "novel" concept in America.
But "not so for President Trump," she says.
"For decades, he has elevated women to senior positions in business, and in government. He confides in and consult us; respects our opinions and insists that we are on equal footing with men.
"President Trump helped me shatter a barrier in the world of politics, by empowering me to manage his campaign to its successful conclusion.
"With the help of millions of Americans, our team defied the critics, the naysayers, the conventional wisdom, and we won."
Kyle Rittenhouse, the 17-year-old charged with shooting protesters in Wisconsin, attended a Trump rally in January, Buzzfeed has reported.
During the RNC, Trump's defenders have portrayed him as a law-and-order candidate.
But like so much in the Trump era, the US President's actions provide a counterfactural narrative for his words. For years, now, Trump has been criticised for using divisive language, including at rallies, that may polarise or even radicalise parts of the public.
This will be a story closely watched in the days ahead.
Karen Pence, the Second Lady and wife of Vice President Mike Pence, is up next.
According to her White House bio, Pence is a "mother, educator and award winning watercolor artist."
She's here to pay to tribute to the military community – and the military spouses she works with – but also to appeal to suburban women, whose support Trump has lost over the years.
"We've seen health care workers, teachers, first responders, mental health providers, law enforcement officers grocery and delivery workers and farmers and so many others," she says.
"So let's vote America. Let's honour our heroes, let's re-elect President Trump and Vice President Pence for four more years."
Hot on the heels of last week's Democratic National Convention tribute to the women's suffrage movement…. is a Republican Convention tribute to the women's suffrage movement.
This one features a video narrated by Lara Trump, the President's daughter-in-law, and features plenty of images of Donald Trump.
"Now, we, the great patriots of America will band together once again, and with one unified voice, we will vote for freedom," Lara Trump says.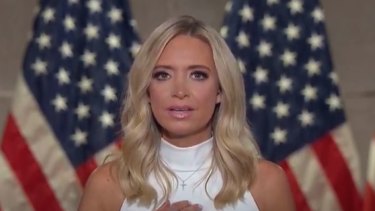 After this, the President's Press Secretary Kayleigh McEnany appears. She tells a deeply personal story of having a preventative masectamy, which she describes as "the hardest decision" she's ever had to make.
But she also talks about the support Trump gave her throughout the process.
"In fact, President Trump called me this morning- I spoke with him several times today and he told me how proud he was of me, for sharing this story," she says.
"The same way President Trump has supported me, he supports you. I see it every day."
In keeping with today's theme, we're now hearing from the Vice President's national security adviser Keith Kellogg.
You might recall Kellogg was the guy who pushed back after after a subordinate said she had concerns about President Donald Trump's call with the Ukrainian President Volodymyr Zelensky – the call that prompted the impeachment saga.
"I heard nothing wrong or improper on the call. I had and have no concerns," Kellogg said at the time.
He doesn't mention that here of course, but instead talks up the President's foreign policy credentials, such as last week's peace deal with UAE and Israel.
"Ask yourself: has this president kept his promises to keep us out of needless conflicts, and to pursue ending wars? Has he defended your interests in renegotiate trade deals that previously hurt Americans, international security?
"Has he fulfilled his commander in chief role by decisively going after our nation's enemies? You and I know the answer is yes. The choice is here."
Since Donald Trump used the White House for a naturalisation ceremony and Secretary of State Mike Pompeo delivered a political speech at the RNC while on a taxpayer-funded trip to Israel, there has been an outcry over violations of a law known as the Hatch Act.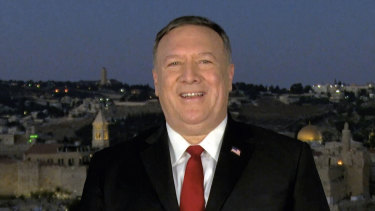 What is the Hatch Act?
The act prohibits: running for office in partisan elections, sending or forwarding a partisan political email while on duty or in a federal workplace, engaging in political activity while wearing an official uniform or while using a government vehicle, using official authority to interfere with or influence an election, soliciting or receiving political contributions, wearing or displaying partisan political buttons, T-shirts or signs.
It applies to all civilian employees in the executive branch of the federal government, except the president and the vice president.
Certain executive officials, such as presidential advisers or Cabinet officers, can engage in political activities during official working time as long as federal funds are not used. Any such official must reimburse the US Treasury for federal resources used in campaign activities.
Career government officials found to have violated the Hatch Act can be fired, suspended or demoted, and fined up to $US1000, though few penalties are ever levied against federal employees.
The Republican Party in the time of Trump sees it different.
White House chief of staff Mark Meadows dismissed the law on Wednesday, telling Politico: "Nobody outside of the Beltway really cares."
And we're off with Day Three of the RNC….
Tonight's theme is "Land of Heroes" and we've just been treated to another slick video filled with historic images of war, American icons, and Donald Trump.
In a sign of what's to come, the video then cuts to images of rioting and looting, as the narrator warns: "There are those who condemn our heroes and seek to erase history, and deconstruct the American ideal."
The first speaker, South Dakota Governor Kristi Noem, then appears.
"I'm here tonight, because I believe America is an exceptional nation, founded on three principles: equality, freedom and opportunity," says the mother-of-three.
"But today, our founding principles are under attack. This year the choice for Americans is between a man who values these ideals and all that can be built because of them, and a man who isn't guided by these ideals and coincidentally has built nothing."
In a historic decision, the NBA has postponed all playoff games after the Milwaukee Bucks boycotted Game 5 of their playoff series against Orlando Magic in protest over racial injustice.
The action affecting all Wednesday games (Thursday AEST) comes on the heels of the police shooting of Jacob Blake, a black man, in Kenosha, Wisconsin, on Sunday.
"Myself and our players and our organisation are very disturbed by what's happening in Kenosha," Bucks head coach Mike Budenholzer said earlier on Wednesday.
First Lady Melania Trump showed concern for the suffering and loss from coronavirus in her speech on day two of the RNC.