Loading
"New Zealand First also believes this terrorist should be returned to the country that raised him," he said.
"Now is the time for Australia's Minister of Home Affairs Peter Dutton to receive and carry out the terrorist's sentence in Australia."
On Friday Mr Morrison said while no official request had been made by New Zealand authorities for Australia to take Tarrant back, the Australian government was open to such a proposal.
"I'm pleased that that terrorist will never be released anywhere ever again," Morrison said. "We'll have an open discussion and look at the issues around this."
"Most of all, we're concerned about what the views of the families would be for those affected, and we want to do the right thing by them"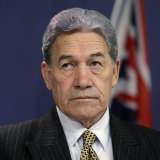 Tarrant is the first person to be denied a possibility of parole in New Zealand, and he has to be kept under enhanced security for his own safety.
Peters said lawmakers could only consider making a request to Australia since Tarrant was sentenced.
He said sending Tarrant back could require the parliaments of both countries to pass special laws because the near-neighbours do not have a legal framework for prisoner transfers.
Home Affairs Minister Peter Dutton said he would take legal advice on whether Tarrant might become eligible for parole if he entered Australia's prison system.
"We'd have to look at what happened in terms of parole or the way in which our legal system would work here," Dutton said.
"First priority is to keep him in jail for the rest of his life, and we'll work very closely with New Zealand on any request that they provide."
New Zealand has criticised Dutton for deporting increasing numbers of New Zealander criminals once they have been released from Australian prisons, accusing the minister of exporting Australia's problems.
Some criminals have lived in Australia since childhood and have no family or social networks in their homeland.
Loading
The New Zealand government argues that Australia should take responsibility for them turning to crime.
With Reuters
James Massola is south-east Asia correspondent based in Jakarta. He was previously chief political correspondent, based in Canberra. He has been a Walkley and Quills finalist on three occasions, won a Kennedy Award for outstanding foreign correspondent and is the author of The Great Cave Rescue.