Premier Gladys Berejiklian, NSW Chief Health Officer Dr Kerry Chant and NSW Police Deputy Commissioner Gary Worboys will provide an update on COVID-19 at 11am AEST.
New Zealand has reported 12 new coronavirus cases, with five in the community and seven in returned travellers.
The seven cases in returned travellers were all on the same Air India flight and all seven cases were detected when the returnees had a COVID-19 test on day three after their arrival.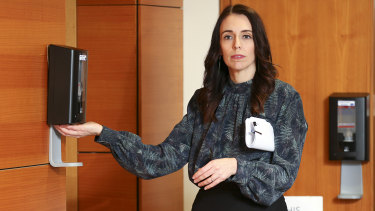 Speaking at the daily COVID-19 briefing, New Zealand's director of public health Caroline McElnay said the seven had "travelled from a country with a high incidence of COVID".
Finance Minister Grant Robertson said the fact that the cases had been detected showed that the country's managed immigration and quarantine system was working.
He did not say what country the seven people had come from but "they are all people entitled to be in New Zealand".
Of the community cases, all five are linked to the Auckland outbreak and four of those cases are one household from the Mt Roskill evangelical church "mini-cluster".
There are now 161 people linked to the Auckland cluster in a quarantine facility, with 88 of those people having tested positive to the disease.
The number of people in hospital has risen to 11, with three of those people in intensive care, while seven people are now considered to have recovered which means the number of active cases in New Zealand is currently 130 people.
A total of 11,010 tests were conducted on Thursday, slightly higher than the targeted 10,000 tests per day for seven days.
McElnay said widespread testing over the coming days, ahead of Auckland moving from stage three to stage two restrictions on Sunday night, remained a critical part of the government's COVID-19 elimination strategy.
Robertson expressed confidence that with two and a half days until Auckland's restrictions were eased "we are able to move down a level because of the commitment shown by Aucklanders to fighting the virus spread".
"We are nearly there but the job is not quite done."
Robertson cautioned that even after the move to level two restrictions, there was likely to be instances of community transmission "for some time".
A case in a Victorian who frequently crossed into NSW as a resident of the Albury-Wodonga border community has brought two NSW residents into self-isolation, Chief Health Officer Kerry Chant told reporters on Friday.
Murrumbidgee Local Health District have contacted these two people and is monitoring them, Dr Chant said.
They will remain in isolation for 14 days.
It comes as Premier Gladys Berejiklian flagged possible changes to border restrictions earlier in the press conference.
"We are working through issues on the Victoria-NSW border and getting advice from Health with the prospect of easing restrictions towards the end of next week and that is ongoing work," she said.
The Premier thanked border communities for their patience, saying she wanted to and "acknowledge the frustration and disruption they have experienced" but the state was "working through those issues".
with Mary Ward
UPDATED: Victorian Premier Daniel Andrews is giving his daily update on the pandemic, revealing that all 12 of the deaths yesterday are linked to aged care.
Those who lost their lives include a man in his 70s, two women in their 80s, and five women and three men in their 90s.
Mr Andrews said 513 Victorians are in hospital, including 29 people in intensive care and 17 on a ventilator.
There were 19,863 tests processed yesterday, right on Victoria's goal of 20,000 a day. The Premier said the average turnaround of test results is now about 24 hours.
Another 46 cases have no known source, and there are 446 active cases in healthcare workers – up 134 as a result of reclassification.
A total of 3141 cases are still active in Victoria, 187 of which are in the regions.
"That is obviously a much better position than we were in a few weeks ago when we had more than 500 active cases across regional Victoria. I want to thank regional Victoria for following the rules, coming and getting tested," Mr Andrews said.
There are 45 active cases in disability care homes in Victoria, including in 31 staff and 14 residents.
Another 1362 cases are in aged care settings, Mr Andrews said.
Security guards took hotel towels to use as pillows to nap in corridors and smoked in the hotel stairwell, Crown's executive manager says.
Shaun D'Cruz told the inquiry into Victoria's hotel quarantine this morning his staff noticed towels were being taken from the back of house area where linen was stored.
The guards used the towels to take naps in the corridors, the inquiry heard.
Guards were not permitted in the back of house area for infection control reasons.
"That wasn't something they were supposed to do at all," Mr D'Cruz said.
Mr D'Cruz said there was also evidence the guards had been smoking in the stairwells of the hotel.
He reported these incidents to the "government security department" and it was "managed appropriately," he said.
Four Points by Sheraton general manager Stephen Ferrigno said he was worried about the diligence of guards at his hotel.
"They appeared to spend a lot of time watching on their telephone, having conversations on their mobile, or generally in a fairly passive mode, sitting down for hours at a time," he said.
He said as the hotel didn't hire the guards, their "ability to influence their behaviour was really restricted to communicating these concerns at briefings."
Prime Minister Scott Morrison says states need to find consistency in border arrangements after a pregnant woman denied entry to Queensland lost one of her unborn children.
He appealed to state premiers to come up with better border rules to make sure people aren't denied health care.
"We find ourselves in the situation where there is too much inconsistency in these arrangements," he said in Cooma.
"Many of us in this room are parents, it's unthinkable.
"To know that this family has been dealing with border permits at a time when only one thing matters, the health of this child… I don't know what to say."
Mr Morrison promised there would be a Commonwealth definition of a "hotspot", so states could have consistency about which areas need travel restrictions.
Technical issues have prevented us from streaming today's Victorian COVID-19 update. Our apologies to those of you who tuned in looking for it.
ABC News is live-streaming this press conference on their Facebook page, click here to find it.
NSW Chief Health Officer Kerry Chant has said anyone who visited the City Tattersalls Club on Monday 24 August from 8am to 2pm is now deemed a close contact of a coronavirus case and must get tested immediately and isolate for 14 days even if they return a negative test result.
"This cluster has grown significantly and we have seen additional cases linked ot the cluster overnight," Dr Chant said.
My back-of-the-envelope tally puts the Sydney CBD cluster at 14.
"Again it highlights how quickly COVID can spread … we had a seeding event, its amplification in the setting of a gym [at City Tattersalls] and that has seeded a number of other workplaces and lead to people's exposure in the community [at] a number of venues we have announced," Dr Chant said.
Additional "watch for symptoms" alerts have been issued for the following locations.
The Matterhorn, Turramurra on Saturday August 22 from 6pm to 8pm
Parish of Holy Name, Wahroonga on Sunday August 23 from 9.30am to10.15am
Liquorland, Marrickville on Sunday August 23 from 5.15pm to 5.30pm
Eat Fuh, Marrickville on Sunday August 23 from 5.20pm to 5.40pm
Metro Petroleum, Hurlstone Park on Monday August 24 from 10.20am to 10.30am
Dr Chant urged the public to go to the NSW Health website and check the list of venues which have health alerts.
with Mary Ward
Quarantined guests in hotels were distressed, with smokers not allowed to smoke in their rooms and hotels scrambling to fulfill the dietary requirements for guests with religious and medical needs.
Travelodge general manager Ram Mandyam said his hotel, which did not have a large kitchen, provided close to 1,000 meals a day to guests with more than 100 different dietary requirements.
He said the first arrivals off a flight from Chile on April 10 had not been fed for hours.
"I believe there was anxiety to a certain extent that they were going to be detained for 14 days against their will…that probably led to a fair amount of emotional outbursts," Mr Mandyam said.
The hotels did not allow smoking in the rooms, because it would set off fire alarms, which added to guests' frustrations.
In some cases, guests were abusive to hotel staff.
"It was the hotel team members that fielded those calls to a large extent on day one, over the course of two weeks it did not stop, quite honestly," Mr Mandyam said.
Four Points by Sheraton general manager Stephen Ferrigno said the hotel received little information about dietary requirements, including religious requirements and allergies, leading up to guests arriving.
"There were challenges with communication," he said.
Hotels didn't organise cleaning of rooms during the 14 days returned travellers were quarantined, an inquiry has heard.
The managers of Crown, Travelodge and Four Points by Sheraton are giving evidence to Victoria's inquiry into the quarantine program this morning.
They said rooms weren't cleaned during guests' 14-day quarantine in order to reduce the risk of infection to staff.
Hotel contractors cleaned the rooms after guests left and before new arrivals came in, they said.
During the 14 days, guests were provided with fresh linen and towels that were left outside the doors to their rooms.
They said sub-contractors organised by the government would clean the rooms of guests who were suspected of having COVID-19.
Stephen Ferrigno – Four Points by Sheraton's general manager – spoke about offering their own cleaners to a sub-contractor brought in with little to no time to prepare.
"I don't think they had time or resources or awareness to do this sort of work," he said.
"I provided two of the hotel's…supervisors to assist them in the task at hand and to show them how we go about cleaning the room."
Victorian Premier Daniel Andrews will give the daily COVID-19 update at 11.15am AEST.
Unfortunately, we are having technical issues with our live stream so we may not have a stream available.
We are trying to get it fixed at present and if we have a stream I will make a new post with that stream on it.
Our apologies.