We've just heard from Ann Dorn, the widow of a retired St Louis police captain who was shot to death after a violent night of protests.
Trump has obviously made law and order a focal point for this campaign; she's here to tell the story of her husband's tragic death in that context.
David Dorn was 77 while reportedly trying to protect his friend's small business.
"As I slept, looters were ransacking the shop. They shot and killed David in cold blood, and then live-streamed David's execution and his last moments on Earth," she said.
"David's grandson was watching the video on Facebook in real time, not realising he was watching his own grandfather dying on the sidewalk."
Ann Dorn endorses Trump's push to surge federal officers into cities to counter crime
"In a time when police departments are short on resources and manpower, we need that help. We should accept that," she says.
House Speaker Nancy Pelosi does see any good reason for Joe Biden to debate Donald Trump, saying doing so would "legitimise" a conversation with him.
"I don't think that there should be any debates," Pelosi told reporters.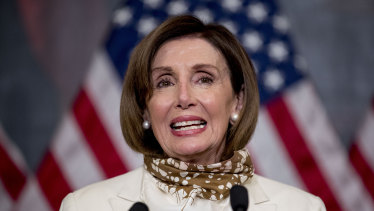 "I do not think that the president of the United States has comported himself in a way that anybody has any association with truth, evidence, data and facts."
"I wouldn't legitimise a conversation with him nor a debate in terms of the presidency of the United States," she said.
Oh look, it's Dana White! For fans of UFC (I'm guilty as charged) White needs no introduction.
The president of the Ultimate Fighting Championship franchise is a long-time admirer of the president, with their friendship spanning two decades.
Back in 2001, Trump persuaded White to hold one of his early UFC events at the Trump Taj Mahal in Atlantic City. They've been buddies ever since.
White is now giving a very spirited speech from Las Vegas, home of some of the biggest UFC events in the sport's history, where he confronts COVID head on.
"Let's be very honest about it. No one person, and no one place could have anticipated the challenges that COVID would bring, but President Trump has faced all these obstacles head on," says White, whose sport has taken a massive hit because of the virus.
"The President went above and beyond to help all sports leagues involved figure out a way to overcome the challenges of staging live professional sporting events in the middle of a pandemic. And you know what? The UFC was the first to do it, and we are continuing to do it. Now, other sports have joined us."
Now we're hearing from Mitch McConnell from his home turf in Kentucky.
The Senate Majority Leader is often referred to by critics as Trump's enabler in chief.
He starts by repeating misleading claims we've heard throughout the RNC, suggesting that Biden wants to defund the police (he doesn't); take away second amendment rights (not true) and "offer no protection at all for unborn America" (that's not what he has said).
"We will stand our post on behalf of the millions of Americans whose stories aren't told in today's newspapers, whose troubles are just as real will continue to support American families as we defeat the coronavirus and return our economy to the envy of the world," he says.
"The stakes have never been higher"
Converting the White House into a political stage, and blurring the person – in this case, Donald Trump – with the nation, the United States clashes with the principles that form the United States.
The US declared independence from Britain in 1776 in part because of the Crown's absolute power in the form of the monarch over the colonies.
This is part of why many people see Trump's presidency as a threat to the American political system.
Amid the debate about law and order and the police treatment of black Americans, Trump has sought and won support from police organisations.
Here are pictures of endorsements – some only a couple weeks ago.
After Smith, we hear from Representative Jeff Van Drew.
Drew was elected as a Democrat but then switched to the Republican Party after the impeachment process, which he voted against.
He says Trump made him feel more welcome than House Speaker Nancy Pelosi ever did, while Joe Biden, he says, is merely a puppet of the radical left.
"When the radical Democrats went after President Trump with impeachment, they made another mistake," he says.
"Democratic leaders told me that I had to vote for impeachment or my life would be made difficult, and I wouldn't be allowed to run again. Listen, I'm from South Jersey, and you'd better come at me with more than just loud words and empty threats."
"I voted no on impeachment, and it was an easy call."
The first speaker up tonight is Ja'Ron Smith, who is the deputy assistant to the president.
Smith is the most senior African American White House aide. He's talking about his childhood in Cleveland – growing up on a blue collar street, in a blue collar city – and then moving to Washington.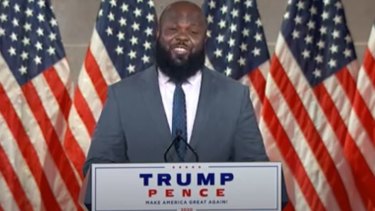 Trump, he says, is the people's president – and a president for the black community.
"He really cares, and he takes action on every issue important to us: prison reform, rebuilding broken families, bringing jobs back to America, jobs in Cleveland, jobs in Detroit, jobs in Milwaukee.
President Trump knows that education is the great equaliser."
And we're off.
The final night of the RNC begins with – yes, you guess it – another slick video.
Think lots of American flags, lots of images of military heroes, and lots of Trump.
" We will Make America Great Again!" he roars.
(Tonight's theme is America: Land of Greatness)