"America, we need to have a conversation about your racism, your bigotry," said veteran civil rights campaigner Al Sharpton, who organised the march.
"We need to have the conversation about how you would put your knee on our necks while we cry for oxygen."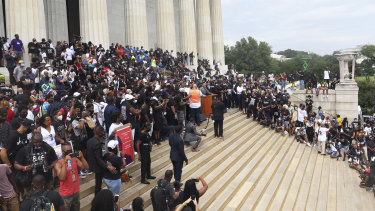 Sharpton predicted that black voters will show up to the polls in huge numbers in November thanks to the energy of the Black Lives Matter movement.
"We don't care how long the line is, we don't care what you do," he said.
"We're going to vote: not for one candidate or another, but we're going to vote for a nation that will stop the George Floyds, that will stop the Breonna Taylors."
George Floyd's sister Philonise Floyd said: "I wish George were here to see this right now."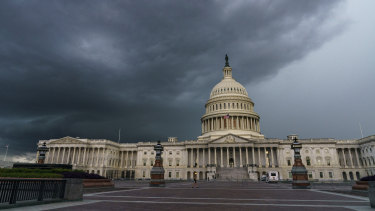 "It's never been more clear that change right now, is happening right now," she said.
Valerie Ford, who had travelled from New York with her grandson to attend the march, said: "Black people should be able to go for a run or go to the store without being shot."
Martin Luther King III, the son of Martin Luther King Jnr, said: "We are taking a step forward on America's rocky but righteous journey towards justice…Now we must march to the ballot box and the mailboxes to defend the freedom that earlier generations worked so hard to win."
Speaking at a rally in New Hampshire, Trump appeared to ridicule the protests by saying: "You know what I say? Protest this, your ass. I don't talk about my ass."
The "Get Your Knee Off Our Necks" march was held on the 57th anniversary of King's March on Washington for Jobs and Freedom, which drew an estimated crowd of 250,000 people in 1963.
The crowd on Friday (Saturday AEST) was significantly smaller, reflecting concerns about the coronavirus and possibly a sense of fatigue after a long summer of protests in the US in the wake of Floyd's death.
Polls have recently detected a softening in support from the Black Lives Matter movement, which received a surge in support from white Americans following Floyd's death in Minneapolis.
Loading
The father of Jacob Blake, who was shot by a white police officer in Kenosha, Wisconsin, last week addressed the rally. His son remains in hospital after sustaining several injuries.
"There are two systems of justice in the United States," Jacob Blake snr said.
"There's a white system and a black system."
Police revealed that Blake had initially been shackled to his hospital bed because he was charged in July with third-degree sexual assault, criminal trespass and disorderly conduct.
Blake's lawyer says the handcuffs have been removed.
The Konosha police union said that Blake had forcefully clashed with police officers before they shot him, including putting one officer in a headlock. Police were unable to restrain him with taser guns, the union said.
Meanwhile, Kenosha police chief Daniel Miskinis defended police for allowing Kyle Rittenhouse, a 17-year old charged with killing two protesters, to leave the scene despite holding a rifle and holding up his hands in what appeared to be a gesture of surrender.
"There were a lot of people in the area, a lot of people with weapons and unfortunately a lot of gunfire," Miskinis said.
"It might have been abnormal two weeks ago. It's no longer abnormal."
Matthew Knott is North America correspondent for The Sydney Morning Herald and The Age.