Victorian Premier Daniel Andrews is set to give the daily COVID-19 update at 11.15am AEST.
The Premier says cases in regional Victoria are continuing to drop, which is 'critically important' for the state's fight against the virus.
Daniel Andrews said there is now just 117 active cases of COVID-19 in the regions.
In Greater Geelong, there are now 59 active cases, with no new cases overnight.
In Greater Bendigo there are 16 active cases, with one new case.
Ballarat has six active cases, with no new cases overnight.
"So in those communities and indeed right across regional Victoria we are seeing numbers falling steadily, and that is critically important," Mr Andrews told reporters on Saturday.
"Thank you to everybody in regional Victoria, from regional cities to the smallest of country towns, doing an absolutely magnificent job in following the rules.
"I know it is difficult, I know it is challenging, but it is working."
The state government is connecting volunteers with Victorians who need help via a new online platform to match volunteers to roles where their skills are best suited.
"We Volunteer" is now open for registration from today.
People looking for volunteer roles can register their skills and search for roles that meet their interests – with many of these roles able to be performed at home.
Volunteer organisations will also be invited to sign-up to the portal and use it to make callouts for volunteers needed on different projects.
The government is also investing $2 million to boost the Community Activation and Social Isolation initiative.
CASI is an expansion of the Victorian coronavirus hotline and is supporting people experiencing loneliness or social disconnection.
"Community by community, street by street, home by home, this is about building connection," Mr Andrews said in a statement released a short time ago.
"We want to match those who can help with those who need it – whether that's dropping off a food parcel, a quick chat on the phone, or lesson on how to Facetime with loved ones."
Eight of today's 14 new cases are linked to the growing Sydney CBD cluster stemming from the City Tattersalls Club, bringing the total number in the cluster to 23.
Of these eight cases, three attended the City Tattersalls Club, three are known contacts linked to this cluster two are household contacts of previously reported cases, NSW Health spokeswoman Dr Christine Selvey said.
Three cases are locally acquired with no known source, and one is in a traveller in hotel quarantine.
On Friday night, NSW Health issued a stern warning that people living and working in greater Sydney or the Central Coast should stay away from aged care facilities for 14 days as they brace for double-digit daily case increases for several days to come.
The move means families may not be able to visit their elderly fathers in nursing homes on Fathers Day next weekend.
Premier Daniel Andrews said of the 18 deaths announced in Victoria on Saturday morning, 16 were connected to aged care.
The deaths announced on Saturday morning included one woman in her 60s, one woman and two men in their 70s, four females and five males in their 80s, and two females and three males in their 90s.
Victoria had 94 COVID-19 cases found across 24 hours. There are now 2983 active cases of COVID-19 in the state.
In Victorian hospitals, there are now 481 COVID-19 patients, with 26 in intensive care. Seventeen people are on ventilators.
There were 26 new mystery cases confirmed on Saturday.
NSW recorded 14 new cases of COVID-19 in the 24 hours to 8pm last night, bringing the total number of cases in NSW to 3,844.
Note from Roy: Premier Daniel Andrews will be giving the daily Victorian COVID-19 update at 11.15am and we will have a live stream for it.
Date journalist and COVID-19 blogger Craig Butt has updated the daily graphs for new cases and deaths in Victoria.
Please find them below.
Sydney's population swelled beyond 5.3 million before the coronavirus pandemic as migrants flocked to the inner city at record rates, but its claim to the title as the nation's most populous capital is to be challenged by Melbourne by the middle of the decade.
Population Minister Alan Tudge on Friday cautioned growth was likely to be lower for longer, with the government now set to focus on attracting "job-making migrants" to help rebuild the economy.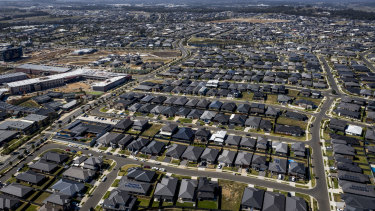 The Australian Bureau of Statistics, in its annual regional population report, said the population of Greater Sydney reached 5,312,163 by June 30 last year, an increase of 81,833, or 1.6 per cent.
We may not have eradicated the virus but Australia seems to have done a thorough job of eradicating any remaining shred of the accountability of government ministers. Just about everyone is being asked to make sacrifices for the public good. The front-line health workers who risk their own health for the health of the country are the people who bear the heaviest burden.
Millions of other citizens are expected to accept loss of income, loss of personal liberties, loss of wellbeing. And just about everyone is held to account. Those who don't are admonished, fined and, in the case of the woman who snuck across the border into Western Australia by hiding on a truck, jailed for six months.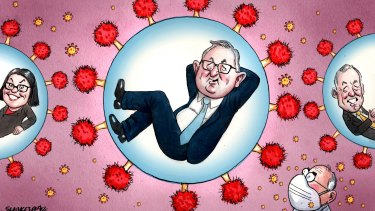 Just about everyone, that is, except those at the very top. We have three glaring failures.
One. Who was the NSW Minister for Health before the Ruby Princess plague event? Brad Hazzard. His department made multiple "serious", "inexplicable" and "basic" errors in handling the disembarkation of passengers from the cruise ship, according to the special commission of inquiry into the event.
Those errors led to the biggest source of infection in Australia to that point. Sixty-two people caught the virus due to those who disembarked.
NSW Police Commissioner Mick Fuller has ramped up audits of security guards at Sydney's quarantine hotels after a dozen guards were sacked for breaching protocols.
Commissioner Fuller has established a committee to conduct spot audits of hotels providing mandatory accommodation for travellers returning to NSW from overseas or Victoria, and the contract guards tasked with their security.
The committee would audit the cleanliness and cleaning of the accommodation, as well as the quality of the briefings given to hotel staff, Mr Fuller told the Daily Telegraph.
Twelve security guards have been stood down from the hotel quarantine program since it began in April, including guards who had been found sleeping on shift and two guards who filmed a TikTok video of guards pretending to sleep in a hotel hallway, Mr Fuller said.
Commissioner Fuller hoped the spot audits would minimise the chances of more security guards being exposed to the COVID-19 virus.
Earlier this month, two guards tested positive for COVID-19, one of whom failed to self-isolate and visited several public locations while infectious.
The two guards worked on the same floor of the Marriot Hotel in Circular Quay.
NSW Health believes their cases stem from a COVID-positive traveller from the US who was in mandatory quarantine at the hotel, but it is not known how the virus spread from the traveller to the guards.
Earlier this week, 350 guests in mandatory quarantine were moved from Travelodge in Sydney's CBD to other accommodation after the hotel failed to meet NSW Health's standards.