Fittler has always appreciated the value of a healthy mind and a healthy body, and will not hold it against anyone who cannot bring themselves to take part in this year's series.
"They've been following some strict protocols, so I'm preparing myself for anything," Fittler said.
"I can see there will be some tough conversations. Players can't go in not motivated because if you're not, you won't be any good and it will be too hard.
"It's going to be tricky.
"Blokes will be taken away from their families again and I know it will be hard. An extra five weeks, it's a big ask.
"But it's also a good year to play Origin. Everyone has had a pretty shit year. The tough will definitely stand up this year."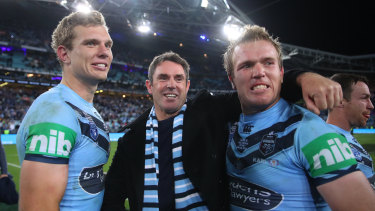 The NRL and Rugby League Players Association are still working out a pay arrangement for this year's series. Origin players have normally collected $30,000 a game, but that is expected to drop significantly.
Whether those players who do not feature in any of the games are required to remain in the bubble for the full five weeks is also being thrashed out.
Origin I will be played on November 4 with government officials still hoping the blockbuster will go ahead in Adelaide. The COVID outbreak in Victoria spooked league officials about rushing any decision on South Australia.
Should it become logistically too difficult to play the opener in South Australia, there has been talk of taking the game to a city such as Canberra, which would maintain the sanctity of Origin with one game in NSW, one in Queensland and one at a neutral venue.
Fittler said it was important there be some clarity by the end of this week.
The Blues mentor said players from competition high-flyers such as Penrith and the Roosters had a natural advantage when it comes to selection.
"I look at those top teams and some blokes have gone to another level," Fittler said. "It's a good message for players when signing for clubs – when you're at good clubs you become better players.
"Guys like Latrell [Mitchell] were absolutely on the radar [until he suffered a serious hamstring injury]. He's a huge loss.
"There were so many things he could have done. You could see he was coming good. And to think how the injury happened, it was one of those really unlucky situations."
Manly superstar and NSW regular Tom Trbojevic has not played since round six because of a recurring hamstring injury and Sea Eagles coach Des Hasler said on Saturday he had not given much thought to standing in the way of his star signing making himself available for NSW.
"Origin is one of the pinnacles of our sport and it's a dream of every player to play Origin, and if he's selected … we'll cross that bridge when we come to it," Hasler said.
Christian covers rugby league for The Sydney Morning Herald.