Dad could very well have lost his driver's licence because of my hero, Ian Thorpe. Sitting in the back seat of a little blue Holden Barina, I used to hassle my old man to pretend our car was Thorpey. He knew exactly what I meant.
On the highway, we'd spot a vehicle ahead of us which, immediately in my seven-year-old mind, became Gary Hall jnr, the American freestyle champion.
A few days earlier we had watched Thorpe, the 17-year-old whiz kid, mow down Hall in the 4x100m relay in the most spectacular fashion at the Sydney Olympics.
Dad, a PE teacher who secretly loved that he'd indoctrinated his eldest son into also living and breathing sport, hit the accelerator and the race call would begin.
"They've got about 15 metres to swim," I'd yell. "Thorpe is over Hall. Thorpe's in front…"
You can imagine the look on the other driver's face as we screamed past.
"Australia win," I exclaimed. "New world record! The Australians have just broken the Americans' stranglehold on this race."
Dad chuckled the other day when I reminded him of our little game.
The Sydney Olympics had a major impact on my childhood and I'm sure the same could be said for thousands of other children born in the 1980s and early 1990s.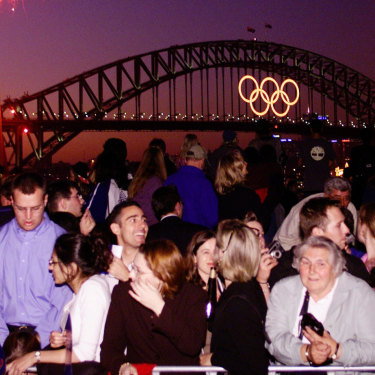 When my editors asked me to write a piece on the Sydney Olympics through the eyes of a child, the nostalgia hit home.
At that age, you don't remember much of general life, but my recollections of those glorious 16 days in September are vivid. Perhaps that says a lot about how big a deal it was for not only the country, but a kid from western Sydney with a plethora of new heroes.
Like many others in 2000, I was completely hooked by the magic of the Olympics.
Everyone has their own awesome stories about Sydney – where they were, what they remember, what memorabilia they still have.
The yarns should be told over and over for years to come. Send them in. I'm all ears.
At the age of seven, everything was new. There were countries you'd never heard of, sports you didn't know existed and Sydney 2000 was all anybody talked about.
Mum says the day I was born there was a big splash on the front page of the paper about the Olympics. Three and a half weeks later, Juan Antonio Samaranch made the announcement that sent Australia – and those on the streets in the early hours of the morning – into a state of euphoria.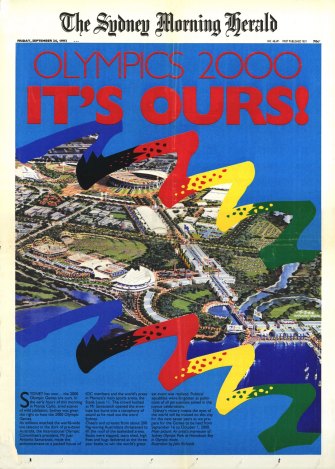 Those of us who were still in nappies at the time can only hope the same occurs if Australia is awarded another Olympics, potentially in Brisbane in 2032.
By the time the Games of the XXVII Olympiad rolled around, our family, like no doubt thousands of others, opted to camp out in the lounge room with fold-out beds so we could absorb absolutely everything across the next 16 days.
My parents, both teachers, were off school and more than happy to give this wide-eyed kid a sporting education.
Watching Australia's Michellie Jones get pipped for gold by Switzerland's Brigitte McMahon at the foot of the Sydney Opera House in the women's triathlon is my first sporting memory.
While that was exciting, bigger and better things were to come that evening at the pool.
At my school, Kurmond Public at the foot of the Blue Mountains, we were encouraged to write diary entries during the Games after the Olympic torch had come to our school.
Meanwhile, the Decent household was going ballistic when Thorpe beat Hall jnr given what I scribbled down.
"When it was the 4×100 metres evryone (sic) was screeming (sic) in the house," I wrote.
Mum also helped dig up this letter (in lead pencil, of course) to Cathy Freeman.
"Dear Cathy. Ceep (sic) up the good work," I wrote. "I'll be watching you on telivision (sic). I hope you win a gold medal. When I grow up I want to win gold for Australia. I will win a gold medal in running, long jump, high jump, swimming and tennis. From Thomas Decent."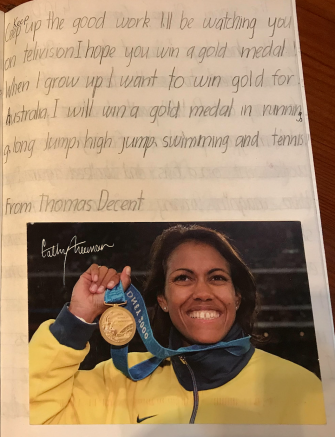 Talk about dreams!
Writing about sport now for a living is a great privilege – with improved spelling – but the live matches can lose their glamour and blend into one after the other. Athletes become more industry colleague than messiah.
You do forget that in a crowd, there is very likely a child who is beside themselves with joy at being able watch sport for the first time.
That was me the day my sports-mad grandmother and grandfather, Dawn and Barry, took a kid with a bowl cut, buck teeth, big ears and a blue Sydney Olympics t-shirt to watch the tennis.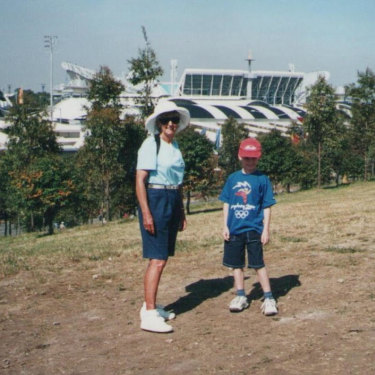 We caught the bus from Round Corner, near Dural, and I'll never know if it was funny or annoying for others in earshot to listen to me yelling: "Aussie, Aussie, Aussie, Oi, Oi, Oi".
I got a photo 'holding' the Olympic flame and while I actually can't recall a single player there that day – I was a little disappointed Venus Williams wasn't in action – it was the greatest day of my life at that point.
It was not lost on me, even at that age, the buzz about Olympic Park and my poor grandparents say they had trouble keeping me in sight.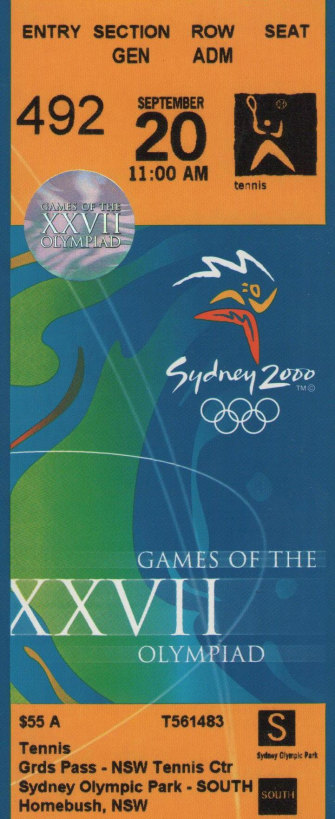 "In the holidays I went to the Olympic Games," I wrote in my school diary. "I went to see the tennis with my Granny and Pa. We parked at a pre-school. A magpie pecked one of my hairs. I got two magnums. I liked watching the tennis. I loved eating lunch. My favourite thing was when I bort (sic) a huge tennis ball."
My Granny still laughs about the fact I was baffled because there wasn't any playground equipment at the 'Park'.
Each day during the Games, Australia Post printed a limited edition of stamps commemorating our athletes who'd won a gold medal.
Of course, I begged mum to race to the post office and bring them home for me. The full collection is still sitting around somewhere and could be worth a few bob now.
Loading
I remember Grant Hackett beating another hero of mine, Kieren Perkins, in the 1500m.
I remember crying like Jane Saville when she was disqualified in the dying stages of the women's walk.
I remember watching our beach volleyballers win gold at Bondi while we were in a television shop.
But for some reason, I have no idea where I was for Freeman's race. I doubt I was in bed asleep but I would have watched that glorious run 100 times since and on very few occasions with a dry eye.
But my favourite memory of Sydney was Jai Taurima, the ciggie-smoking long-jumper who came from nowhere to pinch silver.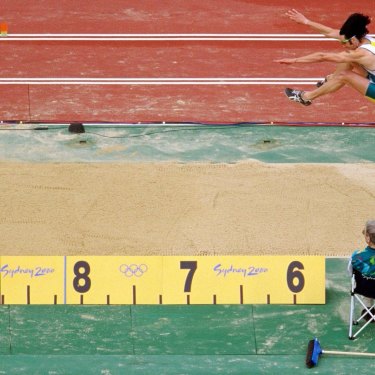 While American Carl Lewis was my track and field hero, I wanted to be like Taurima and represent Australia in long jump, as I'd made it clear to Cathy.
A few state carnivals was as good as it got but I can thank Jai for the reason why the long jump is the first event I circle on the schedule.
No doubt there are hundreds and hundreds of Australian professional athletes out there now whose inspiration to become the best in the world came from someone who did something special in Sydney.
The 2000 Olympics well and truly ignited my love of sport, as well as a less-than-discreet crush on a 13-year-old Nikki Webster.
My parents bought me her CDWe'll Be One, which was one of the songs she performed at the Closing Ceremony.
That year for Christmas, instead of putting in a long list of things I wanted from Santa, the only thing I asked for was the Sydney 2000 Official Souvenir Book.
I am not a religious person but it's the closest thing I've owned to a bible.
Within weeks, I'd show off to our family friends that I could recite every host city going back to Athens in 1896.
Then someone in the family purchased '16 Days in September' on VHS. The intro music I can still hear crystal clear.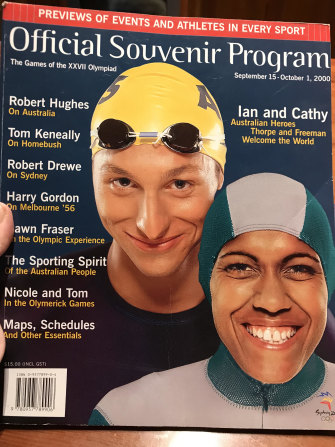 I have no doubt the Sydney Olympics planted the seed for me wanting to become a sports journalist.
Since I can remember, covering an Olympics is all I've ever wanted to do.
Loading
I got zero school work done during the Beijing Olympics and tried convincing mum to let me take two weeks off. I then covered London 2012 swimming races off the TV in the middle of the night for a start-up website while at university, before blogging the Rio Games for the Herald.
When Australia once again hosts an Olympics, there will naturally be comparisons to Sydney, but there shouldn't be.
It was a moment in time, regardless of what stage of life you were in, that you wish you could bottle up forever.
They truly were the greatest ever.
Sport newsletter
Sports news, results and expert commentary delivered straight to your inbox each weekday. Sign up here.
Tom Decent is a journalist with The Sydney Morning Herald