After the successful first week of the hybrid model, some MPs are calling for the trial to become a permanent feature.
Labor MP Anika Wells, who is pregnant with twins, says although it took six months for Parliament to adapt to the coronavirus pandemic, from here on it should lead by example.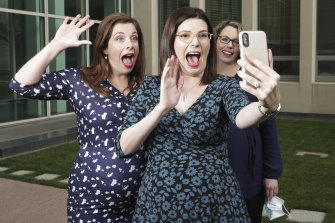 "Flexibility in the workplace shouldn't just be for extraordinary times and it shouldn't just be considered something that is nice for white, middle-class women to have around their childcare responsibilities," she said. "The PM loves his hi-vis and his construction jobs – perhaps if we consider it more like valuable family infrastructure we might make more headway in this space."
Her Victorian colleague Kate Thwaites dialled in to Parliament from her Melbourne office because medical appointments for her own pregnancy made it impossible to comply with the fortnight quarantine required to come to Canberra.
"People have really appreciated actually seeing that we, like them, have been able to embrace change and get on with our work," she said. "There are times in everyone's life when flexibility is really important … changes that make it easier for people to participate flexibly are a positive thing."
Parliamentary committees have been holding public hearings via videoconference throughout the pandemic and there is an appetite for that to continue even once the crisis is over, since it enables witnesses to appear more easily.
However, there is strong feeling from many in Parliament the actual chambers should always meet in person. The rules set out for members to appear virtually during this sitting said they had to satisfy the Speaker the pandemic meant it was "essentially impossible, unreasonably impracticable, or would give rise to an unreasonable risk for the member to physically attend".
Labor senator Marielle Smith, also part of the baby boom on the opposition benches, said Parliament should strive to meet in person and would perform best with people physically in Canberra. But she said it was also important those who had been hit hardest by the crisis – young people, women and young families – had their voices represented.
"To me this is a question of what should be done when meeting in person, as a collective or as individuals, isn't possible. And on that front, we should be creative enough to adapt and allow for that participation because it is important," she said.
"The community expects Parliament to lead on these sorts of these issues, but instead it has looked like the government has been dragged kicking and screaming to a sensible result here."
Get our Morning & Evening Edition newsletters
Katina Curtis is a political reporter for The Sydney Morning Herald and The Age, based at Parliament House in Canberra.