"We'll supply what we have to supply and you know what a lot of that is – a thing called green," Trump said, in reference to money. "We'll take care of you."
Loading
The President has issued a major disaster declaration for the area, and the Federal Emergency Management Agency has so far delivered 3 million litres of water and 1.65 million meals across the two states.
However, authorities warned it could take months to properly recover, with relief efforts likely to be complicated as coronavirus continues to ravage the US.
The President's visit came on the 15th anniversary of Hurricane Katrina, which ripped through New Orleans and surrounding towns along the Gulf Coast in 2005.
Hurricane Laura had more powerful winds of up to 240km/h, but it was not as catastrophic as initially feared – largely because many in the storm's path heeded warnings to evacuate.
There were, however, several fatalities, the first a 14-year-old girl who died when a tree fell on her home in Leesville, Louisiana, which is more than 160 kilometres inland.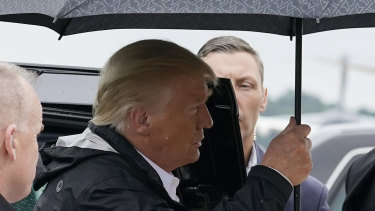 Four others were killed by falling trees, including a Texan man whose home was crushed by a tree crashed near the Louisiana border.
At least five people have died from carbon monoxide poisoning from generators, and one man died when his boat sank during the storm.
In other developments:
More than 400,000 power outages were reported across Louisiana and another 88,000 were reported in southeast Texas by Saturday morning (US time) according to poweroutage.us, which tracks utilities reports.
The Salvation Army warned it could take at least a year to rebuild as it called for donations to help with the recovery.
Animal welfare agencies were scrambling to rescue dogs and cats displaced during the hurricane.
Lake Charles Mayor Nic Hunter warned that there was no timetable for restoring electricity and that battered water-treatment had limited supply in the city, which has about 80,000 people.
Loading
Speaking alongside Trump in Texas, Governor Greg Abbott said he had declared a disaster in 62 counties across the state.
There were also over 10,000 evacuees currently in shelters, he said, many spread out in "non-congregated settings" across 3300 hotel rooms to limit the spread of coronavirus. Texas has been one America's worst hit states for coronavirus, with almost 12,600 deaths so far.
"I believe we will succeed in getting through Hurricane Laura without spreading COVID-19," Abbott said.
Farrah Tomazin is a senior journalist based in the US for the 2020 presidential election.