The players will share in some of the pain, with a small drop in the salary cap expected in 2021. However, most of the savings will come through running a leaner and more efficient head office.
"There will be considerable cost savings," ARLC chairman Peter V'landys said. "It will be substantial; we're not mucking around on the edges.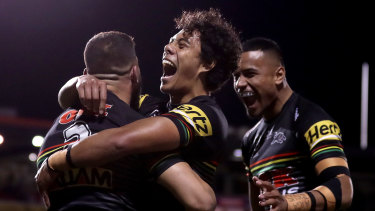 "What the board and the game needs to understand is that this is a once-in-a-generation chance to get your cost structure right.
"What COVID has proven to us is that the cost structure isn't right. The clubs were making accumulated losses of $33 million per year. That's not sustainable.
"We need to make sure that we run the game viably, so the days of spending and spending and spending are well gone.
"You won't attack every problem by throwing money at it; you have to come up with better strategies.
"That's what the game has done [previously], it has looked at itself and thrown money at it and hope it fixes itself. Sometimes the return didn't eventuate, even though they threw a lot of money into it because what they wanted didn't come to fruition."
Clubs will have a handbrake applied to spending in the form of a cut to the football department cap. Currently, the figure is $6.17 million a year, although that is expected to drop to about $5 million. The decrease should make clubs think twice before committing to coaches on lucrative long-term deals that are rarely completed.
However, the biggest savings will come from greater efficiencies at Rugby League Central.
"[Spending] has to come down substantially, there's not two ways about it," V'landys said.
"Andrew Abdo is doing an excellent job in identifying the areas we can do immediately and other areas we can do gradually.
Loading
"But no one will notice the difference. The services will be the same. We don't regard it as cost cutting, we regard it as being efficient – doing the same thing for a lesser price.
"The fans won't notice any difference. What our aim is with all the changes is that nobody notices any changes other than an improvement in the entertainment value of the game.
"Nobody will notice any difference because we will get the same output for a much lesser price."
Sport newsletter
Sports news, results and expert commentary delivered straight to your inbox each weekday. Sign up here.
Adrian Proszenko is the Chief Rugby League Reporter for the Sydney Morning Herald.