Huge falls in sales across almost every industry in the country due to the coronavirus pandemic have been revealed in new data from the Australian Bureau of Statistics.
The June quarter business indicator report, which feeds into this week's national accounts, showed a 3.3 per cent drop in wages and salaries through the month.
Inventories dropped by 3.3 per cent, much worse than market expectations in a development that will strip close to a full percentage point from growth in the quarter. It was the largest fall on record.
Company gross operating profits, however, soared by 15 per cent in the quarter thanks to government programs such as JobKeeper. The ABS said the subsidies underpinning the lift in profits would be netted out in the calculation of GDP income.
The profits lifted despite sharp drops in sales.
Sales in the accommodation and food services sector collapsed 39.1 per cent in the quarter after an 8.1 per cent drop in March.
There was a 20.1 per cent fall in the administrative support sector, a 37.1 per cent drop in arts and recreation while across the transport and warehousing sector sales were down by 20.4 per cent.
Manufacturing sales dropped by 8.6 per cent, the largest on record.
Retail trade slipped by 3.1 per cent to register the fifth consecutive quarterly fall. Even mining sales were down by 1.8 per cent.
The only sector to see a lift in sales was in utilities such as electricity and gas, driven in part by the large number of people working from home through the June quarter.
The S&P/ASX 200 is up 0.3 per cent at the moment, thanks to points from the energy, real estate, and information technology sectors. The biggest mover is the energy sector, up 2 per cent, thanks to gains in oil companies like Woodside Petroleum, up 2.5 per cent, Santos, up 3 per cent, and Oil Search, up 4.1 per cent.
The healthcare, consumer staples, and materials sectors are currently in red, but are all down less than 1 per cent.
Costa Group Holdings is up at a one-year high of $3.54 after a flurry of price target upgrades following last week's half-year results.
Data centre operator NextDC reached an all-time high of $12.42 and Cleanaway reached an all-time high of $2.57 earlier today.
A run of analyst upgrades on Afterpay's European expansion helped the market darling shoot the lights out last week, with the firm jumping 12 per cent over the five sessions and setting a new record high $95.97.
The team at UBS, however, remain unmoved.
Analysts Tom Beadle, Jonathan Mott and Eric Choi cite short-term COVID-19 volatility and longer-term regulatory, competition, and execution risks among the reasons for maintaining a 'Sell' rating on the tech stock.
"We believe the consensus sell-side view on Afterpay (APT) continues to potentially under-estimate or ignore the capital required to fund APT's growth," UBS said in a note sent to clients this morning.
The UBS target price of $28.25 – also unchanged – is less than a third of today's price. Afterpay shares touched $91.47 around 11.30am on Monday.
"In our view, somewhat paradoxically, the more successful Afterpay is, the more likely it will attract regulatory scrutiny," UBS writes.
"The key risks are 1) can Afterpay continue to prohibit merchants from surcharging, and 2) could Afterpay be considered a provider of credit in the future?"
UBS says competition is also a threat.
"Low barriers to entry, the relative ease of replicating Afterpay's product offering and competition from other payment methods leave it vulnerable to competition, though we acknowledge that Afterpay's first-mover advantage in Australia and New Zealand has potentially created a moat in its home market."
UBS's own Evidence Lab data indicates that buy now, pay later (BNPL) users were more likely to be indebted than people who did not use it.
The firm said 64 per cent of BNPL customers surveyed think the service is credit and 30 per cent had used a credit card to pay down their balance.
"Further, APT's merchant fees represent (about a) 19 per cent to 49 per cent internal rate of return to APT: if customers are presented BNPL's true cost, we see risks to APT's gross merchandising volume growth outlook."
Bushfires and border lockdowns cruelled SeaLink's marine and tourism business in 2019-20, but the company is buoyed by the resilience of its public transport network and a growing stable of government contracts.
The transport operator swung to a full-year loss of $13.6 million from a $21.5 million profit after its tourism operations were blighted by coronavirus restrictions and choked by fires.
The ASX-listed firm said a depressed tourism market will most likely continue for its Captain Cook Cruises in Sydney Harbour, and businesses at Kangaroo Island and Perth, but there is cause for optimism on the back of contracts with large government clients.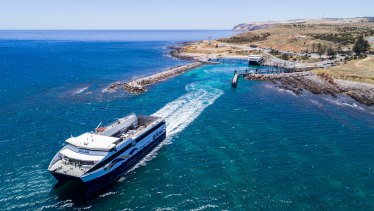 Nearly 90 per cent of SeaLink's revenue is sourced from these contracts and the company sees plenty of potential on the horizon with bus tender opportunities in Sydney, Melbourne, and Darwin.
"The effects of COVID-19 on state governments is likely to flow into transport budgets," Sealink told investors on Monday.
"Our expectation is that lower levels of organic contract service growth may result in the near term but a much greater emphasis will be placed on government outsourcing, potentially opening up new opportunities in the medium to longer term."
Shares in the firm were up 6.3 per cent to $4.73 after 40 minutes of trade on Monday.
SeaLink's revenue for the period beat RBC expectations as it more than doubled to $646.5 million, though costs also spiked.
The company counted nearly six months of earnings from its acquisition of Queensland passenger ferry and barge services business Transit Systems Marine.
Public commuter bus services remained resilient and consistent, "providing an essential service".
Despite being wound down for tourism purposes, marine links to the company's island destinations continued to operate as essential transport links and, in some cases, attracted additional government subsidies.
The company received $8.6 million in JobKeeper subsidies. Sealink will pay a fully franked final dividend of 4.5 cents per share – down from 8.5 cents a year ago. This will be paid on October 2.
SeaLink's largest shareholder is Smith Feuerherdt with 11.8 per cent of stock. It is a company owned by the two founders of Perth's Transit Systems, which was sold to SeaLink in 2019. Clint Feuerherdt became chief executive of SeaLink earlier this year, his wife is South Australia Sentor Marielle Smith, daughter of Transit System's co-founder Neil Smith.
Sleep treatments biotech Oventus boosted revenue by 26 per cent for 2020 despite tough COVID-19 conditions.
The company is expecting a better outlook for new patients for its sleep apnoea device, called O2Vent, as shelter in place orders ease.
Revenues increased to $419,298 but the company's loss also ballooned 29 per cent to $10.1 million. Oventus highlighted that its operating expenses jumped from $8.4 to $10.6 million over the past 12 months as the company built out its sales and marketing arms for the US market.
In a presentation to shareholders on Monday morning, Oventus management said the majority of its treatment sites had been shut to the public during the June quarter but that the business had been "utilising telehealth to build appointment books ahead of launch or relaunch" of its labs.
Shares in the business ticked upwards by 2 per cent at the open to sit at 24.5¢ at 10:30am.
Increased marketing helped mobile phone service re-seller Amaysim grow its mobile customer numbers by 24 per cent in 2019-20, although the extra spending ate into profits.
The utilities re-seller reported underlying earnings of $40.1 million this morning, slightly above its guidance of between $33 million and $39 million, but reported earnings before interest, tax, depreciation, and amortisation (EBITDA) was $38.4 million.
It did not provide guidance ''given the unprecedented level of economic uncertainty'' but said it would continue to invest in building its mobile brand.
EBITDA was 15 per cent lower than the previous financial year, due to a $9 million marketing investment in mobile and decreasing profits from its energy division.
Mobile subscribers increased 24 per cent to 1.2 million customers.
This morning Amaysim announced it is selling its Click Energy division to AGL for $115 million.
Profits from the mobile division increased nearly 12 per cent to $77.8 million, while energy profits fell 11.3 per cent to $73.3 million.
Overall the company reported post-tax profit of $600,000, which was an improvement on the 2018-19 loss of $6.5 million when it booked an impairment on Click Energy.
It also noted its mobile wholesale agreement with Optus expires in June 2022 and it was preparing to tender the agreement, which ''has the potential to deliver significant shareholder value''.
Shares are up more than 4 per cent this morning to 74¢.
New Zealand's stock exchange operator, NZX, has sustained a fifth consecutive day of distributed denial of service (DDoS) attacks.
Trading was temporarily halted during market sessions from Tuesday through to Friday last week because NZX was unable to publish market announcements.
This morning NZX chief executive, Mark Peterson, said it was working with internet provider Spark, and the government's communications and security bureau (GCSB), and has enlisted Akamai Technologies for help.
"NZX has also agreed with the Financial Markets Authority contingency arrangements for the release of, and access to, market announcements that are intended to allow trading to continue in the event of the nzx.com website going offline,'' the company said in a statement, moments before its website went offline again.
"NZX has been advised by independent cyber specialists that the attacks last week are among the largest, most well-resourced and sophisticated they have ever seen in New Zealand."
Infant formula company Bubs Australia has requested a trading halt until this Friday's session on the Australian market, as it told the ASX it would undertake a capital raising.
The news comes ahead of the release of Bubs Australia's 2019-20 full year financial results, to be released today.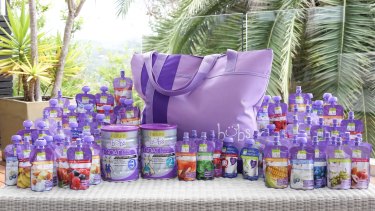 The company, which has established a niche in the goat milk infant formula category in Australia and China, currently has a market capitalisation of about $524 million. Its shares closed down 1.1 per cent to 91.5 cents on Friday.
Over the past two years the company has announced plans to increase its offering substantially, including by entering the cow milk infant formula category and by reaching new agreements with the supermarket majors to stock its products.
AGL is buying Click Energy from utility retailer Amaysim for $115 million, including the On The Move division.
The purchase is part of AGL's target of 4.5 million customer services by 2024, chief executive Brett Redman reminded shareholders this morning. With the purchase of 215,000 connections from Click, it now has almost 4.2 million services.
The acquisition will lead to a $40 million cost in its 2020-21 accounts, with the purchase price of $115 million, or $442 per service, funded through existing debt facilities.
Click sells electricity and gas to New South Wales and Victoria residents, and just electricity to Queensland and South Australia residents.
Amaysim has been advised to sell the business by Luminis Partners and this morning told shareholders it would remove a risk of increasing bad debt in the COVID-19 economic downturn, and strengthen its balance sheet for further investment in the mobile business.
Chief executive Peter O'Connell said he ''couldn't be prouder'' of what the energy business had achieved, ''however, we believe that going forward the business will be best suited in the hands of AGL''.
It will use the proceeds to repay $53 million of debt. Amaysim reported an 11.3 per cent decline in profits from its energy business in 2019-20, from $82.7 million to $73.3 million.
It cited regulatory pressure on retailer charges as one reason for declining earnings, as well as declining revenue due to lower energy consumption and a higher proportion of gas account, which are typically lower billing.
AGL shares are down 0.5 per cent to $14.72 this morning. Amaysim shares are up 4.2 per cent to 74¢.
Beleaguered fashion retailer Mosaic Group has settled a rental standoff with Australia's largest retail landlord that saw it locked out of 129 of its stores in Westfield's malls two weeks ago.
The ASX-listed retailer Mosaic, which operates stores such as Noni B, Rivers and Katies, said all non-Victorian stores in Westfield shopping centres reopened over the weekend after both groups settled their dispute on "confidential" terms.
Westfield owner Scentre Group locked the doors on Mosaic's stores on August 20 in a dramatic escalation of tensions between major landlords and their retail tenants over non payment of rent as a result of the coronavirus pandemic.
Scentre is fighting pitched rental battles with other landlords, including Solomon Lew's Premier Group, sending legal notifications about potential evictions to some parties.
Last week Mosaic told landlords it would close as many as 500 stores across its network as the company reels from a $212 million loss.
But Mosaic said in an ASX announcement today its long-standing relationship with Westfield resulted in an agreement over rent.
"We're pleased to have reopened our Westfield stores over the weekend following a mutually agreeable outcome to our negotiations with Scentre Group," chairman Richard Facioni said.
"Our Victorian stores remain temporarily closed for health and safety reason," he said.
Victoria's ongoing harsh social distancing restrictions and lockdown have shuttered multiple businesses, putting further pressure on fragile retailers.
Read more about the battle between retailers and landlords here