"It wasn't good enough," Shaw said after the game.
"It's not an acceptable performance," adding that there were no positives to be taken.
"Gold Coast were exceptional tonight. They worked hard, they were really well-drilled, they executed, and we didn't."
Asked about his post-match message to his team, Shaw said that how the Kangaroos responded against ladder-leaders Port Adelaide on Saturday night at Metricon Stadium would be telling.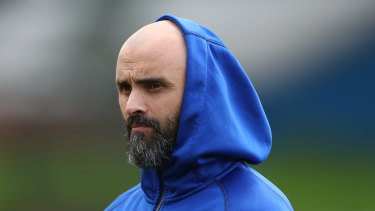 "It's probably bigger than that, I reckon. I think the only thing that can happen now is what the response is. That's essentially where it sits. I'm a bit at a loss really. I think this week's going to show a lot and tell us a lot.
"I'm not going to talk about individuals. It's not about that. It's about us as a collective and what that response is going to be next week, and how that looks.
"[Our members] would be really disappointed with tonight and I really feel for them, our fans and our members, and our club as a whole, because it wasn't good enough.
"It's a tough competition, you've got to rock up every week and perform and if you don't, you'll get found out."
Shaw said North may regain some players for the Port clash but didn't specify individuals.
Meanwhile Suns coach Stuart Dew was pleased with the way his side snapped a six-match winless run.
"We've been working towards a game like this. A lot of things to like," he said.
"Goalkicking was an issue and finishing. We did really want to play with speed and take the game on, and willing to live with it if some mistakes came from that. We wanted to keep promoting that risk element."
Daniel is an Age sports reporter