Telstra shares were down by 1 per cent to $2.84 this morning, the lowest price since early January 2019.
There are a couple of factors weighing on the share price, which has dropped 60c since 12 August, the day before its full year results, showing a decline in profit to $1.5 billion and a fall in revenue to $24.3 billion.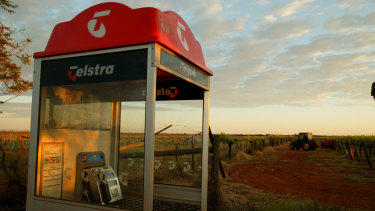 The stock went ex-dividend last Wednesday by 8c and trading volumes have been light since then. Perhaps retail investors are taking their capital out to find stocks with higher dividends?
This morning the Australian Communications and Media Authority found Telstra was among four companies that breached consumer protection rules after 1,586 Australians were left without telco services while trying to migrate to the NBN, and without any replacement services. Telstra, Dodo, Optus, and TPG have all submitted court enforceable undertakings to improve services.
And a website called Seeking Alpha has written an opinion piece called 'Telstra: Overvalued and a Bleak Outlook' saying the share price is 16 per cent over-valued with limited upside potential.
"It should be noted that even without the impact of natural disasters like bushfires and pandemic, revenue and profit have been flat in the last 10 years,'' analyst Michael H Nguyen wrote.
At current prices, Telstra shares are well below the average analyst target price of $3.49. The most pessimistic analyst has an 'underweight' rating with a target price of $3, according to Bloomberg.
Telstra shares were last 0.7 per cent lower at $2.87.
Border restrictions and a clamp on global travel swung Helloworld to a $70 million full-year loss, with the firm's balance sheet blighted by more than $67 million in write-downs.
Managing director Andrew Burnes, in an unaudited after-market release on Monday, said the coronavirus pandemic had made for the most challenging time in the company's history.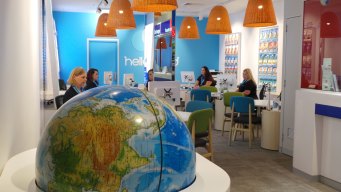 But he was adamant people would treasure the travel experience even more when the pandemic was over.
"People will not hesitate to go and see and do the things they have always wanted to do in the newfound knowledge that circumstances can change very rapidly," Mr Burnes told investors on Monday night.
"We are confident that when they can travel, our customers will need the help of their travel professional more than ever."
Nonetheless, it was a messy result for the company after a torrid second half of the year.
Total transaction volume – the value of travel products and services sold – fell 23 per cent to $5 billion, missing RBC estimates.
Helloworld's revenue for the year fell 21 per cent to $282 million, which was slightly better than expectations, as it slipped from a $38 million profit a year ago.
The company booked a non-cash impairment of $67.1 million against its Australia wholesale and inbound division and the TravelEdge Group, which it bought in October last year.
It received $12.7 million in government wage subsidies in FY20 and expects JobKeeper to deliver a $20 million benefit from the start of FY21 to March next year.
The company said it responded quickly to the virus and was able to reduce monthly net operating cash outflows to about $2 million, excluding one-off costs, from April onwards. It announced 275 redundancies in March and stood down a further 1,300 staff.
Mr Burnes – the former treasurer of the Federal Liberal Party – said the company's corporate business in Australia and New Zealand has shown signs of recovery in the past three months, but revenue generation in leisure sector has been generally been much slower.
"We are seeing some revenues from intra-state travel, particularly in WA, Queensland and New South Wales and, for a short period, interstate travel, particularly when the Queensland border was open," he said.
Helloworld will not pay a final dividend, having delivered a 12.5 cent per share payout a year ago.
It paid an interim dividend of 9 cents.
Shares in Helloworld fell 4.6 per cent to $1.86 by 11.45am AEST on Tuesday, amid a 1.9 per cent drop for the wider ASX 200.
The local bourse has copped a hammering this morning, diving by as much as 2.5 per cent to a low of 5908.9 as all sectors continue to bleed red.
The benchmark ASX 200 shed about $45 billion from its market cap at its Tuesday nadir, and was last 2.2 per cent lower at 5927.2.
Financials, consumer staples, property, and energy sectors are each down by more than 2 per cent and tech stocks have fallen by a collective 3.3 per cent.
AGL and Lendlease are the only ASX 50 companies in the black.
Afterpay is the biggest loser at 11.40am, dropping $5.21, or 5.7 per cent following news that PayPal is launching a four-installment payment option.
QBE Insurance has shed 5.2 per cent to $10.06 after it announced its chief executive would depart following an investigation into workplace communications.
Starpharma shares bounced more than 28 per cent at the open to hit $1.95 after the company revealed it was working on a water-soluble version of COVID-19 treatment remdesivir.
Remdesivir, which is produced by $80 billion US biotech Gilead, was the first treatment to receive TGA approval in Australia for use against COVID-19.
Starpharma said on Tuesday morning it had applied its dendrimer technology platform to the drug and had created a water-soluble version of the product which could potentially be injected rather than infused into patients and make it more accessible in a range of settings, including aged care facilities.
Chief executive Jackie Fairley said the formulation could also mean remdesivir can be used in nations with less developed healthcare systems, where the scope for regular infusions of medicine is limited.
A Gilead spokesperson has previously told this masthead that supply of Remdesivir would be constrained until at least the end of this month as the company rushes to keep up with global demand for the product.
Shares in the company were last 13.5 per cent higher at $1.72.
Social media behemoth Facebook is threatening to ban news from being shared on its main app and Instagram in Australia in a major attack on a new regulatory code that would force it and Google to pay publishers for content.
Facebook Australia managing director Will Easton said the proposed legislation, which was announced by the competition regulator in July, misunderstands "the dynamic of the internet" and will damage news organisations.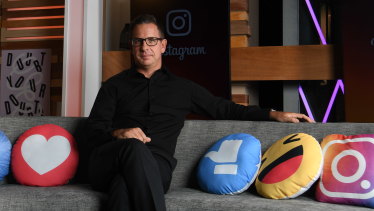 "Assuming this draft code becomes law, we will reluctantly stop allowing publishers and people in Australia from sharing local and international news on Facebook and Instagram. This is not our first choice – it is our last," Mr Easton said.
"We already invest millions of dollars in Australian news businesses and, during discussions over this legislation, we offered to invest millions more. We had also hoped to bring Facebook News to Australia, a feature on our platform exclusively for news, where we pay publishers for their content."
"But these proposals were overlooked. Instead, we are left with a choice of either removing news entirely or accepting a system that lets publishers charge us for as much content as they want at a price with no clear limits. Unfortunately, no business can operate that way."
Temple and Webster chief executive Mark Coulter has taken advantage of the company's 267 per cent increase in the value of its shares since the start of the year to sell around 2.4 million shares.
The sell-down, which will net Mr Coulter a cool $24.2 million, was in part for tax obligations due to the release of a holding lock, the company said.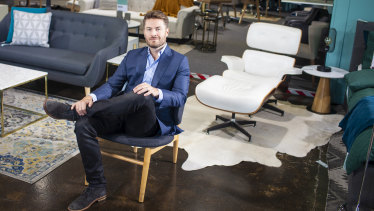 Non-executive director Conrad Yiu also sold 500,000 shares, worth around $4.5 million. In a statement, Mr Coulter said he was also taking the opportunity to rebalance his investments. The chief executive was Temple and Webster's third-largest shareholder, with around 6 per cent stake.
"When I took the helm to lead the turn-around of Temple & Webster, my personal goal was to grow our market cap from under $20 million to over $1 billion and reach unicorn status. We did that within 5 years," he said.
"I am committed to a future with the business, and my next personal milestone is to take Temple & Webster from the largest online retailer to the largest overall retailer of furniture & homewares in Australia, by sales. Watch this space."
Shares in the firm fell 1.9 per cent to $9.51 at Tuesday's open amid a 1.8 per cent decline for the wider market.
Mr Coulter retains around 7.2 million of shares and options in the retailer, worth some $70 million following a massive run in the company's stock, which has seen it jump over 500 per cent since its March lows.
The ASX 200 shed $30 billion at Tuesday's open as it dropped below 6000 for the first time in nearly four weeks.
The benchmark index fell as much as 111.4 points, or 1.8 per cent, to 5949.1 in the first 15 minutes of trade.
Only the utilities sector pulled ahead at the open. Financials were down a collective 2 per cent, materials dropped 1.5 per cent, energy stocks slipped 2.7 per cent, and tech stocks shed 3.2 per cent.
Of the top 30 biggest companies on the index, only ResMed and REA group were in the black.
All 26 companies in the financial sector were down, except IOOF which remains in a trading halt.
The big four banks have dropped between 2.1 per cent and 2.8 per cent and QBE Insurance has fallen 5.3 per cent.
Afterpay has dropped $5.69, or 6.2 per cent. This follows news that PayPal is launching a four-installment payment option.
Appen, Link Administration, Mt Gibson, Omni Bridgeway, Ramelius Resources, Smartgroup, Steadfast Group, Super Retail, Woolworths, and Worley are ex-dividend.
Melbourne house values fell by 1.4 per cent in August, dragging down the national property market with warnings the winding back of key federal government support measures could hit prices in coming weeks.
CoreLogic's monthly measure of house values showed Melbourne suffered the biggest hit of any capital through August as the stage four lockdown was introduced.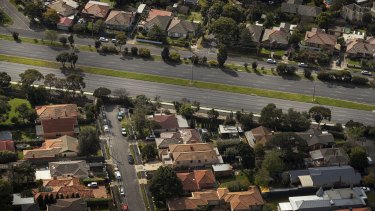 House values in Melbourne fell by 4 per cent through the past quarter and for the year so far are down by 2.5 per cent.
Unit values in the city dipped by 0.8 per cent to be 2.2 per cent down over the quarter and by 0.6 per cent since the start of the year.
Sydney fared better but even there house values dipped by 0.5 per cent in August to be 2.4 per cent lower over the quarter. So far this year, they are still up by 1.7 per cent.
Unit values in Sydney fell by 0.3 per cent last month to be 1.6 per cent lower through the quarter. They are still up by 1.7 per cent through 2020.
Outside the two large property markets, other cities and regions did much better. House values lifted by 1.1 per cent in Darwin and by 0.5 per cent Canberra while they were flat in Perth, Adelaide and Brisbane.
Nationally, dwelling values fell by 0.4 per cent to be 1.7 per cent down over the quarter. Over the past 12 months, values are still up by 5.8 per cent.
CoreLogic's head of research Tim Lawless said Melbourne was being directly affected by the most recent lockdown, with home values there down by 4.6 per cent since the advent of the pandemic.
"The performance of housing markets are intrinsically linked with the extent of social distancing policies and border closures which also have a direct effect on labour market conditions and sentiment," he said.
"It's not surprising to see Melbourne as the weakest housing market considering the extent of the virus outbreak, and subsequent restrictions, which have weakened the economic performance of Australia."
Aviation group Regional Express (Rex) has managed to ride out the coronavirus storm, recording no net loss in revenue in financial year 2020 thanks to $62 million in government handouts.
The ASX-listed carrier on Monday afternoon revealed that its passenger revenue fell $65 million in the 12 months to June 30 due to the COVID-19 pandemic. However, the slump was more than covered by government aid, including JobKeeper payments, and higher revenue from its pilot training business.
Total revenue for the year landed at $321 million, up $4 million from the same period a year earlier. The airline reported a statutory loss after tax of $19.4 million for 2020, which was driven by a $62 million impairment charge against its assets.
Executive chairman Lim Kim Hai said that write-down was "in anticipation of difficult trading conditions in the next two years".
On an underlying basis – excluding both its non-cash asset impairment and $38 million from the government's Regional Airline Funding Assistance scheme– it posted a profit of $250,000.
Mr Lim expressed his gratitude to the Morrison government, and to deputy prime minister and transport minister Michael McCormack, for their "swift and decisive actions that have saved Australia's regional aviation industry".
Victoria has recorded 70 new coronavirus cases and five deaths on Tuesday after recording 73 daily cases on Monday, its lowest total since July 3.
The five deaths are the fewest recorded in Victoria on a single day since August 15 when four deaths were recorded. The state's death toll sits at 570 and the total number of cases recorded by Victoria is 19,150.
Premier Daniel Andrews has announced he will reveal a roadmap out of the state's restrictions on Sunday and the state of emergency issue will be debated in Parliament today.
A nurse is one of Queensland's two new coronavirus cases recorded on Tuesday.
The 37-year-old male nurse worked at the Ipswich Hospital where all staff have been required to wear personal protective equipment. He had been treating patients in the COVID ward, Deputy Premier Steven Miles said.
The second positive case was an 18-year-old high school student from Staines Secondary College at Redbank Plains. He tested positive while already in quarantine. The school is closed for a fortnight.
Meanwhile, patrons of an inner west Sydney Thai restaurant need to self-isolate for 14 days, NSW Health has confirmed this morning.
Anyone who attended the It's Time for Thai restaurant on King Street at Newtown on Friday between 5pm and 8pm should get tested immediately and self-isolate for 14 days.