Longer term, though, conditions in the Indian and Pacific oceans are also aligning to lift the odds of generally damper and cooler than normal weather for the eastern two-thirds of Australia for most of the rest of 2020.
The warming of waters off north-western Western Australia are likely to favour the flow of increased moisture across the continent. Similarly, warmer than usual conditions in the western equatorial Pacific have lifted the chance of a La Nina later this year to 70 per cent, or triple the usual risk.
In La Nina years, high-pressure systems typically set up further south than usual and over the Tasman Sea, directing moisture-laden tropical air over eastern Australia.
Such years also elevate the likelihood of more tropical lows and cyclones forming in northern Australia, Dr Watkins said. The first coast-crossing cyclone is about three weeks earlier than in a usual year, raising the possibility of flooding well to the south, such as during 2010-12.
A year ago, the climate influences leaned the other way, intensifying the drought across much of eastern Australia and setting up a summer of record-breaking forest fires.
This year, the bushfire risk has been moderated but not eliminated. Recent good rains – with more to come – will boost the threat of grass fires during any dry spells.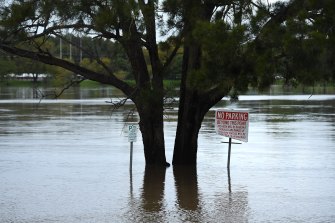 According to the Australian Seasonal Bushfire Outlook released by the Bushfire and Natural Hazards Co-operative Research Centre on Monday, the forecast fire risk for NSW is rated as "normal" for the coming season.
Windy conditions "can be a risk regardless of the temperature where grass has been cured by frost", the outlook said.
Loading
"Recent and forecast rain, combined with warmer than average minimum temperatures, may provide ideal growing conditions for cropping and grassland areas," it said. The likely increase in intensity of grass fires make them "hotter, more dangerous and harder to extinguish".
The Rural Fire Service said on Monday that 21 more local government areas would commence their bushfire danger period from September. That brings the total to 27 areas where fire restrictions apply.
"Increased grass growth due to recent rain could prove problematic over coming weeks and months, particularly in these areas starting their danger period," Commissioner Rob Rogers said.
For June-August temperatures, NSW was close to average but nationally it was among the 10 warmest winters on record.
Western Australia was the standout state, recording its hottest winter as well as Australia's hottest August day on record with the mercury climbing to 41.2 degrees at West Roebuck on August 23. That beat the previous August high by 1.2 degrees, by a "quite significant" margin, Dr Watkins said.
For snow, the season had generally been a poor one until an outbreak of Antarctic cold late in August.
NSW ski-fields had been faring better than their Victorian ones but both benefited from the recent dump.
For Victorian fields such as Mount Hotham, the snow cover was barely 30 centimetres deep going into late August, or the lowest in records going back almost 30 years. With coronavirus, though, few Victorians or others have been able to visit that state's resorts.
"If you were going to miss a [ski] season, it was a good one to miss," Dr Watkins said.
Get our Morning & Evening Edition newsletters
Peter Hannam writes on environment issues for The Sydney Morning Herald and The Age.
Most Viewed in Environment
Loading