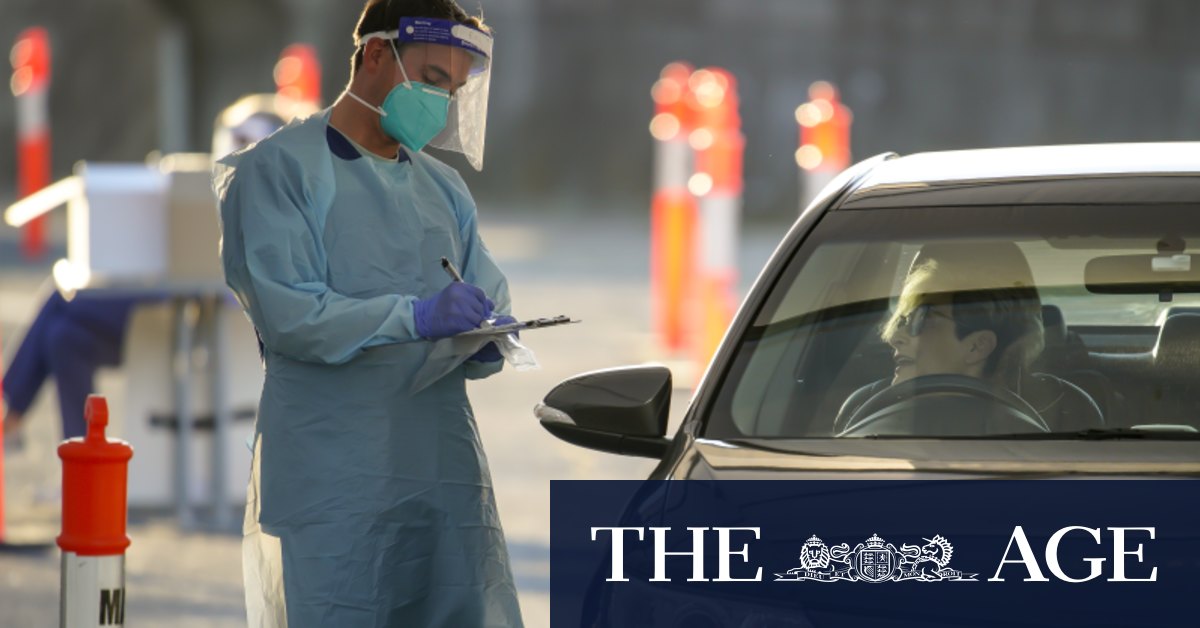 At 11am, NSW Premier Gladys Berejiklian and Victorian Premier Daniel Andrews will both give updates on the coronavirus pandemic in their respective states.
To watch the NSW update, click play on the first video. To tune into Victoria, click play on the second video. Depending on your settings, you may need to click mute or "do not play" on the video you do not want to watch.
The Andrews government will detail the state's plan for reopening on Sunday, underpinned by key principles to ensure case numbers stay low once restrictions are eased.
Mr Andrews said an additional week of data would be crucial for the government to determine a clear path forward.
The key principles that will underpin decision-making are: ensuring physical distancing and density rules are followed; wearing of face coverings and use of PPE in high-risk workplaces; and ensuring workplaces follow rules to mandate staff do not work while sick.
Another week's data is "critically important," Mr Andrews said, "to make sure the strategy continues to work and … so they can be contained and controlled without the need to put restrictions back on over not just weeks and months but over a longer period.
"They are common-sense principles … and they will underpin every single one of the announcements … [for] finding that COVID normal and locking that in for many months.
"Modelling scenarios being run through various supercomputers; there is an enormous amount of work going on, and we will be in a position to be able to share that roadmap, what it will look like its various components and phases, with the community on Sunday."
It cannot be 100 per cent certain, because everything must be based on case numbers.
"I am deeply, deeply grateful to every single Victorian who is staying the course, who is making their own personal contribution to a strategy that is defeating this virus. We will defeat this second wave."
Coronavirus restrictions in New Zealand's largest city, Auckland, have been reduced to alert level two, after a two-and-a-half week stage-three lockdown.
New Zealand reported nine new coronavirus cases on Monday, with five linked to the Auckland cluster and four in travellers who had returned to the country from India.
Prime Minister Jacinda Ardern travelled to Auckland on Monday morning to visit a government infrastructure project.
Speaking to the media while wearing a blue surgical mask, Ardern said it was "fantastic" that mask use appeared to be widespread in the city.
The Prime Minister warned that it was likely the country would see more coronavirus cases connected to the Auckland cluster to emerge for some time to come.
She acknowledged that people were fatigued by the re-imposition lockdown restrictions but said that "relative to others, we [New Zealand] are doing really well".
Health Minister Chris Hipkins said that Auckland Transport believed that nine out of 10 people on public transport were wearing public transport on masks, in line with the new country-wide regulations.
He added that "anecdotally" it appeared that about 50 per cent on the street in Auckland were wearing masks, too. Police on the streets of Auckland are carrying extra masks to hand out to people who need them.
The minister urged Auckland residents to follow the new health guidelines as "we continue to chase down the remnants of the current cluster".
Mr Hipkins said he was pleased with the current testing levels, with 7,219 people tested on Sunday. More than 60,000 people have been tested since a testing blitz that aimed to test 70,000 people was launched last week.
The country now has 131 active cases, including 24 in returned travellers and 107 active community cases, while 15 people have now recovered from the second wave outbreak of infections.
There are 11 people in hospital, including two people in intensive care.
A total of 128 people linked to the Auckland community outbreak are in a quarantine facility, including 85 positive cases.
NSW Premier Gladys Berejiklian and Chief Health Officer Kerry Chant have flagged restrictions on aged care visits in the state may be relaxed ahead of Father's Day this weekend.
Last week, NSW Health said it was "strongly advising people who live or work in the greater Sydney metropolitan area and Central Coast to refrain from visiting aged care facilities until 12 September".
But at today's press conference, Dr Chant said this decision was under review in light of low cases connected to the CBD cluster.
"If this reassuring picture continues, we are reviewing our aged care advice later in the week ahead of Father's Day," she said.
Speaking about restrictions on school ceremonies, the Premier stressed the current restrictions – which ban events such as school formals – were only in place for term three.
"We've said this repeatedly: Health will review the advice just as they're reviewing the advice on Father's Day and aged care … that's why I always say the health advice is evolving. We are in a pandemic and it's important for us to take one step at a time"
Victorian Premier Daniel Andrews has announced that his government would provide a guide for the easing of coronavirus restrictions on Sunday.
"It is too early today to settle that road map and to lock that in as it were, another week's data is critically important to make sure that the strategy continues to work and for us to have a better sense of how long it will take to drive these numbers down to very, very low numbers so that they can be contained uncontrolled without the need to put restrictions back on over not just weeks and months.
"That is the aim, and that is what the strategy is working towards."
Mr Andrews said there would be a number of principals that would underpin that restriction rollback.
"We have to ensure that physical distancing – including following density requirements, making sure staff work from home wherever possible, eliminating the total number of staff and customers in any enclosed area, and stopping carpooling.
"It has to be a feature of opening up and getting people back to work.
"Wearing a face covering at all times in the workplace and ensuring that PPE is used, particularly in those higher risk industries.
"Requiring hygienic workplaces, so things like high touch points being regularly cleaned, staff regularly washing their hands, the availability and the use of hand sanitiser, so on and so forth."
Workplaces would also have to have strict policies on requiring staff who are sick to stay at home, he said.
"I know that Victorians also want the clearest picture possible of what the next phase looks like. We cannot provide that certainty today," Mr Andrews said.
"We cannot provide a detailed road map today, but we will provide that on Sunday, another week's data is almost invaluable. I know a week feels and indeed is a long time locked at home, but it is also a very lengthy period of time when it comes to understanding what this virus is doing."
Premier Daniel Andrews has begun his daily media conference by confirming 73 new cases, the lowest daily total since July 3, and an additional 41 deaths.
Mr Andrews said eight of the deaths occurred in the past 24 hours while the others occurred prior to that.
According to the Health Department, the deaths include 22 people who died in the weeks leading up to 27 August and which were reported to the department by aged care facilities on Sunday.
The deaths include three men and four women in their 70s, seven men and ten women in their 80s, three men and thirteen women in their 90s and one woman in her 100s.
At least 37 of the newly-published deaths are linked to aged care outbreaks.
There have been 565 deaths in the state and there are now about 2600 active cases in Victoria, a drop of about 300 from yesterday.
About 14,000 tests were recorded in the past 24 hours and 112 cases have been added to the total of those with no known source of infection.
There are now 453 people with COVID-19 in Victorian hospitals, 19 fewer than yesterday, including 21 in intensive care, four fewer than yesterday.
The Victorian government still has work to do to get its proposed legislation extending its state of emergency powers through Parliament.
The Andrews government needs to secure three votes from the crossbench to pass a bill allowing the extension of state of emergency provisions which legally enforce coronavirus restrictions such as quarantine.
Former Labor minister Adem Somyurek on Monday revealed he would abstain from voting on the legislation until an anti-corruption investigation, called by Premier Daniel Andrews into his conduct as a factional powerbroker, has concluded.
Mr Andrews hoped for a 12-month extension but negotiations were under way over the weekend to revise it down to six months.
However, Reason Party MP Fiona Patten and Animal Justice Party MP Andy Meddick are the only two parliamentarians to support that revised timeline, with all other crossbench and opposition MPs opposed to the move.
In June, the Premier sacked Mr Somyurek from cabinet after an Age and 60 Minutes investigation revealed his role in one of Labor Party's biggest branch stacking operations, and allegedly directed taxpayer-funded ministerial and electorate staff to conduct party political activity.
"Although the allegations aired on 60 Minutes were a series of baseless allegations which were not put to me before the program went to air, the program has generated such a significant level of negative commentary based on these baseless assertions that I feel it has put into question the legitimacy of my vote," Mr Somyurek said in a statement on Twitter.
"Therefore I will abstain from voting until the IBAC process has concluded."
Mr Somruyek was repeatedly offered interviews ahead of the investigation's publication.
NSW Premier Gladys Berejiklian has said she "appreciates the concerns raised" by her deputy, John Barilaro, and Agriculture Minister Adam Marshall about the need for movement of agricultural labour but would "prefer to wait" until national cabinet for its decision on the matter before changing her state's restrictions.
"It's important to have a national approach to this, so that we're not out of kilter on what's happening in different states," she told reporters on Monday.
Earlier today Mr Barilaro and Mr Marshall said they would be pushing for an agriculture workers to be governed by a national code like freight workers at a meeting of the country's agriculture ministers tomorrow and at national cabinet this Friday.
NSW has already relaxed its rules around the movement of agriculture workers in Victorian border communities, however the proposal at hand is for a broader exemption to border restrictions for the industry.
"Within the border communities they can now move very freely; what we're talking about is agricultural workers being able to go from a non border community to any part of NSW," the Premier said.
"Now that's a very different proposition and a different risk, and that's why I will absolutely be waiting until Friday."
The Premier said she would be announcing a further loosening of restrictions on the NSW-Victoria border later this week.
NSW Chief Health Officer Kerry Chant has said there are "policy issues" with mandating masks in NSW, stressing that she does "strongly recommend" that people wear masks in the community but she is not comfortable making them mandatory.
"Once we make it mandatory, it will mean that there'll be no exceptions to the rule," she told reporters on Monday.
"And we need to give the time for the community to embrace masks, and get used to them, and to acquire them."
Premier Gladys Berejiklian said Service NSW data showed an increased number of people were wearing masks while out and about in Sydney, as high as "sixty-something per cent", but she would receive an additional update on Wednesday.
The Premier said she was currently not looking to make masks compulsory as household contacts currently represented the greatest risk of contracting the virus, but would change her stance on the basis of health advice.
"What we don't want is people with symptoms thinking they can put a mask on and go out and conduct their business, because that won't work."
Dr Chant said she was not going to make masks compulsory without assessing the risk and having procedures in place so that people were not disadvantaged.
"People will no longer be able to get onto that bus if they were not wearing a mask … we need to look at the age cut-off [and] there'll be some in the community that won't tolerate masks for a variety of reasons," she said.
The Chief Health Officer has requested Transport for NSW to provide updated figures on mask-wearing on public transport in the state.
The hotels housing quarantined returned travellers in Victoria were responsible for cleaning and providing COVID-19 training and personal protective equipment to their staff.
But specific Victorian guidelines on what cleaning and disinfectant procedures to follow were not given to hotels until mid-June, more than two months after the quarantine program began.
The Department of Jobs, Precincts and Regions' official who oversaw the contracting of hotels for the program is giving evidence this morning to the Victorian inquiry investigating the scheme.
Executive director of aviation strategy and services Unni Menon confirmed the contracts stipulated the hotels were responsible for cleaning and the training of its staff in COVID-19 infection control and use of PPE.
In the early stages of the program, which began on March 29, hotels would clean its public spaces while deep-cleaning of rooms was carried out by department of health contracted cleaners.
Mr Menon said it was up to the hotels themselves to "ensure they complied with aspects of public health standards in relation to COVID-19."
But the contracts did not stipulate what public health standards they should comply with, the inquiry heard.
The inquiry heard the hotels relied on the federal government's advice on infection control and PPE.
Specific advice on cleaning from the Victorian health department was not supplied until June 17.
Mr Menon said this had "significant detail and level of prescription in terms of cleaning and disinfection".
Prior to this specific advice being provided, there was a contractual obligation on the part of the hotels that they meet "whatever the national accepted standards were", Mr Menon said.
Training on infection control and use of PPE, as well as the level of cleaning within hotel quarantine, is under scrutiny in the inquiry because the transmission of COVID-19 occurred between returned travellers and hotel staff before spreading into the community, causing Victoria's deadly second wave of the virus.
There was 19 coronavirus deaths in Victoria yesterday.
But you will have noticed that additional pink line on the graph of daily deaths from coronavirus, which extends today's increase to the total death toll to 41.
This is because, the health department stated, there were 22 deaths in aged care that were not reported to health authorities until yesterday.
In a tweet this morning, the health department stated these deaths occurred in aged care settings in the weeks leading up to August 27 and were reported to the DHHS on Sunday.
What the pink line on the graph shows is that the reported number of COVID-19 deaths on some days this month was lower than the true number.
There have been revisions made to the state's total coronavirus death toll in the past (for example, earlier this month one death had previously been counted twice by mistake), but this is the first time the state's death toll from coronavirus has been revised to this extent.