Thanks so much for joining us for two cracking AFL games tonight.
It was heart-warming to see the Crows get their first win in their victory over Hawthorn while West Coast flexed their muscles in that win over Essendon.
We will have more coverage from this game and others as the week continues and more live blogs to come as we head towards the weekend.
Thanks again and I wish you all a lovely evening.
I'll sign off with this picture of Nic Nat and Sam Draper wrestling during the third term tonight.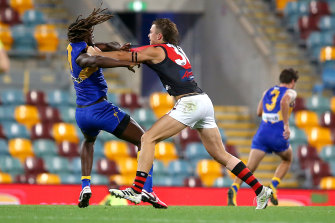 Full time: West Coast Eagles 9.6 (60) d Essendon 6.9 (45).
Liam Ryan kicked a career-best four goals and showed he could be a handful should the Eagles end up playing some other big games like the grand final on the Gabba later in the year.
Essendon lacked polish at times but when they were flying, they were outstanding.
But the consistency and very sharp kicking for goal made all the difference in the end.
If Essendon can start converting, they could be anything.
But that bit of polish is missing for now.
As for the Eagles. They are in this premiership race up to their eyeballs.
Luke Shuey doesn't look to happy or too comfy as he limbs to the bench after possibly hurting his hamstring again.
Have to wonder why he went back on, hopefully he is just cramping or tired.
Irving Mosquito came up with the ball and his kick for goal just went wide.
With two minutes left, Essendon is running out of time trailing by 14 points.
Essendon were patient then sent in a high kick to the top of the square, their bigs knocked it down and Tippa got to the front of the pack, crumbed the ball and kicked his fourth goal.
The Eagles now lead 59-44 with eight minutes to play. Another Essendon goal would make for a very nervous end for West Coast.
Both sides are running hard and pressuring relentlessly in this last term but neither seems to be able to get a shot on goal.
Luke Shuey has returned for the Eagles which is a good development.
Under 10 minutes to go, Eagles still lead 59-38.
Fox Footy reporting Luke Shuey had a right hamstring test late in the third term but has tested out his hammy with some kicking at three-quarter time.
It's still unclear whether he will be back or not. Fox Footy's Alistair Lynch seemed to think Shuey could return.
Final term is now underway.
Adam Saad looked to mark and then run on for the Bombers in the closing seconds of the term but he was caught and pinged for holding the ball.
Tim Kelly played on quickly, hit Liam Ryan on the chest and he played on running into an open goal despite the siren being seconds away.
Ryan's goal came about two seconds before the siren.
Eagles lead 9.5 (59) to 5.8 (38) heading into the last term.
Will be very hard for the Dons to find a win from here but they are potent enough to do it.
Joe Daniher has had a couple of misses in this third term despite still proving such a great marking target for Essendon.
But there is still time for him to get his kicking aimed up.
Eagles still lead 53-38 late third term.