The ASX 200 was little moved by confirmation Australia entered its first recession in 29 years, up 1.6 per cent at noon in a $28 billion rebound from Tuesday's losses.
The benchmark index was last 94.1 points higher at 6047.5, reclaiming most of its lost ground from yesterday and outperforming other major Asian markets. All sectors were ahead.
Economic growth contracted by 7 per cent in the June quarter. The Aussie dollar fell from US73.80c to US73.37c following the 11.30am GDP data but has since picked up to US73.45c.
The miners were still strong at noon, with BHP gaining 3.6 per cent to $38.85, Rio Tinto lifting 2.7 per cent to $100.13, Fortescue Metals Group 4.1 per cent up at $18.34.
Financials gained 1 per cent.
Industrials, consumer staples, and utilities were each up by more than 2 per cent.
Gold miners were a notable drag.
IOOF emerged from a four-day trading halt with a 13.7 per cent decline to a four-month low of $3.64. It has improved slightly in the first two hours of trading to $3.65.
The fund on Monday announced it would buy NAB's wealth business for $1.4 billion.
The takeover deal will turn IOOF into the country's largest wealth manager with over 1880 advisers. Subject to regulatory approval, the new-look IOOF will service over 2.2 million Australians by June next year.
The deal will swell IOOF's funds under management to around $510 billion, with $173 billion of this in superannuation monies, making it the country's second-largest super fund in assets under management.
IOOF's largest shareholders include Legg Mason with 9.1 per cent, the $10 billion Nikko Asset Management fund with 8.5 per cent, and individual Bruce Neill with 7.3 per cent, thanks to IOOF's acquisition of Australian Wealth Management in 2006.
Australia is now officially in a recession for the first time in three decades.
The economy contracted by 7 per cent in the June quarter, following a 0.3 per cent decline in the three months to March, Australian Bureau of Statistics data released on Wednesday morning shows.
Labor treasury spokesman Jim Chalmers said on Radio National this morning it was "going to be a dark day".
"We are in the midst of a deep and devastating recession and that has consequences for millions of Australians," Dr Chalmers said.
He said international comparisons, which show Australia has fared better than many other major economies, were "absolutely meaningless if you've lost your job".
Treasurer Josh Frydenberg said on Tuesday that an extension to wage subsidy scheme JobKeeper, which is currently supporting 3.5 million workers, would continue to be an economic lifeline for businesses during the downturn.
"The passage of the legislation tonight is going to give evidence and certainty to millions of Australian workers and provide hope for our economic recovery," he said.
The Aussie dollar fell from US73.80c to US73.37c following the data.
NSW recorded 17 new coronavirus cases overnight from more than 20,000 tests. One of the cases was in hotel quarantine and the other 16 were locally acquired.
The vast majority of the cases are linked to known sources, NSW Premier Gladys Berejiklian said.
Chief Health Officer Kerry Chant confirmed that just one of today's cases did not have a known source. Of the remaining cases, eight are linked to the August CBD cluster, six are linked to St Paul's Catholic College at Greystanes and one case is linked to Liverpool Hospital.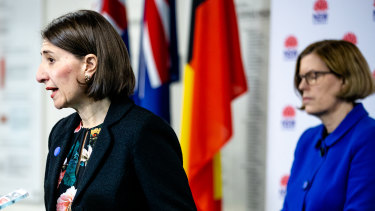 Commenting specifically on wearing masks, Ms Berejilian said: "It is really important that [when] doing high-risk, indoor activities or in places where social distancing can't always be maintained, people to wear masks".
"We ask people to consider that, whether it's a place of worship, whether it's at a supermarket, whether it's on public transport, whether it's at any venue – especially indoors – if social distancing can't be maintained," she said.
"I want to see those rates of mask-wearing to increase."
The data from Services NSW varies, showing mask-wearing varies from 20 per cent to 60 per cent across sectors.
Meanwhile, Victoria confirmed 90 new cases and six additional deaths in the state overnight.
There have been 576 deaths in the state and there are now 2415 active cases in Victoria, a drop of about 100 from yesterday.
Future Fund chair Peter Costello, and also chair of Nine Entertainment which publishes this blog, says anyone who can get returns of 5 per cent in the current climate deserves a medal.
Mr Costello was responding to questions about the Future Fund's first full-year loss since inception.
The fund declined by about 1 per cent from $162 billion to $161 billion and Mr Costello said it is "going to be harder to achieve good investment returns going forward".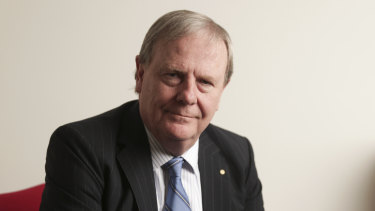 Over the past ten years the fund has grown at an average of 9.2 per cent per year.
"We would regard this outcome in the current financial year as very solid and a pleasing outcome,'' Mr Costello said.
"When the cash rate is close to zero, the 90 day bank bill is 100, and 10 year bond rate is at 1 per cent – anybody that could get 5 per cent in a climate like that probably should have a medal hung around their neck."
He denied the fund had missed its annual target of growth of 4-5 per cent over inflation.
"To say it has missed its target is not right, it is a target over time. Over ten years it has well exceeded its target.
"I don't think anyone imagined a one in a hundred year pandemic. But the Future Fund is well and truly meeting its target, well and truly exceeding its target."
Australian COVID patients will be able to participate in Mesoblast's COVID-19 treatment trial after gaining ethics approval this week.
The stem cell treatments business is currently recruiting for a phase 3 study to look at whether its flagship anti-inflammatory product will help reduce respiratory distress in those battling the virus.
The Human Ethics Research Committee at Monash Health has granted hospitals in Melbourne and Sydney approval to be involved in the trial.
Recruitment has already started in the US and the trial will treat 300 patients to establish whether Mesoblast's treatment works.
Shares were down 0.2 per cent at the market open to $5.23
The man who was Treasurer during our last great period of economic growth, Peter Costello, says the recession that is expected to be confirmed at 11.30am this morning was well beyond the federal government's control.
"Obviously this is the result of the pandemic and the governments' response, including state governments, to close large parts of the economy,'' he said during a briefing on the Future Fund's full year result. Mr Costello is chair of the sovereign wealth fund.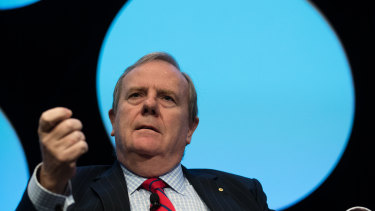 He added that as long as Victoria remains in very strict lock down it would be a "constant drag on the economy'' because it represents a quarter of the national economy.
"The hard work is going to begin when the stimulus gets withdrawn,'' Mr Costello said.
He noted that borrowing costs were extremely low and government debt was now on its way to $1 trillion.
"We have had a very large build up in debt, I can understand the reasons for that because we are in a one in 100 year pandemic but the hard thing is going to when we try and emerge from it."
Earlier this week the government sold another $2 billion 10-year bond paying a 2.5 per cent coupon. It received over $12 billion worth of bids for this bond, suggesting Australian government debt remains a highly desirable asset. This sales takes total government debt to $770 billion.
Fast-food operator Restaurant Brands has set its sights on international expansion after completing a $US80.7 million ($109 million) acquisition of 69 KFC and Taco Bell stores in California, USA.
The company, which is headquartered in New Zealand and dual-listed on the ASX, operates the New Zealand franchises for KFC, Pizza Hut and Carl's Jr, along with a KFC franchise in New South Wales.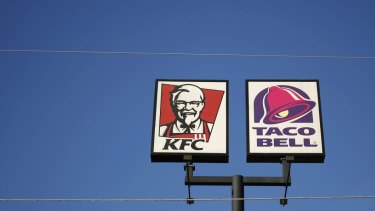 Restaurant Brands competes with Australian company Collins Foods, which operates the KFC franchise in the rest of the country and Taco Bell in Australia.
Yesterday the business announced it had received the green light from KFC and Taco Bell to acquire the Californian franchise, which consists of 58 KFC stores and 11 multibrand KFC and Taco Bell stores, along with a head office facility.
In the last 12 months, the franchisee reported $US95 million in revenue and EBITDA of $US12 million. The acquisition was funded out of existing debt facilities.
"Acquiring a sizable number of well-managed stores in a market with excellent growth potential such as California provides an ideal platform from which Restaurant Brands can pursue the next phase of its exciting growth strategy," Restaurant Brands chairman Jose Pares said.
The ASX 200 rebounded from a four-week low thanks to early gains for the heavyweight miners and a bright start for health stocks.
The index was up 68.6 points, or 1.2 per cent, after 15 minutes of trade at 6022.0. Soon afterwards, the market was up 1.4 per cent and about $25 billion better off than it was at yesterday's close.
The local bourse lost most of its August gains on Tuesday when it fell 1.8 per cent to close below 6000 for the first time since August 3.
Local stocks followed Wall Street higher at the open, though the ASX tech sector was subdued on more heavy losses for Afterpay. The firm dropped 6.1 per cent to $79, extending Tuesday's 8 per cent decline.
The materials sector jumped by a collective 2.1 per cent. BHP added 3.4 per cent to $38.79, Rio Tinto climbed 2 per cent to $99.46, and Fortescue Metals surged 2.1 per cent to $17.99.
CSL added 1 per cent to hit $284.62 and ResMed gained 0.8 per cent to $24.52. Commonwealth Bank led gains for the big four lenders, up 0.8 per cent to $67.33 as the financial sector started in the black.
Blue-chips Wesfarmers, Woolworths, Transurban and Telstra each rose by more than 1 per cent.
Construction and property firm Lendlease will purchase 2.4 million shares on the market for employee bonuses, but pointed out the bonuses are "substantially lower than the prior year".
At Tuesday's closing price of $11.88 the on-market purchase will cost the company $28.5 million, but it said the actual number purchased will vary "depending on the price paid for the securities".
It will buy shares from today until 16 September and keep them in a share plan trust.
Lendlease shares have increased by 73c this week following Monday's strategy day, where the company's long-term plan was well received by analysts, with some upgrading their target prices the next day.