"We've got to continue on and challenge ourselves … just looking forward to playing the Cats next week and everything else will unfold.
"It's one of those disappointing games. Disappointing in that there was so much to like about the way we played … we get beaten by a couple of games. It's pretty flattening,'' he said.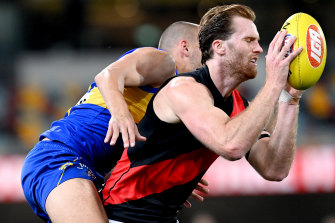 "We've got to make sure we take the opportunities that we create. We created a lot of them tonight but weren't good enough to finish.''
Worsfold said the ankle injury to Andrew McGrath "looks bad" while returning skipper Dyson Heppell and Joe Daniher pulled up well.
"We won't guess at the diagnosis but it's a high ankle sprain [for McGrath] which often end up being those syndesmosis injuries,'' he said.
Meanwhile, West Coach coach Adam Simpson defended the decision to send captain Luke Shuey back into the action in the fourth quarter after a right hamstring issue appeared to end his night at the last break.
Shuey damaged the same hamstring in the round five win over Sydney and received medical attention at the start of the fourth term, with his night seemingly over.
But with the fast-finishing Bombers closing on the Eagles, Shuey was put back in the game with his hamstring at "80 per cent" before hobbling back to the bench. "Regardless [of whether he returned to the field or not] it was going to be a couple of weeks. He started [the fourth quarter] on the bench, he came out and ran around but he didn't do any more damage, I don't think,'' Simpson said.
"He's probably going to miss a couple of weeks so that probably takes us to the end of the [home-and-away] season. It's just the way it is.
"It was one of those … 'I can go at 80 per cent'. That was enough for us. It got pretty tight there.''