"Of course any movements outside the border communities comes with additional restrictions, but, in terms of people being able to tend to their daily life without unnecessary stress, we hope, from Friday, life will change in a positive way for people," Ms Berejiklian said.
Loading
The permit holder must only travel within the border region once over the state border, and Victorian residents who have visited greater Melbourne must not use their border permit for 14 days after their visit.
The changes will come into effect at 12.01am on Friday, September 4.
Ms Berejiklian also apologised to border communities for the inconvenience caused by the closure of the NSW-Victoria border.
"I tell you, hand on heart, that one of the most difficult decisions I've made personally and the Government's made during this pandemic has been closing the New South Wales-Victorian border. It was a decision of last resort."
The Premier said she "deeply" regretted the challenges experienced by border communities under the restrictions, adding that she knew the decision appeared to be made very quickly.
"I regret deeply the fact that the community wasn't prepared for what we had to do at that time," she said, adding that people should feel frustration "against [her] and nobody else" as she praised the work of Member for Albury Justin Clancy in advocating for his community.
NSW records 13 new cases
NSW recorded 13 new coronavirus on Tuesday in the latest 24-hour reporting period, from 14,815 tests.
Of the new cases, two are returned travellers in hotel quarantine and 11 are locally acquired.
Seven of the cases are linked to the Sydney CBD cluster, bringing the size of that cluster to 41.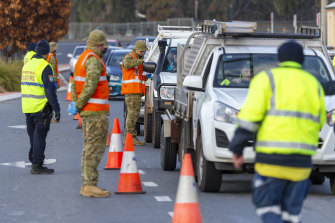 "Of these, two worked at Reddam Early Learning Centre at Lindfield, one visited the Tattersalls City Gym, two are household contacts of previous cases and two are close contacts of previous cases," NSW Health's Jeremy McAnulty said.
There has also been another case linked to the cases at Liverpool Hospital, and the three remaining local cases are students at St Paul's Catholic College at Greystanes, where a student tested positive on the weekend. The school remains closed and the source of the original case is still under investigation.
After the additional cases connected to Reddam Early Learning Centre at Lindfield, all staff and children who have been on-site at the centre have been identified as close contacts and directed to self-isolate.
New health alerts across Sydney
A number of health alerts have been issued for Sydney's inner west and other areas of the city on Tuesday.
Anyone who attended It's Time for Thai restaurant at Newtown on Friday between 5pm and 8pm is considered a close contact and must get tested immediately and self-isolate for 14 days.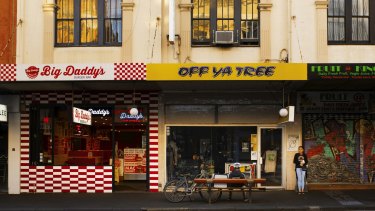 There are also a number of "watch for symptoms" alerts for places near the restaurant on Newtown's busy King Street. Anyone in these places at these times must monitor for symptoms and immediately get tested and self-isolate if they develop.
Newtown Train Station on Friday between 5.10pm and 5.20pm
BWS Newtown on Friday between 5.15pm and 5.40pm
Off Ya Tree Clothing and Body Piercing at Newtown on Friday between 7.15pm and 7.55pm
In addition, there are "watch for symptoms" alerts for other regions of Sydney. They are:
The Rydges hotel at Camperdown on Saturday between 2pm and 3.15pm
Kmart, Aldi, Coles and the food court at Warriewood Shopping Centre on Saturday between 12.30pm and 2.30pm
The Blacktown to City train that departed Blacktown at 6.58am and arrived at Central at 7.45am, and the trip from Central at 6.25pm to Blacktown at 7.18pm on Tuesday
The Blacktown to City train that departed Blacktown at 6.59am and arrived at Central at 7.41am, and the trip from Central at 6.38pm to Blacktown at 7.35pm on Wednesday
Tuesday's 440 bus from Central at 7.54am to Oxford Street at West Street at 8.05am
Wednesday's 311 bus from Central at 7.48am to Darlinghurst Road at Burton Street at 7.58am
Tuesday's 389 bus from St Vincent's Hospital at 4.12pm to Town Hall Station at 4.23pm
Wednesday's 389 bus from St Vincent's Hospital at 4.07pm to Town Hall Station at 4.23pm
Victoria's tally rises
Victoria has recorded 70 new cases and five more deaths on Tuesday.
The state's death toll has increased to 570 and the total number of cases recorded in Victoria since the beginning of the pandemic has climbed to 19,150.
Mary Ward is a reporter at The Sydney Morning Herald.