Specifically, Chevron alleges two breaches where a service station canopy was branded with Ampol's 'The Foodary' signage and an additional 21 breaches where the station's pricing board had the Foodary logo at the top, rather than the Caltex logo.
Loading
A further 151 breaches were alleged in situations where the Caltex star logo was surrounded by the colour red, rather than green.
In documents filed by Chevron, the company claims it has and will continue to suffer "substantial loss and damage" due to the alleged "flagrant" breaches. Chevron claims it had notified Ampol numerous times dating back as far as 2017 about the alleged non-compliance.
Chevron is seeking a court order to force Ampol to amend the branding at the sites.
Some of these sites have already been converted into Ampol locations, and all will be converted prior to the ending of the companies' trademark licence agreement at the end of calendar 2022. The case will not be heard by the court until March next year, by which time the majority of the rebranding process is expected to be completed.
The two are understood to have been in discussions about the alleged breaches since March.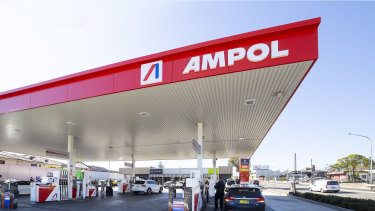 In a statement, Ampol said it would defend the proceedings and was confident the signage at the sites were compliant.
"The proceedings do not affect the work out period or Ampol's transition to the 'Ampol' brand during this time frame. With the rollout of our two pilot sites in August and further sites planned for the remainder of 2020, Ampol's transition plans are on target," the company said.
"Ampol and Chevron have been in discussion for some time in an effort to resolve Chevron's complaints. Ampol does not consider these matters to be a significant part of either party's business in the context of its transition plans."
A spokesperson for Chevron said the company had taken legal action to protect the Caltex brand and avoid "confusion that is caused by its misuse".
"We are proud of the Caltex brand. Consumers must be able to rely on it for the value they know it represents," the company said. "We will bring back the iconic Caltex brand in Australia once we are contractually able."
Chevron plans to continue to use Caltex in Australia, likely through a rebrand of the 365 Puma Energy service stations it acquired last year for $425 million.
Business Briefing
Start the day with major stories, exclusive coverage and expert opinion from our leading business journalists delivered to your inbox. Sign up for the Herald's here and The Age's here.
Market Recap
A concise wrap of the day on the markets, breaking business news and expert opinion delivered to your inbox each afternoon. Sign up for the Herald's here and The Age's here.
Dominic Powell writes about the retail industry for the Sydney Morning Herald and The Age.