De Minaur, the 21st seed, beat Slovakia's Andrej Martin 6-4, 6-3, 7-5 while O'Connell fought back after dropping the first set to beat Serbia's Laslo Dere 4-6, 6-4, 7-6 (7-2), 6-4.
Murray's big concern after the match was whether he could get permission to use the ice bath in the Ashe locker room.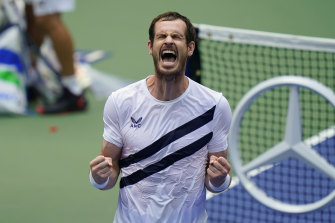 "They said it's for emergencies. For me, this is an emergency right now. My body hurts," said the 33-year-old Murray, who was treated for blisters on his two big toes by a trainer during a medical timeout. "That's by far the most tennis I've played since 2019, really."
And so many of the sport's biggest names were there to witness it.
They included Novak Djokovic, Dominic Thiem, Naomi Osaka, Garbine Muguruza and others, some noshing while sitting on the balconies of their personal "lounges" — Ashe suites that normally bring in hundreds of thousands of dollars during this tournament but were assigned to seeded players because of the ban on spectators.
A player who can appreciate Murray's journey perhaps as much as anyone is Andrey Kuznetsov, a 29-year-old Russian who missed about two-and-a-half years because of his own hip injury. Kuznetsov eliminated Sam Querrey 6-4, 7-5 (8-6), 6-2, becoming the first unranked man to win a grand slam match since Nicolas Kiefer at Wimbledon in 2007.
Austrian second seed Thiem advanced to the second round when Spaniard Jaume Munar retired after dropping the first two sets.
Thiem, who reached his third grand slam final at this year's Australian Open where he lost to Novak Djokovic, was leading 7-6 (8-6) 6-3 when Munar, who had slipped on the baseline midway through the second set, ended the match.
Loading
"I was happy with the way I was fighting, because it wasn't easy to play him," Thiem said during an on-court interview inside Louis Armstrong Stadium.
"The courts are very different this year, the court seemed to be slow inside. It was a little bit windy, but we had some good rallies.
"I felt I was playing good. I played a good tiebreak, which was pretty comfortable, then I'm sorry for what has happened."
AP