Loading
Ms Mikakos would not say whether she did a deal with the Greens, insisting she "works very closely with the crossbench to address their particular concerns".
"I'm grateful for the fact that they put the public health of Victorians above politics – I think that speaks volumes for their priorities, they're putting public health first above fear-mongering," Ms Mikakos said outside Parliament on Wednesday morning.
"We have sadly seen a lot of fear-mongering by the Liberal Party in recent days. This vote was never about the stage four lockdown … this vote was about ensuring those public health protections can continue for the foreseeable future."
Acting leader of the Victorian Greens, Ellen Sandell, also refused to say whether the Andrews government offered a quid-pro-quo to secure her party's decisive vote.
"We negotiated on the legislation," Ms Sandell told 3AW radio host Neil Mitchell. "[The government] is trying to avoid that scrutiny and I'm not here to defend the government because … I think they are quite a secretive government."
Meanwhile, leader of the opposition in the upper house, David Davis, accused the government of gagging debate after questions on the legislation were voted down.
"We've never agreed with gagging debate on key clauses, and there is an irony when [Premier] Daniel Andrews is grabbing power in this way, that he's used this power to silence debate and silence the scrutiny and accountability that should be there," Mr Davis said.
But Mr Meddick, who denied striking a deal with the Labor government, accused the Opposition of "grandstanding" during the debate.
"Unfortunately, as per usual, the fun and games of the chamber were very evident," Mr Meddick said.
"Some of the things that were brought up, some of the rhetoric that was spouted was just again a deplorable display for Victorians."
Ms Patten has categorically ruled out making a deal with the government to pass the legislation.
'Who is going to invest in a state of emergency?'
But Australian Industry Group chief executive Innes Willox said the state of emergency power extension was a further hit to business confidence that will make it more difficult to plan investment and return to normal operation.
Loading
Mr Willox, who said the government's consultation with business leaders this week came weeks too late, said businesses needed concrete plans for tax relief and other investment-enhancing policies.
"We have six more months of uncertainty. We just don't know when the Victorian government will use those powers or how they'll use them and that just means that business can't plan with any certainty," he told Nine's Today show.
"I heard from a member company this week who had been planning a $70 million investment in Victoria. They've now decided pretty much to pull that. They have told the Victorian government they will take it elsewhere. Who is going to invest in a state of emergency?"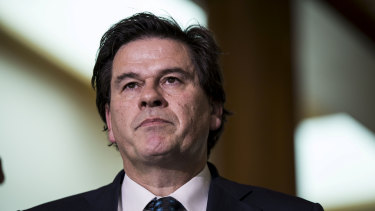 The Andrews government has repeatedly reiterated the emergency extension has no bearing on the length of lockdowns. Several other states have indefinite emergency powers.
Mr Willox urged Mr Andrews to announce a payroll tax holiday and a strategy on attracting investment and creating jobs growth.
Jobs Minister Martin Pakula began a round of business consultation on Monday, but Mr Willox said it was too late in the lockdown to begin having those conversations.
"This, quite frankly, should have been done weeks ago," Mr Willox said.
"What business wants is a real plan."
Opposition lower house MP Tim Smith slammed the government, saying it was a "very, very, sad day in Melbourne and Victoria".
"A six-month extension to the state of emergency powers are totally disproportionate to the threat, the risk that will be posed to Victorians next year by the coronavirus," he told Sydney radio station 2GB.
As the government announced regional Victorian will reopen more quickly than metropolitan Melbourne on Tuesday, Chief Health Officer Brett Sutton said it was too early to say whether the city would move out of its stage four lockdown at the scheduled end date of September 13.
He said it was unlikely the state would have below 10 cases per day by that time, but stressed the main criteria was driving down cases of community transmission with no known source.
"If we know where every case in Victoria is today, we could end [the lockdown] in a week," he said, adding that case numbers were consistent with the government's modelling.
However, Professor Sutton said the lower number of people getting tested could compromise plans to end the lockdowns.
Monday's testing figures were the lowest since June, with just 10,153 coronavirus tests processed. "That's not enough. I know there's more respiratory illness out there," Professor Sutton said.
Get our Morning & Evening Edition newsletters
Sumeyya is a state political reporter for The Age.
Paul is a reporter for The Age.