Victorian Police are speaking to the media about law enforcement measures ahead of a planned anti-lockdown protest in Melbourne this weekend.
The head of one of the main security companies contracted to Victoria's quarantine hotels said he would participate in the program again, but several changes would be needed.
Jamie Adams, general manager of MSS Security, said a new quarantine program would need to give security companies at least four weeks to prepare, appoint one overarching manager at each hotel and increase the communication with different groups working in the hotels, such as between security guards, government staff and medical workers.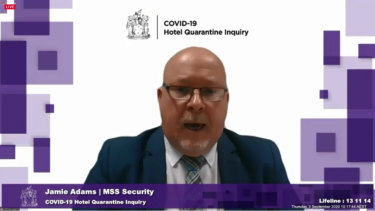 Mr Adams told the hotel quarantine inquiry that the rapid establishment of the program within two days in late March meant security companies weren't fully aware of their roles and management structures weren't clear.
He said an overarching manager would have been able to solve ambiguous problems directly, rather than through convoluted negotiations, and ensure workers were on the same page.
Mr Adams' colleague, Sam Krikelis, told the inquiry that MSS Security never got the chance to speak with the government about what other hotels were doing well or poorly, which would have helped his company improve.
However, Mr Krikelis agreed with Mr Adams that he would participate in the quarantine program again.
"I would do it again knowing everything we know now and the challenge it will bring with it," he said.
MSS Security was one of three companies contracted by the Victorian government to provide security.
Two managers from Unified Security Group, the company contracted to the highest number of hotels in Victoria despite not being on the government's approved list at the time, will give evidence shortly after midday.
Victoria Police Assistant Commissioner Luke Cornelius has addressed the high-profile arrest of a pregnant Ballarat mother over her alleged role in the incitement of an anti-lockdown protest.
He said police were doing as they had flagged they would in taking action against people who organised protests.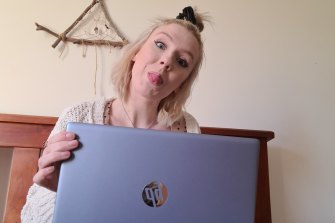 He said police were satisfied that the treatment of Ms Buhler was appropriate in the circumstances.
"It's never going to look good, the optics of arresting someone who's pregnant is terrible," he said, adding that the use of handcuffs was guided by a risk assessment process which had been correctly followed in the handcuffing of Ms Buhler.
"This wasn't some casual encounter. This was our members, attending our premises to execute a search warrant."
"I've seen the footage and in my assessment the members have conducted themselves entirely reasonably, they've been polite and professional."
He said formal letters had been sent to other people "at risk" of attending a protest and they would be arrested if they attended a protest on the weekend.
The decision to promote the Shrine of Remembrance as a location for Saturday's proposed protest was "completely inappropriate", he said.
"Don't be selfish, stay at home, protest online," he said.
"We share the frustration that is shared by the whole community, but the key piece here is that leaving home to protest under the current conditions, is absolutely not on."
The Victorian budget is expected to be handed down in the last two weeks of November, as Treasurer Tim Pallas expresses confidence that the state's economy will bounce back once coronavirus cases are brought under control.
Mr Pallas said the health of the Victorian economy, which contracted 8.5 per cent in the June quarter, was completely dependent on public health measures and suppressing the spread of COVID-19.
"From an economic point of view, we have to get on top of the spread of the virus in the community," Mr Pallas said.
"There is no example of a country that simply lived in denial of the existence of the virus that have not seen commensurate, even larger impacts on their economy. So to think that you can choose between your economy and public health is demonstrably not true."
Australia has suffered its deepest economic contraction since the Great Depression with new Australian Bureau of Statistics figures showing GDP collapsed by 7 per cent through the June quarter. The Victorian and NSW economies suffered the greatest, shrinking 8.5 per cent and 8.6 per cent, respectively.
Mr Pallas pointed to his government's record of investment in capital expenditure – about triple the national figures – and said the government was doing a "very substantial amount of heavy lifting".
He said Treasury's expectation was that the economy will bounce back as coronavirus cases were suppressed.
"We will see the economy come back and it will come back strongly for a variety of reasons – the underlying fundamentals of Victoria are strong," Mr Pallas said.
"And you can see that in terms of the initial bounce back before we went into stage four. We will see a very substantial amount of investment from the Victorian government, and we know that it works … we've played a pretty profound role in the maintenance of the Victorian economy."
He said the Andrews government was waiting for NSW to reveal when it would hand down its budget.
NSW Treasurer Dominic Perrottet this week confirmed he will release the details of his 2020-21 budget on November 17.
"We've now seen when the NSW government intends to hold their budget, then we'll obviously try and give a bit of space between the two," Mr Pallas said."That was really about trying to work out exactly when they came down and when we are likely to come down – I suspect it's likely to be later than earlier."
NSW Chief Health Officer Dr Kerry Chant has indicated the current health advice concerning aged care facilities would soon be updated, Ms Berejiklian has told reporters on Thursday.
Last Friday, NSW Health urged people living and working in greater Sydney and the Central Coast to avoid aged care facilities over concerns that the Sydney CBD cluster had spread to several other suburbs.
Ms Berejiklian hoped NSW Health would be able to update the community about any changes today or tomorrow.
Asked about end of year school events, Ms Berejiklian said the government's intention was to provide a COVID-safe way for schools to hold those events.
"The health advice regarding Term 3 was based purely on the fact that we don't want students stressing about their exams being cancelled or their schools shutting down in close proximity to the HSC. The more certainty we can give our students the less stress there'll be," she said.
The health advice will be updated for Term 4, the Premier said.
The national cabinet discussion concerning border measures will be "very sobering", NSW Premier Gladys Berejiklian has said, urging her counterparts to trust in their health systems.
"If you have confidence in your health system, if you have confidence that contact tracing is something you can deal with in your state there shouldn't be a reason for you to keep your border closed given the low rates of community transmission currently in NSW," she said.
"Everyone wants certainty, everyone wants to be able to plan ahead whether it's businesses or reuniting with family," she said, qualifying that she did not include Victoria in that same situation given their current transmission rates.
NSW Health have again issued a number of alerts for Sydney locations after the state saw 12 new coronavirus cases in the latest reporting period.
Anyone who attended a church service at Life in the Spirit Ministry at Prestons, in Sydney's south-west, on Sunday from 12.30pm to 2.30pm is considered a close contact of a case and must get tested immediately and self-isolate for 14 days.
People who attended the following venues at these times are casual contacts of cases. This means they should be particularly alert in looking for symptoms, and get tested if even the most minor symptom – such as a runny nose, fever or a scratchy throat – develops.
Westfield Chatswood on Thursday, August 27 from 1pm to 1.50pm
Gram Café and Pancakes, Chatswood Station on Thursday, August 27 from 11.10am to 12.15pm
Balmain Community Pharmacy, 273 Darling Street, Balmain, on Monday, August 31 from 11am-11.20am
God's Power Ministries Heckenberg, 18/7-9 Progress Circuit, Prestons, on Sunday, August 30 from 2.50pm to 3.30pm
The foyer of Quality Suites Camperdown, 108 Parramatta Rd, Camperdown, on Saturday, August 29 from 3.15 to 4.30pm
Leaf Café & Co, Lidcombe Shopping Centre on Monday, August 31 from 11.30am to 1.30pm
NSW Premier Gladys Berejiklian has said her conversation with her Queensland counterpart yesterday over the border troubles was "polite and constructive".
Ms Berejiklian said she raised her concerns that healthcare workers should be able to travel more freely across the border, and Queensland Premier Annastacia Palaszczuk indicated she would put this to the state's health minister.
"I hope she will respond positively to that," she said.
The Premier said she did not get the sense Queensland would relax their border measures anytime soon.
"My job is to make sure I protect the health and wellbeing of our citizens. That is not happening to the extent I would like it to, and that's a concern. I worry when some towns are not getting doctors for weeks on end or at all because the Queensland government won't acknowledge that when they return to Queensland they should not have to serve that quarantine [period] when they are providing vital health services."
Ms Berejiklian said the zero community transmission guideline set by the Queensland government as to when it would reopen their border was "a pretty tall order".
"I don't know anywhere on the planet where a society can function openly and productively during a pandemic and give an assurance that you are going to have zero cases of community transmission for a prolonged period," she said.
A major security firm contracted to Victoria's hotel quarantine says the government's infection control training was ad hoc, with nothing documented on personal protective equipment until two months into the program.
MSS Security bosses told the Victorian inquiry into the quarantine program that they used the federal government's online training module on infection control, pointed out to them by the Department of Jobs, Precincts and Regions.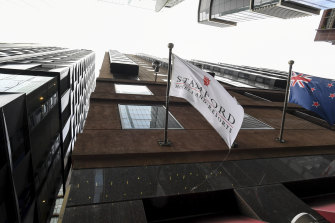 But on the ground, business event services manager Sam Krikelis said, there wasn't a lot of documented guidance given to the guards.
"It was on a little bit of an ad hoc basis rather than something a bit more structured," Mr Krikelis said.
He said there wasn't a lot known about coronavirus at the start of the program, which began on March 29. But the firm still provided guards with personal protective equipment.
The first documented guidelines on PPE they received from the Victorian Department of Health and Human Services was on May 29, Mr Krikelis said.
He said security supervisors constantly reminded staff about hygiene, "all the general stuff you would hear constantly on the TV, on the radio, everywhere."
He added that the firm split up rosters to reduce numbers in response to a complaint raised with government officials about 70 guards being in one room at a shift change-over at the Stamford Plaza hotel.
The complaint was made in mid-June, about the same time the hotel experienced and outbreak of COVID-19 among eight security guards from two different firms subcontracted by MSS Security.
MSS Security's Sam Krikelis responded to the allegation in the inquiry this morning, saying a supervisor told him about the meeting, but there wasn't 70 guards there.
"He said there was less than that," Mr Krikelis said.
Mr Krikelis said in response, the firm split the roster up so there wouldn't be 60 or 70 guards signing in at the same time.
He told the inquiry they aimed to keep one subcontractor at a single hotel to limit guards working at different hotels.
"We understood at times that might not have always occurred for operational reasons," he said.
"The advice I gave to the contractors was to limit the cross-over at the hotel."
NSW has recorded 12 new coronavirus cases from 29,607 tests in the latest 24-hour reporting period, including a mystery case in the state's central west.
Three of the cases were locally acquired with no known source, including two in a south-west Sydney family and a case in Parkes in the NSW central west, NSW Health's Dr Jeremy McAnulty said .
Of the local cases with known sources, one is linked to a previously reported case in south-eastern Sydney whose source is still under investigation and three are linked to the August CBD cluster, which is now at 52 cases.
A close contact of a case at St Paul's Catholic College Greystanes and a close contact of the Girraween Public School case have tested positive, bringing the size of that outbreak across the two schools to 12.
The remaining three cases were in returned travellers in hotel quarantine.
There have been 3902 coronavirus cases in NSW since the start of the pandemic.