Loading
The players were required to sign a revised agreement with the United States Tennis Association in order to continue playing.
France's Kristina Mladenovic complained of living a "nightmare" due to the extra protocols after suffering a spectacular meltdown to lose to Russian Varvava Gracheva in the second round.
It's understood what caught the attention of contact tracers was a game of cards that included Paire and others in the lobby of the main hotel where players are staying on Long Island.
Belgian Flipkens, who is out of the tournament, says she is now unable to leave the New York bio-security bubble and return to Europe for the next tournament. She questioned the logic of the extra rules.
"I am not complaining about how everything went so far with the stricter protocols etc. Have to say I am thankful to have at least been able to play the tournament," Flipkens said on Instagram.
"I am out of the @usopen tournament in singles and doubles. Usual routine? Book a flight back home. Rest, prepare on clay, leave for Rome …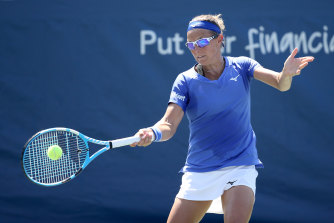 "And now it looks like 'the seven/eleven' (7 players +4) will have to stay here 2 weeks starting from last contact with @benpaire.
"Which means, no qualifying in Rome as it starts Saturday!
"Also want to mention that all of my PCR tests have been NEGATIVE so far.
"Let's hope for the best and that, after so many daily testings, I'll be able to get back (safe) home soon to my loved ones."
The ongoing controversy surrounding the "bubble in a bubble" move comes as Australian Perez expressed her disappointment, saying her decision to travel to the US was partly because of the singles opportunities that might emerge if players were withdrawn.
The 24-year-old, with a world No.40 doubles ranking, opted against an alternate lower-tier tournament in Prague. She entered the doubles draw with fellow Australian Storm Sanders.
"My original plan was never to come to the US Open as I had a good result last year and in order to make points I would need to have a very deep run this year," she said.
"Although I love my doubles when I have an opportunity to play singles I usually try to take it if it makes sense as I'm still pursuing a singles career.
"I figured … with the current rules/protocols of positive tests and close contacts being withdrawn, coupled with potential on-site injured players I deemed I was a very very good chance of moving in and therefore opted to come to the US Open.
"If I knew close contacts weren't going to be put in isolation and removed it would have changed my perspective on coming.
"Assuming three women would get the virus in the bubble is a far stretch. But assuming someone may get it and a close contact [would] include three women is a far different story and one that I fancied my chances with.
"I'm not sure they would have changed their protocols if it was only one or two close contacts and if those contacts weren't big names.
"But as soon as you are talking about 10 players and some of those being seeds it changes everything and the US Open is willing to turn a blind eye to the original safety measures in place."
Scott Spits is a sports reporter for The Age