Mr Elrezz is alleged to have said words to the effect of, "I wanted to kill the cops" and used ideological phrases in a later police interview.
However, his motive remains unknown and he was not known to counter-terror investigators prior to this week's alleged attack.
Late on Wednesday, the Lakemba man was charged with causing wounding with intent to murder, wounding a person to resist arrest, assaulting a police officer in execution of duty causing actual bodily harm and resisting a police officer in the execution of duty.
Mr Elrezz was scheduled to appear in Central Local Court on Thursday, but was unable to be brought up from the cells for fear he "might be violent towards Correctives Officers", said Magistrate Margaret Quinn on Thursday morning.
His solicitor Oussama El Fawal said that he was having trouble obtaining instructions from Mr Elrezz, because "Correctives are refusing to allow us to speak to him by way of AVL or the phone."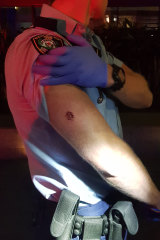 Mr Elrezz was formally refused bail to re-appear in the same court on Friday.
Court documents seen by the Herald allege that Mr Elrezz "did resist Senior Constable Alan Alphonso, Acting Sergeant Michael Stepanian and Constable Evangelos Nuner, members of the NSW Police force in the execution of their duty", as well as wounding Senior Constable Alphonso intending to murder him, assaulting Constable Nuner occasioning actual bodily harm and wounding Acting Sergeant Stepanian to prevent his lawful arrest.
On Wednesday, the NSW Joint Counter Terror Team executed a search warrant at York Street's Megaboom City Hotel where Mr Elrezz had been staying, seizing several items.
Central Metropolitan Regional Commander Assistant Commissioner Mick Willing said body-worn camera footage from the officers involved had left investigators at a loss as to what had motivated the man to lash out.
Loading
"That is something detectives will have to piece together. It happened so quick it wasn't funny. One of those very flash reaction moments," he said.
"We are yet to speak to [the food-delivery rider]. We are hoping that person sees media reporting and comes forward to speak to police."
Sally Rawsthorne is a Crime Reporter for The Sydney Morning Herald.