The Lions win it by eight points.
Chris Fagan gets his first win against the Pies as Lions coach.
Brisbane are up to second on the ladder. They kicked one goal in the second half and still won.
Collingwood's inside 50 entries were plentiful but executed so poorly.
Brisbane's pressure and work rate to get to contests was excellent.
Mason Cox kicks a goal.
Three Pies player flew, he was able to poke the ball through as it hit the deck.
A right, tight minute and a half coming up now.
The Pies half-forward has done a hammy. He joins the Lions' Andrews and Fullerton on the sidelines.
Jamie Elliott kicks a big one for the Pies.
They have peppered the Lions goals this quarter and finally have a reward.
Poor Brodie Mihocek, on his own in the goalsquare, minutes earlier dropped one of the easiest marks you'll ever see.
He'd be happy Elliott got that one.
The Big O playing well against him. Q4 is underway. Darcy Moore has gone forward.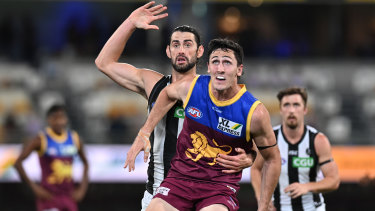 BL 6.5.41 COLL 3.3.21
Lions well on top, even though they're two down on the bench (Tom Fullerton and Harris Andrews).
Disappointing for the Pies. Lions have been much better in ball use, composure, pressure and numbers at the contest.
Goal to Callum Brown.
He converts a snap set shot from a tough angle.
Brown won the free kick with a holding the ball call, which was a lucky one for the Pies to get.
Brown looked to be holding it onto McInerney's chest.