Victorian Premier Daniel Andrews will address the media at 12pm, after today's national cabinet meeting. Victoria recorded 81 new coronavirus cases in the latest 24-hour reporting period.
The state's death toll also jumped by 59 – however, 50 of those were deaths in aged care across July and August.
Eight out of nine COVID-19 deaths in Victoria over the last 24 hours have been from aged care.
Of the nine deaths reported over the last 24 hours, Premier Daniel Andrews said there were two males and one female in their 70s, one male in their 80s, two males and two females in their 90s, and one female in her 100s.
When it comes to Friday's numbers, there were 59 total deaths added to the toll, although 50 of those deaths occurred in aged care across the last few months and were only reported today.
"This is in relation to a reconciliation of data between private providers, the Commonwealth, and our public health team. Everyone is doing their very best to reconcile the data as quickly as possible," Mr Andrews told reporters.
There are currently 329 Victorians who are in hospital, with 20 of those in an intensive care unit, and 13 people on ventilators.
There are eight new mystery cases with an unknown source, Mr Andrews said.
The Victorian Health Department's management of quarantine hotels was strongly influenced by the struggles of individuals and families, the inquiry into the hotels program has been told.
Noel Cleaves, a senior authorised officer with the Health Department, said many returned travellers said they had left traumatic circumstances in foreign countries and undergone horrendous flights to return to Melbourne.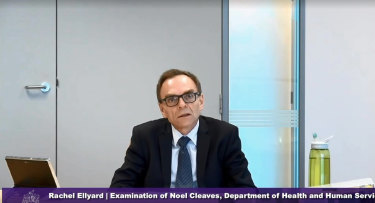 He recalled one occasion early in the quarantine program when 450 people from one flight arrived at the Crown Metropol hotel.
He said the majority were families, including many single parents with multiple children.
Many children felt unwell or wanted to go to the toilet as parents expressed concern about spending 14 days in isolation.
"That drove a lot of the response from the department and people that worked in hotels," MR Cleaves said.
He said evidence given yesterday that security guards were asked to buy hoards of toys for children was unsurprising.
"I have strong recollections of seeing an amazing variety of goods to make the time in hotel quarantine work for people with children who were struggling," Mr Cleaves said.
The public servant said the hotels were an "extraordinarily difficult environment" and it was "one of the most intense experiences" of his 35 years of working.
Mr Cleaves admitted that while he was constantly busy with tasks assigned to him, it was not entirely clear who was in charge of each hotel.
"It was more complex than a typical pyramid structure," he said.
After reporting the news of a possible breach of the AFL's quarantine hubby two Tigers players, consider this from this morning's Queensland press conference: if one of the 400 AFL staff or family members staying in Queensland tests positive to COVID-19, "that entire hotel will be shut down and everyone in it for another 14 days", the state's Chief Health Officer said.
Dr Jeanette Young and Queensland Premier Annastacia Palaszczuk have kicked back at the "intimidating" criticism over the state's strict border measures, amplified by the announcement the AFL grand final would move to Brisbane this year.
Dr Young explained the exemptions agreed with the AFL after 400 executives, staff and families flew to a Gold Coast golf club hired out by the league this week, for their quarantine ahead of the October 24 grand final.
In response to criticism the AFL executives appeared to be free to drink and play by the pool in their hotel quarantine, Dr Young said the plan had approval and protected others in hotel quarantine.
"The reason is they have mingling in Victoria, so they can continue to mingle here and they wear the risk," Dr Young said.
"If one of them becomes positive, they are getting regularly tested as part of the protocol, then they're all into individual quarantine. You wouldn't want that in another hotel.
"We've got 24 hotels in Queensland that we're quarantining people in and people come in on different days, so you will have 300 today and 300 tomorrow.
"If they [AFL employees and families] want to mingle and one of them becomes positive, as happens fairly regularly, then that entire hotel will be shut down and everyone in it for another 14 days.
"They are not mingling with hotel staff, the staff provide the food and leave them to that."
Ms Palaszczuk said she felt like Queensland was being singled out for criticism regarding its restrictions and health measures because it won the race to host the AFL grand final.
"Whoever won that grand final would have had the exact same restrictions put in place."
New Zealand will maintain level two coronavirus restrictions for another 10 days, with Jacinda Ardern highlighting Melbourne's major second wave outbreak as a warning to her country.
The decision to maintain restrictions comes as the country recorded just five new cases of coronavirus on Friday, with three of those community cases linked to the Auckland cluster and two in returned travellers.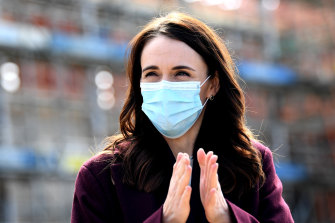 Speaking after a cabinet meeting on Friday morning, Ardern said Auckland, the site of the country's second outbreak, would maintain what are effectively "level 2.5" restrictions that include tougher limits on the number of people who can gather at an event.
The next review of restrictions will be on Monday, September 14 and the soonest restrictions could be eased is September 16.
In explaining her decision to maintain the current restrictions, Ardern said "we only need to look at Melbourne to see what can happen if the virus takes hold".
"To Aucklanders this weekend, do think carefully about your activities," she said, as the virus was being spread more often on weekends as people gathered with friends and family.
While the re-imposition of stage three restrictions following the community outbreak on August 12 had been effective, Ardern said New Zealand was now at a perilous point – the descent down into fewer restrictions.
Ardern said "lockdown must always be our last resort" because of the broader impact on the economy lockdowns have had, but waiting a little longer to ease restrictions was preferable to moving in and out of lockdowns frequently.
"By going hard and early and particularly with Aucklanders pitching in we look, at this early stage, to have contained our resurgence," she said.
The Prime Minister defended the decision to keep the rest of the country – in particular the South Island, which has had no community cases – at level two restrictions by arguing that keeping some restrictions in place would ensure that if the outbreak spread to other cities, it would be relatively contained.
More than 300,000 people had been tested since the community outbreak began in Auckland, with a total of 797,990 tests since the beginning of the pandemic.
There are 112 active cases in New Zealand at present, a figure which has declined from a peak of 137. The current total comprises 37 cases in returned travellers and 75 active community cases.
Six people are in hospital, with two in intensive care.
New Zealand has recorded a total of 1413 coronavirus cases since the pandemic began.
The AFL are investigating two Richmond players for an apparent serious breach of the AFL's special COVID-19 rules that appears certain to have the Tiger pair sent home.
In a highly embarrassing and poorly-timed incident for the AFL, Richmond's Sydney Stack and Callum Coleman-Jones were reported to have been outside a Gold Coast nightclub on Thursday night – a clear and significant breach of the rules that the AFL has established in Queensland hubs to enable the competition to continue.
Club sources have confirmed that the players were out of their hub and while the AFL is investigating the detail and has not yet commented, the league's stance – and the sensitive political situation surrounding the relocation of the competition to Queensland – means the AFL and Richmond seem certain to take a strong stance.
Queensland Police confirmed two men were arrested at 3.30am Friday morning.
There were few checks on hotel detainees who were allowed to leave quarantine in special circumstances, the Victorian inquiry into hotel quarantine has been told.
The inquiry has previously heard about detainees being allowed to leave for hours every day to visit sick relatives without anyone checking if they were going to where they said.
Senior Health Department authorised officer Noel Cleaves told the inquiry detainees were granted exemptions if they had medical treatments, for example there was a group of people who arrived from New Zealand who had specialist cancer treatments.
Detainees were also granted exemptions on compassionate grounds, for example visiting relatives who were dying or to attend a funeral, he said.
Mr Cleaves said there were times when an authorised officer did go with a detainee, but "they were relatively rare".
Instead, detainees were told they would be penalised if they didn't adhere to their exemption and told to wear personal protective equipment.
In most cases, he said people were placed into transport and taken to wherever they needed to be.
Two apps that recorded the names of people detained in Melbourne's hotel quarantine and whether they were COVID-19 positive didn't share information, an inquiry has heard.
The authorised officer responsible for compliance with the 14-day quarantine detention used an app that recorded the names, date of births and interactions officers had with them. But the app didn't record symptoms or whether the person had coronavirus, a Victorian inquiry into hotel quarantine heard.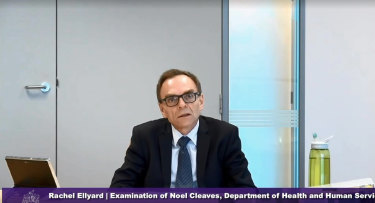 Department of Health senior authorised officer Noel Cleaves told the inquiry this morning symptoms and COVID-19 cases were recorded on a separate app used by the nurses working in the hotels.
"The information about swabbing and results did not transfer to the compliance app for security reasons. They were quite distinct and separate," Mr Cleaves said.
He said officers would find out if a detainee was COVID-19 positive by having a "close working relationship with the nurses."
The inquiry heard yesterday about a mix-up with a couple told they could leave quarantine, but were stopped by the authorised officer who realised they were COVID-19 positive when they were about to leave.
"Prior to release there was always a process of trying to double-check a list of those people who were eligible to be released," Mr Cleaves said.
Mr Cleaves said later in the program, which ran from March until June, detainees were tested on day three and day 11 of their quarantine.
But the task of reviewing the daily detention of people was not doing by front-line authorised officers, the inquiry heard.
Fresh air walks for people detained in hotel quarantine were prioritised based on their mental health or whether they had children, Mr Cleaves said, noting they were drafting a plan to give detainees breaks outside when, within the first 24 hours of the program in late March, a woman in quarantine had a panic attack in her room.
Mr Cleaves said they decided to trial a fresh air walk for this woman to give her relief before increasing breaks for people exhibiting distress because they were in detention in a hotel room. But the breaks had to be worked around meals being delivered, house-keeping on floors, medical emergencies and new arrivals and exits so detainees didn't have contact with anyone else.
"There was quite a constrained amount of time available for walks," Mr Cleaves said.
People with poor mental health, families with small children and heavy smokers who could not smoke in their rooms were prioritised, he said. Once they were given a walk, authorities would move floor by floor to offer breaks to others.
Mr Cleaves said if detainees had not been "broadly compliant" or threatening violence, they may not be granted a fresh air break.
A nurse previously told the inquiry Health Department officials labelled detainees with mental health or other medical issues as difficult, rather than people who needed help.
NSW Health has issued a number of alerts for locations in western Sydney, which people who have tested positive for coronavirus attended while infectious.
A confirmed case attended New Brighton Golf Club at 43 Brickmakers Drive in Moorebank, in south-west Sydney, while infectious on Friday August 28.
Anyone who was at the club for two hours or more between 6.15pm and 12.30am is considered to be a close contact and must get tested for COIVD-19 and self-isolate for 14 days until midnight September 11 and stay isolated even is the test result is negative.
Other patrons who were at the club during this time period are considered casual contacts and watch for symptoms.
Anyone who attended the following venues at the following times is considered a casual contact of a case and must monitor for symptoms and if they occur get tested and self-isolate until they receive a negative result:
Aldi North Strathfield on Tuesday September 1 between 10am and 10.30am
Bunnings Padstow on Thursday August 27 between 12noon and 2pm.
There are 87 COVID-19 cases are being treated by NSW Health, including seven in intensive care of whom four are ventilated.
NSW Health Deputy Chief Health Officer Dr Jeremy McAnulty said community transmission was still occurring in NSW. He urged anyone who feels unwell over the weekend to get tested immediately and not wait until Monday.