North Melbourne coach Rhyce Shaw spoke to the media after the game…
Q: Rhyce how do you reflect on that given the week you've had.
A: Obviously it's been a tough week. We put that behind us pretty quickly. We wanted to make sure we focused on Port as early as we possibly could. Disappointing loss last week. But we got to work really quickly. We got the group together. Really clear on where we wanted to go and what we wanted to do. Tonight I thought for the most part the boys had a real dip. There's obviously a period in the third quarter where they kicked four goals in six minutes or something. Which blew us away a little bit. The fight to come back, and we won two quarters out of the four quarters for the game. That last quarter, the response was great. In the middle it was a challenge. Especially when they were getting on a roll.
Q: How do you reflect on that part of the game?
A: Yes, didn't help that Jy [Simpkin] went down in that period of the quarter as well, which threw us out a little bit. They were exceptional in their centre bounce set-ups and the way they moved the ball forward. They were really clean. That showed a lot. They worked hard forward and got on the end of a couple which again, played a part in the result of the game.
Q: Jy got ruled out on the bench without getting the concussion test. It showed he was in some strife. How is he now and how did that process take place?
A: By my reports he's really good. I had a little chat to him afterwards. Just checked in. He seems OK. The medical staff saw the vision. That was it. He seems in good health now. But we'll go through the proper process as normal.
Q: There are positives. [Luke] Davies-Uniacke was outstanding tonight. Just talk through his game. A: We had a few winners tonight. Obviously didn't win the game. But 'LD' is stepping up every game. Each game he gets into him he gains more confidence. The boys are really working well around him and allowing him to play the type of footy we know he can play. We had a couple of others Bailey
Scott played a good game. [Nick] Larkey had low disposals but he stands up when it's necessary. Flynn Perez didn't look out of place at all. I was rapt for him. He saw the game really well. Showed a lot. There was a few winners there for us. That's really pleasing.
Q: You could've put [Robbie] Tarrant on [Charlie] Dixon. You went with [Ben] McKay. Early doors you got the isolation early. He kicked a goal. After that he was excellent.
A: He's starting to take some big scalps now. Charlie has been sensational this year. He's probably the number one key forward going around in terms of form. So Ben did a great job. Especially after getting one he kicked on him early. It can deflate you a bit. He's a determined bugger. I was really, really pleased with his effort.
Q: A lot of talk about [Jared] Polec's future at the club. Where are things at?
A: I thought he did a reasonable job tonight. I was pleased to get him back here. He's obviously had a tough couple of weeks. [The media] made a big deal of it really to be honest, it was just a coach expecting more from his player. That's why he got dropped. He worked hard and got back in the side. Played his role tonight.
Q: Rhyce can I just ask you a bit more on Ben McKay. Going back to last year it looked like he stagnated a bit and had to fight to get his spot this year. He seems to be really growing as the weeks are going by. What's changed for him. What has he done to get back to this point?
A: I think with any young guy, especially the big guys, they might take a little bit longer. I think Benny just had to find out what it was all about and he went to work. He was really diligent over the pre-season. And over the COVID break and invested in his game and the coach has done a fantastic job with him, Gavin Brown. He's growing with confidence. As I said before he's taken some big scalps along the way. He'll only get better. I'm pleased for him. He works so hard, Ben. Hopefully he can finish off the season really well.
Q: You trusted him with a few big jobs now. Really throwing your faith behind him.
A: Yeah. Deservedly so. He really relishes that challenge. He was rapt this week when he got told he's playing on Dixon. I've never seen a bloke more excited. He wants to be there. He wants those jobs. We'll keep giving it to him.
Q: Rhyce just on the second and the last quarter you mentioned you won. What really impressed you about what you guys did in those two quarters and what was there that I guess you saw that you can build on into the future for the rest of the season and next season?
A: As I said before, we just played the type of footy that we know we can play. We're a really good contest team when we're up and going. Our contest work was pretty good tonight. But I think we got done on a few occasions by Port. They're really classy, a really slick unit. It was a good lesson for us. I thought we matched them for long periods of time in that area. We played some forward-half footy that we hadn't played for a long time. That's the most pleasing aspect. But obviously we're still disappointed because we always want to win. Each and every game. For us to get a result like that, there is some good signs there for us. I'm really pleased that we can build on that for the coming weeks.
Port Adelaide coach Ken Hinkley spoke to the media after the game…
Q: What are your thoughts on that Ken.
A: It was pretty good. Happy till three-quarter time. Didn't have great second quarter. Our own worst enemy in the second quarter. Strong up to three-quarter time. Got fatigued in the last quarter. We were a bit sloppy. It's a good performance. We won by six goals sometimes you get too critical. I reckon we're going OK. I think we deserve to be where we are.
Q: In that third quarter you got your mojo going with that five-goal burst, but it has been some arm wrestles in the last couple of weeks against sides down the lower end of ladder.
A: We've seen that with lots of teams in the last few weeks. It's a shortened season. It's a compressed season. Making it hard to consistently play at your best. We get to that stage of the year where we can feel the momentum growing. We can feel the excitement around our group and our team. We are looking forward to next week and then from there on.
Q: Dominance out in the middle, 15-3 clearances. That sort of stat.
A: We've done that a couple of times. We've been strong, Scott Lycett was strong. 'Scooter' gave us a good look at it. Ollie [Wines] particularly was powerful in there as well. As a group they've been strong. When we play well they normally give us a good look at it.
Q: Couple of issues. Injury [to Ryan Burton] and possible injury [to North Melbourne's Jy Simpkin as a result of the hit from Zak Butters].
A: 'Burto' looks like he's given his quad a nick again potentially. We won't know until he gets scanned. Doesn't think he's up high. It's a good result for us. We won't make diagnosis until we get information that we need. Wait and see how it happens.
Q: The Butters bump?
A: I've seen it pretty quickly. As is always the case it's not my job to sit there and pass judgment on what was right or wrong. Zak is a tiny fella goes hard at the footy. He's fair. Not long after that [Jack] Ziebell goes running at him too. He plays it the same way. Again, there's other people that take control of that right now and I should sit back and wait for them to give us an outcome.
Q: What did you make of [Dan] Houston in his return game?
A: Strong. Dan showed that he was pretty keen to be part of the team. He played pretty well. He's a
good part of the backline which is strong together. He's obviously first game back in as soon as he's available. Will that be the same next week [with Peter Ladhams]? I'll work through that. We won't make commitments now. Whe like the idea of having another tall in our front half if we can. That certainly is an option for us with Pete and 'Westy' [Justin Westhoff] was out of the team this week. We'll work through that.
Q: Do you feel you know what your best 22 is at the moment coming to this stage of the season?
A: I think we've got a good squad. That's important. Everyone has talked about that through the season. It's about the squad. We have a healthy squad. Ryan tonight is an unfortunate one, outside that we have a healthy squad. We have got a good squad to pick from.
Q: It seems like you're enjoying your wins at the moment. I understand there was a drum down there in the change rooms.
A: The game is so hard. It's so hard to play. Everyone that supports us and looks at us, the members and fans they enjoy when we have a victory. It's important to players that players enjoy the victory. It's 'Goldie', [Port Adelaide SANFL captain] Tyson [Goldsack] bringing a bit more excitement to after match and the song. Good on him. You have to create. You've got to connect. When you need to celebrate. As a football club we've been strong in make sure we celebrate the right moments. That was a moment tonight we should celebrate.
Q: Is that a one-off or a regular?
A: Let's hope we get to use it a lot the next six weeks or whatever it is. We look forward to
being able to do it more often.
Q: Ken I'd love to ask you about the two bursts you had during the game. Four goals in a row in the first quarter, the five in the third quarter really put them away. I know you said it was patchy and you ran out of steam the last quarter. What you saw in those two periods of play must have been pretty exciting.
A: It was really exciting for us. That's what we're capable of. That's what we've done consistently throughout the year. We played 15 games and sit on the ladder. We have the capability of doing that. We'd like to do that obviously for four quarters. It's impossible. This game is hard to play. I think we show enough to teams they would be a little concerned when we get that momentum that we can put some quick damage on the scoreboard. That's important.
Port Adelaide star defender Darcy Byrne-Jones spoke to Channel Seven after the game too…
Q: Darcy congratulations. You must be rapt. Your form is outstanding at the moment.
A: Mate it's been good. Obviously nice to claim my role for the team. Yeah for us to be winning
games of footy is always a nice result as well.
Q: Darcy as a back group you must be pumped with the midfield at the moment. Win first use of footy most of the time. That allows you guys to get what you want behind the ball.
A: When they're winning footy inside, it allows guys like me and Hamish [Hartlett] and Dan Houston to really get aggressive and get involved in getting into our forwards.
Q: The difference between yourself and North Melbourne tonight was how much cleaner you were. Tell us how slippery it was.
A: It was a weird one. It was slippery at times. Like you said I think we were able to handle it pretty well and get the ball moving forward and surge it forward and score from there.
Q: As long as you take care of business in the back end of this home-and-away season you are going to draw a home final at the Adelaide Oval. How exciting will that be?
A: It's really exciting. Obviously to play a final in front of our fans will be a really nice thing. Hopefully get the double chance as well. Puts us in a good position to hopefully win a final and move through there.
Q: You were a late developer from what I understand and you played a bit at Oakleigh [under-18s] only very, very late. You played your 100th game last week. You look like you can go and play another 250 games at the top of your game. Did it take you a bit longer than others in your junior career?
A: Yeah, I was more a late developer. I was lucky enough to come through school with guys like Jack Billings and Jake Kelly and Jack Billings and Jack Sinclair. They put a good word in for me down at Oakleigh. I was lucky enough to play a few games there. Obviously get drafted to Port. It's been a nice journey so far. Hopefully can continue for a little while longer.
Travis Boak was probably Port Adelaide's best player tonight and he spoke to Channel Seven after the game as well…
Q: Look at the smile on your face. We just saw the great song with the drum happening inside the rooms. Smiles on everyone's face. Great place to be at the moment the Port Adelaide football club.
A: Yeah, it is mate. I think we've built a really good culture. We want to enjoy our footy. Win or
loss. I think that is showing at the moment. We're trying to build a brand of footy that stacks up under pressure. We have to enjoy those contests. I thought majority of tonight we've done that really well. We had an all-round good performance. You have to celebrate those wins after a night like that.
Q: 'Boaky', the performance tonight, you wore them down in the end. Your game plan stacks up. You must be really confident coming into these last two weeks. I think you've got Essendon and Collingwood to come and then potentially a home final in the qualifying final. But it stacks up this game plan, doesn't it?
A: Look it has all year. Obviously, there was couple of games [against] Geelong and Brisbane [that] let us down. There was parts of that where we needed to improve going forward. We realise that. We've got a structure and set-up that we think can contest against the best sides in the comp. North Melbourne we knew they'd come out hungry. We had to fight our way through it. Our contested ball stuff was really good. For majority of the night I thought we were clean around the contest with slippery conditions. We didn't finish our work going forward. I think we want to build going into this back half of the year and into finals. I thought we did that tonight. We can over next couple of weeks.
Q: Your 279th game tonight 'Boaky'. You won the best-and-fairest last year for the second time. We know you spend enormous amount of time in the off-season looking after yourself. You look like your body is absolutely tip top at the moment. You feel as good as it looks?
A: I do feel good. Probably a lot better the last couple of weeks than I did in the middle of the season. I guess for me with my age now I have to try and keep putting more back in than I take out. That's sort of the motto I've gone with. Whether that's in the off-season, pre-season or in season I try and recover and put as much into my body as I can and try and share my knowledge with the rest of the group as well. I just enjoy it. Enjoy the process more than anything. I love playing footy. I think once you sort of separate footy from you know who you are, it becomes a fun game. I think I've done that a lot better over the last couple of years. Enjoying being around the group.
Q: What about word about [coach] Ken Hinkley. His 100th win tonight as coach of the club. Looks like you guys are enjoying the connection you've got with Ken at the moment.
A: Yeah, we love Kenny. I didn't even know that was his 100th win. Amazing achievement for him. He's copped a little bit over the last couple of years. We haven't lived up to what we'd like to. We've certainly built on that this year and probably a lot of last year as well. It meant so much to our group. He's been a father figure for a lot of our guys. Just means so much to every single player that comes through the club. He's part of the family. He feels like that. He's probably part of playing group along with the rest of our coaches as well. We see it as we're all in it together. Not separated coaches or players. That's how we've moved forward and built that culture and Ken has been a big part of that.
Star Port Adelaide forward Charlie Dixon spoke to Channel Seven after the game…
Q: Really solid team performance. What was the most pleasing component of that win?
A: I mean it was pretty trying conditions, it's perfect in the day it comes down to the dew and the sweat and all that. I think we held tough. Our back six was super. A lot of [forward] entries towards the end. We hope to continue to put scoreboard pressure on and keeping the ball inside 50 towards the end of the game.
Q: How fantastic it is in terms of availability. You've got majority of your list ready to be selected. How important is it now ahead of finals to really lock down and get the balance on that 22?
A: Super. To be able to have the list we do at the moment and fit and fighting and everyone pushing for a spot. It's awesome to have that coming into finals. If God forbid we do lose a few and we have those boys there to come in straightaway.
Q: You signed a contract extension during the week. Remaining at the club to end of 2023. How much do you love this football club?
A: Relief to get that out of way before finals. To know I'm secured for next three years at a club that I love. They've looked after me. And I want to be able to repay the favour in coming weeks.
It's not often the winning team has backing instruments involved when they sing the song!
Ollie Wines was one of Port Adelaide's best players and he spoke to Channel Seven after the game…
Q: A really dominant display particularly in that second half. You must be really pleased with the efforts of everyone involved tonight.
A: For sure. Conditions probably didn't allow us to play the footy ideally we would have liked to. Didn't get a lot of contested marks. Couldn't get that going. Our contest was good. We knew they'd come out and respond after last week [against Gold Coast]. Credit to the boys around their clearances and getting it forward. We sort of lacked the ability to convert inside 50.
Q: How important has it been for the football club over the last couple of weeks to really, I guess, perform first and foremost and try and lock down some home finals in South Australia. We know how much it means to all of you members at home.
A: For sure. We have an incredible opportunity at the moment. Sit on top of the ladder with two games to go. With what's going on in the year we have an opportunity to have a home final. Not a lot of clubs do. Hopefully we're able to work over the next two games and get things right, we have a massive opportunity. We need to keep going.
Q: You've been sitting on top of the ladder for the entire season. There seems to be a good vibe around this playing group. Add in the announcements during the week of [Sam] Powell-Pepper and [Charlie] Dixon, with their contract extensions. Talk about the feeling inside the four walls.
A: It's been like that for [coach] Ken [Hinkley]'s whole journey. He puts a lot of trust in us. He's a father figure for us. It shows in the re-signinga. We have a group that's majority interstate. Guys keep signing on and extending. We're in a good place. We have a good list. Got a bit of momentum.
It was a pretty comprehensive result in the end and Port Adelaide finished up winning the disposals 334-274, clearances 38-24, tackles 63-49, inside 50s 41-35, contested possessions 119-109, free kicks 16-14, hitouts 31-24 and scoring shots 23-12.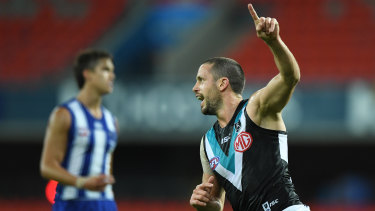 Nth Melbourne 1.2, 2.2, 4.4, 6.6 (42)
Port Adelaide 4.2, 4.5, 10.8, 11.12 (78)
GOALS
Nth Melbourne: Goldstein, Zurhaar, Larkey, Hall, J.Walker, Wood
Port Adelaide: Dixon 2, Wines 2, Motlop, Butters, Amon, Gray, Rozee, Boak, Powell-Pepper
DISPOSALS
Nth Melbourne: Anderson 24, Davies-Uniacke 23
Port Adelaide: Boak 34, Rockliff 31, Wines 30, Hartlett 22
INJURIES
Nth Melbourne: Simpkin (concussion)
Port Adelaide: Burton (quad)
POTENTIAL MRO
Zak Butters (Port Adelaide) for making head-high contact with Jy Simpkin (North Melbourne) in the third quarter.
PORT ADELAIDE GOAL
Powell-Pepper takes the mark 50m out from goal on the boundary line and then earns a 50m penalty after Marshall is held by Tarrant off the ball – curious decision, Marshall probably should have just been paid the free kick downfield.
Anyway, from the goal square, Powell-Pepper kicks the easy six-pointer.