Loading
The health worker attended two shifts while potentially infectious: one at the Concord Hospital emergency department on September 1, and another at the Liverpool Hospital emergency department on September 3.
"The health professional wore full personal protective equipment at all times while in contact with
patients and a surgical mask at all other times," a NSW Health statement said.
"Investigations into the source of this infection and contact tracing are underway. All patients and staff members who were in contact with the health professional are being contacted and advised to get tested and self-isolate."
One case attended Kuleto's Cocktail Bar on King Street, Newtown last Friday night, and NSW Health is asking anyone who was at the venue for more than an hour between 6.30pm and 9.30pm to get tested and self-isolate for 14 days.
It brings the cluster associated with the City Tattersalls Club to 61 cases.
Liquor and Gaming's director of compliance, Dimitri Argeres, encouraged the public to provide feedback – including complaints, compliments and suggestions – about venues' COVID-safety while the state was "still on a cliff edge" in dealing with the virus.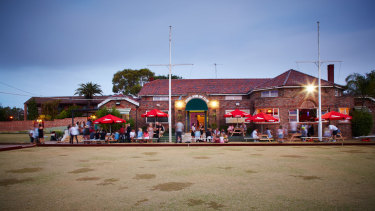 When inspectors visited Bondi Bowling Club on August 29 they found multiple group bookings of more than 10 people, no social distancing in bar queues, people mingling while drinking alcohol and inadequate signage.
"While we came across Bondi Bowling Club's breaches during a routine visit, we also use information and feedback from the public along with other sources of intelligence to focus our inspections on venues posing a higher risk," Mr Argeres said.
He said the club was operating "as though the COVID safety measures were optional". "This presented a pretty grim picture of patrons and staff who are simply ignoring the restrictions everyone else has to live with and putting the entire community at risk," he said.
He said the Garry Owen Hotel in Rozelle – previously dubbed the most neglectful venue – was now complying at a satisfactory level. Eleven fines were issued to venues last week.
NSW Health issued a reminder that Sydneysiders, as well as residents of the Central Coast and Blue Mountains, should not visit aged care facilities for Father's Day on Sunday.
"This decision has been reached after careful consideration of the risks of COVID-19
being introduced into an aged care facility while the CBD cluster is brought under control," its statement said.
"While we understand and acknowledge this will be difficult for many families on Father's Day, our
priority is to prevent the spread of the virus to the most vulnerable people in the community."
Natassia is the education reporter for The Sydney Morning Herald.