Global iron ore prices could fall between $US7 and $US12 per tonne if Guinea's Simandou North project finally gets built with Chinese backing. While it may be years away, Simandou North's production could add 200 million tonnes per annum (Mtpa) to global production.
"We believe the development of Simandou has the potential to unsettle the truce in the iron ore market, if the four majors abandon their current value-over-volume stance to defend market share,'' Morgan Stanley commodity strategists led by a UK-based team wrote in a note to clients.
"Such an outcome would bring our long-term bear case of $US45 per tonne (real 2019) into sight''.
Part of the Simandou site is owned by a Rio Tinto and Chinalco joint venture, and has proven to be a rocky road for the miner. The northern half, the topic of Morgan Stanley's note, is owned by a consortium including China's state-owned assets supervision and administration commission.
They note the high cost of extracting Simandou's high grade iron ore was not a hurdle because China was so keen to reduce its dependency on Australian ore and was shifting to larger blast furnaces that require higher grades. However, someone still needs to build 650 kilometres of railway through difficult terrain in western Africa and this is expected to take eight years.
The mine holds high grade iron ore that will cost about $US136 per tonne to extract, much higher than the industry average of $US85 per tonne.
"Meanwhile, despite high depletion rates in the Pilbara, we expect the majors to maintain current production levels,'' the analysts note, adding that prices will fall with or without Simandou.
"However, China's rising demand for high-grade fines, driven by its shift to larger blast furnaces, implies that Simandou's ore will find a home.''
Meanwhile material sectors stocks are supporting the ASX today with Fortescue up 3.1 per cent to $18.07, BHP up 2.4 per cent to $37.06, and Rio Tinto up 2.5 per cent to $97.98. Iron ore is currently around $US129 per tonne.
A decent drop of winter rain wasn't enough to halt a slide in farmer confidence as the sector grapples with fears over the coronavirus, as well as overseas trade and markets, and commodity prices.
The latest Rabobank Rural Confidence Survey shows farmer confidence continued to fall last quarter, after beginning the year at a near five-year high.
The rural-focused lender said all states, except Queensland and Tasmania, recorded some decline in sentiment, with the impacts of COVID-19 on agricultural markets increasingly weighing on the sector.
A continued turnaround in seasonal conditions and the prospect of a bumper winter grain harvest are, however, helping stabilise confidence levels.
The latest survey – completed last month – found 24 per cent of farmers surveyed nationally expect conditions in the agricultural economy to improve over the coming year, compared with 33 per cent with that outlook in the previous quarter.
The number of farmers, however, with a pessimistic outlook on the year ahead stood at 27 per cent, up from 23 per cent last quarter.
Overall, farmers with a pessimistic outlook on the coming 12 months cited falling commodity prices, concern about overseas trade and markets and COVID-19 as the three main reasons for their negative view.
Rabobank Australia chief executive Peter Knoblanche said continued good rain throughout the winter months has been a boon for long-awaited good winter crops, particularly on the east coast, and the prospect of a big harvest right across the nation will inject some much-needed cashflow back into farming businesses and regional communities after successive years of drought.
National Cabinet on Friday failed to reach consensus on a code that would have allowed farm workers to cross state borders despite COVID-19 restrictions.
There have been concerns in the sector about how grain and horticulture crops will be harvested with the restrictions in place. Queensland, Western Australia and Tasmania were against the softening of border quarantine measures. While New South Wales, Victoria, and South Australia are expected to apply some sort of code that will allow workers to cross their shared borders.
The ASX 200 has bounced off a five-week low to push back into positive territory after 90 minutes of trade, as banking and health stocks join the big miners in the black.
Having dived by 0.9 per cent at Monday's open, the benchmark index was 25.2 points or 0.4 per cent higher at 5951.5 by 11.30am AEST.
Support came from blue-chips such as biotech CSL, miners BHP, Rio Tinto, and Fortescue Metals, and each of the big four banks.
Tech stocks were still subdued but far improved from their 2.2 per cent opening plunge.
Afterpay was just 0.9 per cent lower at $77.56 after diving by more than 4 per cent to $74.86 in early trade.
The industrials, energy, property, and both consumer sectors remained in the doldrums. Wesfarmers was down 1.2 per cent, Woolworths 1.3 per cent, and Transurban 1.4 per cent.
New Zealand buy now pay later outfit Laybuy is set to list on the Australian Securities Exchange at 12.00 today joining the growing cohort of companies in the sector on the local exchange.
Laybuy enables customers to buy goods, take them home and pay them off weekly with six equal payments. It does not charge interest but makes its money through fees to merchant and late payment charges.
The company is raising $80 million from its initial public offering at a listing share price of $1.41 giving it a market capitalisation of $246 million.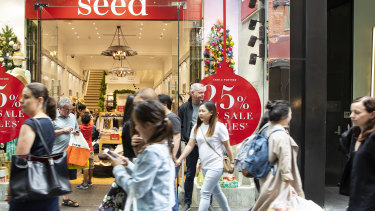 The company earned revenue of NZ$13.7 million last year and made a loss of NZ $16.1 million.
The loss was driven by an increase in operating expenses to NZ$16.2 million and receivables impairment expenses of NZ$9.2 million.
Laybuy managing director Gary Rohloff started the business in New Zealand in 2017 and said it was now one of the leading buy now pay later providers in New Zealand and growing quickly in Australia and the United Kingdom.
Laybuy is using the funds raised to increase its presence in the United Kingdom and Mr Rohloff said the country has a retail market that is more than two times larger than the Australian market.
"It is also a market where there is a comparatively high proportion of retail shopping done online and where BNPL is still in its infancy," he said.
Australian corporate leader Susan Forrester has expanded her presence on ASX-listed boards as the new chairman of online lottery business Jumbo Interactive.
Ms Forrester, a lawyer and Member of the Order of Australia, has served as chair and non-executive director on multiple firms over the past 10 years.
She is a fellow and councillor of the Australian Institute of Company Directors and joins Jumbo after the company's previously announced retirement of chairman David Barwick.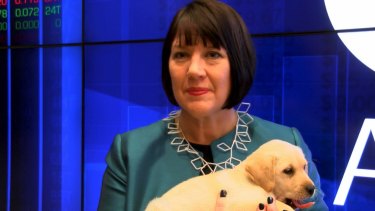 "Her experience and approach is exactly what Jumbo needs as we seek growth in Australia and overseas in the years ahead", chief executive Mike Veverka said on Monday.
Ms Forrester has been a director at G8 Education Ltd since 2011, where she chairs the People and Culture Committee. She also serves on the board of IT and telecommunications firm Over the Wire Ltd, where she chairs the audit and risk committee and has been a director of Viva Leisure Group since 2018, where she chairs the people and culture committee.
Ms Forrester was previously founding Chair of ASX-listed National Veterinary Care Ltd, where she oversaw a $250 million trade sale to VetPartners in March.
Last month Jumbo reported a 2 per cent decline in full-year net profit to $25.9 million and cut its final, fully franked dividend from 21 cents to 17.5 cents. The company in June extended its resale agreement with gambling giant Tabcorp until 2030.
Victoria's stage four lockdown has stopped the nation's jobs recovery with ANZ's key measure of job ads effectively stalling.
The bank reported on Monday that ads lifted by just 1.6 per cent last month. That's after a 41 per cent jump in June and a 19.1 per cent improvement through July.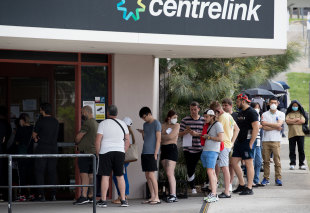 Ads are still down 27 per cent on February. In August last year the ANZ measured 155,716 jobs compared to 109,103 this year.
ANZ senior economist Catherine Birch said SEEK's measure of job ads had pointed to a fall in Victoria and sluggishness through NSW which itself was inline with weekly payroll data.
"We expect outright falls in national employment in August and September. The fourth quarter is
also looking worrying, given the amount of fiscal support to workers, businesses
and households scheduled to be withdrawn, particularly with Victoria only
gradually emerging from lockdowns," she said.
"Over the longer-term, we think that governments' key focus for the economic recovery will be employment growth."
"This will require tens of billions of dollars of additional spending."
Telstra shares dropped to $2.81 in the first half hour of opening today, the lowest price shares have been at since 3 January, 2019. The stock is currently at $2.85.
Insurance Australia Group (IAG) hit seven-year lows at the open this morning, falling down to $4.67. It has fallen from $8.72 in July last year.
The telco's shares have been falling since its full-year results on 13 August, when it posted a 14.4 per cent drop in net profit for the full year ended June 30. Total income for the period slipped 6 per cent to $26.2 billion. It also announced a dividend of 8¢ per share, bringing total dividend payout for the year to 16¢ per share.
The stock is still well regarded by analysts with an average price target of $3.49 and seven buy recommendations.
The ASX 200 fell by as much as 0.9 per cent at Monday's open to extend last week's heavy losses and hit a five-week low.
The benchmark index was down 47.7 points at 5877.8 after about 20 minutes of trade – and touched its lowest since August 3 – following another tech-led sell-off on Wall Street on Friday.
On local shores, tech, utility, property, industrial, and consumer discretionary stocks were the hardest hit, with only the materials sector in positive territory.
BHP jumped 1.5 per cent to $36.74, Rio Tinto climbed 1.9 per cent to $97.33, and Fortescue Metals was up 2.9 per cent to $18.03.
Financials lost 0.9 per cent, with all four major banks in negative territory.
Tech stocks fell by a collective 2.2 per cent to lead losses, with Afterpay down 4.1 per cent to $75.
Xero was 2.1 per cent lower at $92.80, Altium dropped 2 per cent to $33.38, and Appen was down 0.8 per cent at $32.16.
Property group Mirvac this morning announced a suite of executive changes, including the departure of chief financial officer Shane Gannon and head of retail Susan MacDonald.
Mr Gannon – who has been with Mirvac since 2013 – will leave the business toward the end of 2020, but has indicated an intention to stay longer if required to facilitate a smooth transition.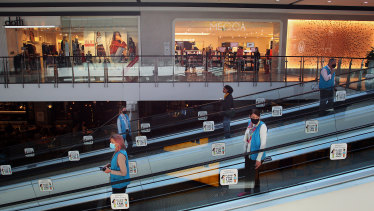 Ms MacDonald will leave on December 31 after six years in the role.
The ASX-listed firm on Monday said it had commenced a recruitment process for a CFO that will include both internal and external candidates and expects to make an appointment by the end of 2020.
Mirvac on Monday also announced it will combine its office, industrial, retail and build-to-rent operational businesses into one business unit to be headed by the new head of commercial property, Campbell Hanan. Mr Hann's role starts on October 1.
Brett Draffen will continue in his role as chief investment officer, but his role will expand to include oversight of Mirvac's commercial and mixed-used developments, and will be particularly focused on leveraging Mirvac's multi-asset expertise into mixed-use opportunities.
Mirvac shares opened lower on Monday.
Yet another small-cap biotech has come through with some early data on whether its products have an effect on the Sars-COV-2 virus.
Biotron, which is working on a treatment for HIV-1 and hepatitis-C, has also been in the lab over the past few months testing whether its compounds can fight the virus.
This morning the company told investors it had identified 15 compounds that had some effect in the lab, and would now move to do more research to develop products for testing on animals.
The company joins a large cohort of ASX-listed peers who are all working on treatments for COVID-19 beyond a simple vaccine.
Over the past few weeks updates from Starpharma, Mesoblast and Cynata have all pointed to some progress on coronavirus therapies – though there's still more research to be done before their ideas become reality.
Biotron shares have doubled from 5c to 10c since the start of the calendar year.