Worsfold will not be at the helm at Tullamarine in 2021 when he expects the Bombers to improve in leaps and bounds. He all but conceded the top eight is now a bridge too far.
"Don't know [about finals]. The disappointment of this game makes playing against Port Adelaide in Adelaide next week something again, we should really [be] excited about stepping up to that challenge … regardless of whatever the season says can happen we want to take on Port Adelaide,'' he said.
"[Geelong players] know each other back to front, our boys haven't played a lot of footy together. We won't get too many opportunities through the remainder of this year to really build that but that is something that will help us as a club going forward.
"There is a gap between where we are at and the top sides. Not many people said that we were going to be a top-four team this year and that's because they believe there's a gap between our squads and what the best squads are. That comes from age and experience.
"Geelong in terms of their experience tonight was maybe three seasons per player on average more than us. That's a massive amount to concede.
"When we get our group together we are going to grow pretty quickly on that. There is a gap … it's not as big as it looked. It's not going to take years to close."
Worsfold said Irving Mosquito suffered a suspected ACL injury and the club would await scans in the coming days for confirmation.
Cats senior coach Chris Scott said Geelong were hitting form at the right time with the likes of Selwood, Tuohy, Stanley and Gary Ablett to come back into the side this Friday.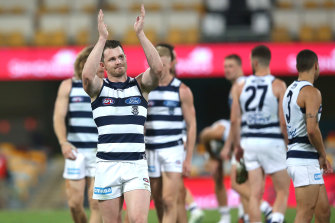 "We've found some cohesion and our system and understand it is quite robust at the moment but we're not the perfect team by any stretch,'' he said.
"We've got flaws like everyone else but last week was as good a sign as any that when the chips are down we can find a way to arrest things in games, which is a sign of maturity.
Loading
"He [Selwood] can play this week. We've been pretty open with training and if you watch him train you'd say he's ready.
"I think we've made some errors bringing him back before we should have. It's prudent to make sure he's not only healthy but really fit and ready to play at his best. If it's not this week, it'll be next week."
Scott knows a win over the Tigers means a double chance for the Cats but fitness will dictate match committee decisions.
"I think we've got a lot of belief we're a good team but they've been the best in the competition for a long time. And are hitting their stride at the moment, as far as I can see," he said.
"It will be a good contest, I hope. I know it'll be built up and will be good for our guys to be part of a game like that."
He said a knee issue ruled out Tuohy in what would have been his 200th senior game but the Irishman should be fit to take on the Tigers, while Stanley was a "95 per cent" chance to return.
Scott said forward Gary Rohan was rested in the fourth quarter after his glute tightened up in the third term and should be fit.