"Thank God there was that little black line in between the ball and the post," Beveridge said.
Eagles coach Adam Simpson wasn't asked about the decision post-match but made no complaints, saying his side were lucky to come close to victory after being outplayed for most of the match.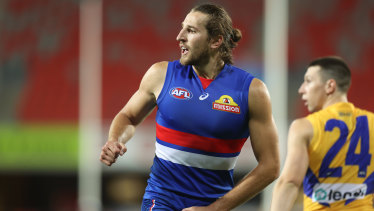 Although they have 10 wins the coach does not feel as though they have secured a top eight spot with their remaining games against St Kilda and North Melbourne. If they want to give themselves the best chance of hosting a home final in week one they will need to beat the Saints.
Simpson said Mark Hutchings would be out after being sidelined during the game with another hamstring injury while McGovern hurt his thumb when the Bulldogs' Josh Bruce outmarked him early in the final quarter.
Simpson said it was the same thumb the marking defender broke earlier in the season and he would be sent for scans to determine the damage.
The coach would not be drawn on whether he would be able to keep playing, however he admitted it would be difficult if McGovern had broken it again.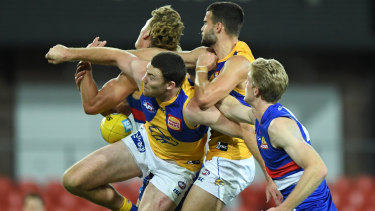 "He has played with so much pain and resilience over the years. If anyone can, he can," Simpson said.
In better news for Eagles fans champion ruckman Nic Naitanui was expected to play against the Saints after withdrawing from the match against the Bulldogs because of a sore back. Simpson said with the compressed run of games it would have been reckless to play Naitanui.