But $400,000 worth of minor safety works, as important as they will eventually be to the motorists moving between Albury and Wodonga, is not nearly enough in a near $1.9 trillion economy facing its deepest downturn since the 1930s.
Loading
The government knows infrastructure will have to be a key part of its response to the coronavirus recession. It was the first element noted by Treasurer Josh Frydenberg when he ran through the government's response to last week's disastrous national accounts.
Throughout the 2019 election campaign, the government was keen to talk up its "$100 billion infrastructure pipeline". When pressed by Reserve Bank governor Philip Lowe to help get the economy moving late last year, the government pulled forward about $5 billion worth of infrastructure.
What is becoming clear is that all the roundabouts and commuter carparks at railway stations in the world won't be enough.
The government has to be bolder and think bigger.
One of the few bright spots in the most recent national accounts was a 2 per cent increase in spending by the private sector on engineering capital. Almost all of that increase came out of the mining sector, largely iron ore and gold.
Despite that increase, it is still almost 60 per cent or $17 billion lower than its mining boom peak recorded back in 2013.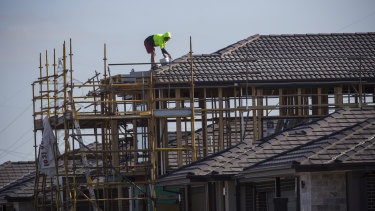 Outside of the direct mining sector, spending across manufacturing slumped to its lowest level since 1997. Construction fell back to where it was in late 2010.
Despite its overall financial importance to the economy, mining employs directly about 233,000 people. Manufacturing and construction employ more than 2 million.
Loading
With unemployment at 7.5 per cent and on its way to something north of 9 per cent, maximising job opportunities must be upper most in the minds of all governments. Manufacturing and construction stand to gain the most from major infrastructure work.
That means walking the line between lots of small projects and also big sky works that could transform the nation.
Treasury and Reserve Bank forecasts, and experience from overseas, suggests the recovery out of this recession will take longer than initially hoped. That means larger scale projects that will take time to get up and running should be on the drawing board.
Major projects could be offered as an incentive for states to at least loosen their border restrictions.
The October 6 budget is shaping as one of the most important in Australia's economic history. Boldness must be front and centre.
Shane is a senior economics correspondent for The Age and The Sydney Morning Herald.