Amity Point on North Stradbroke Island is 46 kilometres from the mouth of the Brisbane River, which is 19 kilometres from Howard Smith Wharves – meaning a total distance of 65 kilometres.
On Saturday, Tourism Minister Kate Jones announced three new pylons would be built at Howard Smith Wharves at a cost of $5.5 million for a new river terminal.
"This new river terminal will mean you can have a drink or something to eat at a restaurant, jump on a boat and be relaxing on an island within 40 minutes. It's an absolute game-changer."
Most Moreton Bay tours now begin at Cleveland (Toondah Harbour) or from Redland Bay ferry terminal, not from the Brisbane CBD.
Said Ms Williams: "We don't disagree that we need to have tourism opportunities from the Brisbane River to the bay, but there is quite a deal of planning behind it to make arrangements with the people who are going to be asked to deal with the infrastructure at some point."
The Queensland government has recently formed a partnership with a company called River to Bay to build a fleet of fast tour boats.
Its website says each boat is "large enough to provide safety and comfort but small enough to travel the river at high speed with minimal impact to the environment and other river users".
"Initial vessels are 12.5 metres long and have a capacity of 32 passengers. Each boat is equipped with 3 x 300 horsepower Yamaha outboard motors, driving them at a maximum of 45 knots with a high economical cruising speed of 27 knots," the site says.
One of the three men who started the partnership is John Sharpe, mostly known for his Riverlife Adventure Centre tourism business beneath the Kangaroo Point cliffs.
A Tourism Department spokesman last night said River to Bay was one company that had run pilot trips to Stradbroke Island, with further trips planned around Moreton Bay.
"With new infrastructure like the brand new $5.5 million river terminal we announced for Howard Smith Wharves on the weekend and new services like River to Bay's fast tour boats, we're partnering with the private sector to make it quicker than ever before to get from Brisbane to the bay," he said.
Approvals have yet to be announced.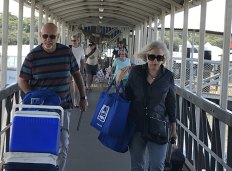 Speeds for ferries and marine vessels vary on different reaches of the river, but according the Queensland Transport's Code of Conduct for the Brisbane River, the maximum speed is 40 knots between the Story Bridge and Bretts Wharf.
Travelling at that speed, it would take 52 minutes to get to Straddie; at 45 knots it would be close to 40 minutes.
A schedule of speed limits from August 2019 for the Brisbane River shows the maximum Brisbane River speed as much lower – 15 knots.
Loading
At that speed it would take more than two hours, which is what most tourists would have enjoyed to date.
Also, river boats must slow down where other vessels are moored to dock goods and allow passengers to embark and disembark.
Commercial operators said most commercial boats on the Brisbane River had a maximum speed of 28 knots, which would make most Moreton Bay Islands about 90 minutes away from the CBD.
Tony Moore is a senior reporter at the Brisbane Times