We have dual press conferences today, with Victorian Premier Daniel Andrews and NSW Premier Gladys Berejiklian to speak at 11am. You can watch their press conferences live, below.
Or if you prefer, you can continue to watch Victoria's hotel quarantine inquiry:
Premier Daniel Andrews says the comparison between public health restrictions in Victoria and NSW is irrelevant because of the high levels of community transmission in his state.
Prime Minister Scott Morrison made the point on Monday that NSW would be under curfew if Victoria's restriction thresholds were applied north of the border.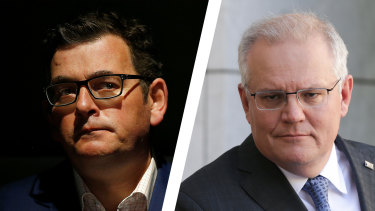 Mr Andrews said the amount of undetected community transmission in Victoria meant the situation in his state was far more precarious.
"How much community transmission have they had? Have they had a second wave? No, they haven't," Mr Andrews said.
"I'm talking about community transmission on aggregate – we have had thousands of cases. Trying to compare where NSW is with the epidemiological predicament … is not helpful … [and] not in any way accurate.
"Once we get down to low enough case numbers, then our settings will be not so different to NSW at all."
One person who travelled from Melbourne sparked the latest outbreak in Colac, in Victoria's south-west, that has infected 25 people.
Premier Daniel Andrews revealed that the fresh outbreak linked to a Bulla Dairy Foods site began with one person who travelled to the town from Melbourne. The person who returned to the town infected another person and within a week 25 people had contracted the virus.
"That speaks directly to just how infectious and just how quickly this virus can get away from you. One person goes back to their local community and within the space of a week, one person has meant that some 25 people in that community have tested positive," he said.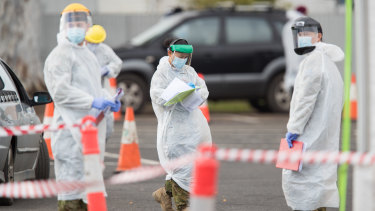 There are 82 active cases in regional Victoria, with the majority in Colac.
Mr Andrews said regional public health teams have been successful in stemming the Colac outbreak and other country areas with rapid contact tracing, boosted by local knowledge.
A similar model will now be adopted at a suburb level in Melbourne as the state races to improve its contact tracing system.
"In coming weeks, after consultation with health services, consultation with local government, we will establish those important suburban equivalents of those regional public health teams … and that will be about trying to provide the very best and localised response. We think that will serve us very well," Mr Andrews said.
NSW Premier Gladys Berejiklian says she welcomes an upcoming visit from ADF officials, Victorian health officials and the Australian Chief Scientist Alan Finkel to observe NSW's contact tracing system, but stresses it is an integrated approach across government departments which has led to her state's success.
Victorian Premier Daniel Andrews announced the trip at his press conference today. The team will be there to learn what could be applied from NSW's contact tracing practices in their work in Victoria, he said.
"NSW has tried to lend a hand whenever we can," Ms Berejiklian said, praising the work of Chief Health Officer Kerry Chant before attributing her state's success in managing outbreaks to a whole of government effort.
The Premier implored other states to consider the support their gave to their "Service NSW equivalent" to distribute information or to their police to enforce health regulations.
"Because our health experts should be left doing what they do best and that is contact tracing and giving us that advice … but it's really important to have other agencies of government working together to support the health effort," she said.
"It doesn't work unless businesses come on board and they're COVID-safe; unless schools have cleaning contracts on a daily basis – I mean that level of detail has to happen across all agencies: transport, education, police, customer service.
"And unless you have that integrated approach, the significance of what Health is doing won't be as notable."
Payroll jobs and wages are recovering everywhere across the country except Victoria, our senior economics correspondent Shane Wright tells us.
Data from the Australian Bureau of Statistics released today shows that nationally there was a 0.3 per cent lift in payroll jobs in the fortnight to August 22.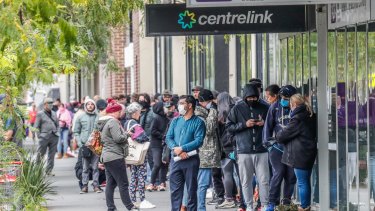 There was a 1.3 per cent jump in Tasmania and 1.1 per cent lift in South Australia, while in NSW payroll jobs were up by 0.7 per cent.
But Victoria, which was in lockdown during this period, suffered a 0.7 per cent drop.
Payroll jobs are now down by 7.9 per cent in Victoria since mid-March compared to a national fall of 4.2 per cent.
The same trend is playing out with total wages.
Total wages rose by 0.2 per cent in the fortnight to August 22, but they were down by 0.6 per cent in Victoria and by one per cent in the ACT.
Wages were up by one per cent or more in WA, Tasmania and the Northern Territory while they improved by 0.4 per cent in NSW.
Since mid-March, wages are down by 5.2 per cent nationally.
Victoria is the hardest hit, down by 6.2 per cent while they are down by just 0.2 per cent in the NT. In NSW, wages are down by 5.6 per cent.
One of Victoria's leading health services noticed there was a lag in COVID-19 contact-tracing for cases in hotel quarantine and offered to take over, an inquiry has heard.
The inquiry into the state's hotel quarantine program is hearing today from Alfred Health chief operating officer Simone Alexander.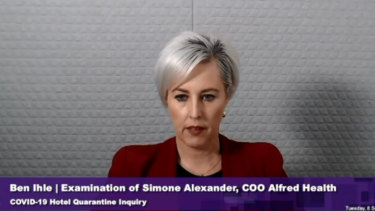 Alfred Health was called in to run the Brady Hotel, a hotel that was set aside to house only people who had contracted coronavirus in mid-June.
Ms Alexander said the health service was performing contact tracing for its own staff, and in late May they noticed significant differences between The Alfred and how long the Department of Health and Human Services' was taking to contact close contacts and conflicting information that was being provided.
The Alfred was faster with its own staff while the department, she said, did not contact employees from other agencies – such as the hotel's direct staff – for a number of days.
"It was identified there were some other agencies who had staff who hadn't been contacted for a number of days or longer than what we would like in order to give them the information we need," Ms Alexander said.
Information that was being provided by the department was also not consistent with what The Alfred was giving, the inquiry heard.
The issues were raised with the department and the department requested The Alfred put forward a proposal as to how contract tracing might be done differently.
Ms Alexander said they offered to take over contact tracing for all the hotels, which the service took over at the end of July.
"We're not perfect, but we had experience and systems in place," Ms Alexander said.
The Alfred took over clinical responsibilities at all quarantine hotels in July, after outbreaks at the Stamford Plaza and the Rydges on Swanston in May and June had seeped into the community.
The outbreaks inadvertently spread the virus into the community, causing the state's deadly second wave of coronavirus.
As well as leading to the stage four lockdown, the outbreaks resulted in Victorian Premier Daniel Andrews putting a stop to international arrivals in Melbourne in June, which in effect suspended the hotel quarantine program.
We have updated our list of places with COVID-19 alerts in NSW.
If you have been to any of these locations at the time and date listed below, you should get tested and self-isolate as soon as you develop any symptoms.
Earlier this week, NSW Deputy Prime Minister John Barilaro voiced his ongoing support for eased coronavirus restrictions in regional areas. But at today's press conference, Premier Gladys Berejikllian seemed to suggest this was an unlikely outcome.
"I don't want for us to get complacent. We have had a few [cases] pop up in the regions," the Premier told reporters at Shell Cove, on the South Coast.
The Premier noted a recent case in Parkes and said there was another case "inland", which NSW Health would provide more information about today. NSW Health has been contacted for comment.
"The other thing that I think is important is, all of us in NSW aren't allowed to go anywhere else outside our state, so I do think it's important for everybody in our state to be able to move around our state freely and having one set of rules makes sure that happens," the Premier added.
Asked again about mask use, the Premier claimed the state was "seeing the rate of mask-wearing increasing across the board" and she was "relatively comfortable" with the take-up rate despite masks not being mandatory.
"In the main, I think people across our state have been following those rules, and I also noticed that some have been choosing to wear their masks, especially those older and more vulnerable, in different settings and we strongly recommend that," she said.
The Premier said she believed "NSW has the policy settings right".
The Victorian government is increasingly using local contact tracing and rapid response units to slow the spread of coronavirus.
Jeroen Weimar, the former head of Victoria's Department of Transport who is now involved in the state's pandemic response, said local contact tracers in regional areas have partnered with councils, health authorities and community groups to carry out contact tracing swiftly and successfully stem outbreaks.
He said the model had been successful in tracing the virus in areas including Bendigo, Castlemaine, Geelong and Colac.
"It has enabled us to really get hold of those outbreaks very quickly. And we've seen over the last four or five weeks some quite big outbreaks from Victoria, but [they were] brought to an end far more swiftly and that's critical to our success," Mr Weimar said at today's press conference with Premier Daniel Andrews.
He said 11 outbreak rapid response teams had responded to about 70 complex outbreaks at places including schools and seafood markets.
A mission of ADF officials, Victorian health bureaucrats and Australia's chief scientist Alan Finkel will travel to NSW to glean lessons from the state's "gold-standard" contact tracing system.
Dr Finkel and ADF officials have been embedded in Victoria's Health Department working on its tracing program.
They will travel to NSW, where contact tracing has worked seamlessly, later this week, Premier Daniel Andrews has announced.
Mr Andrews said his government would begin publishing more regular and granular information about the performance of the state's contact tracing, which he said had improved.
"We will again just double and triple check whether there is anything that is different between our response and the response in New South Wales," he said.
"They've got case numbers at levels that we are heading towards, and there might be when you are dealing with that particular challenge of very low numbers and trying to keep them very low – some insights that they can provide us given that they are in a different place."
Mr Andrews revealed five suburban contact tracing hubs were being established around the state. He said one of the changes involved in moving to a digitised system delivered by US tech company Salesforce – as revealed by The Age and the Herald today – was decentralisation.
"Those local teams come into their own when there are very low numbers but the tolerance for keeping those numbers low is also very, very small," he said.
"There's less pen and paper, there's less manual data entry. It also facilitates the notion of devolving some of our response. So it's not just at the centre, but there are regional teams, suburban teams and everybody can import into the same platform."
NSW Health Minister Brad Hazzard has said it is "not unexpected" that coronavirus would spread among healthcare workers in a "once-in-100-year pandemic".
Speaking to reporters on Tuesday morning, the Health Minister said the number of healthcare workers in self-isolation as a result of the outbreak across Liverpool and Concord hospitals remained about 100.
However, he stressed the state's hospitals were "amongst the safest places in the world to be".
"We certainly do have enough staff to make sure that the positions are filled," he said.
Repeating Chief Health Officer Kerry Chant's comments yesterday, Mr Hazzard said there was no reason for people to not attend either hospital for medical care.
It comes as the state government has announced funding for a new hospital in the Shellharbour region, south of Sydney.