Ms Aegerter said businesses such as Ginza and Suki, as well as retail including boutique store Side Street Vintage, had closed their doors.
"The lovely party shop has only gone online because of what is happening with restrictions," she said.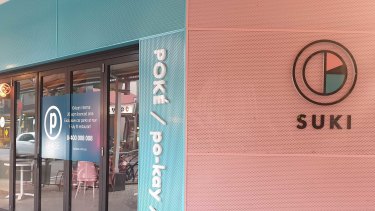 "Honestly, it's mixed. Some businesses are back to normal but others struggling or moving on.
"There are a lot of For Lease signs and some businesses like Coco Bliss are moving into bigger premises on the street."
At least 15 shops on Oxford Street are displaying For Lease or For Sale signs.
Ms Aegerter said food businesses, including her own Nom Nom Natural Gelato, had bounced back.
"March and April were pretty low but there was a sharp uptake in takeaway and Uber Eats orders," she said.
"When restrictions eased in May, we bounced back because there was more foot traffic. Ice cream is comfort food and locals are back for it.
"In saying that, there are still car parks available and on this street, that is always a bad sign."
QUT business school professor Gary Mortimer said Oxford Street, Paddington's Latrobe Terrace and other high streets already had been struggling but worsened with COVID-19 challenges.
"Although cinemas have now reopened, consumers have realised there aren't too many blockbusters out as most production companies put the movie releases off and aren't as interested in returning," he said.
Mr Mortimer said local business associations that rallied together could attract people into precincts.
"That might entail retailers, restaurants, bars working together with council and landlords to facilitate a more holistic approach to developing a strong retail strategy," he said.
"Things like collaborating marketing tactics where, say, a restaurant teams up with a movie theatre or a fashion brand teams up with a bookshop to promoting one another."
Mr Mortimer said landlords needed to offer shorter-term leases and avoid leasing to businesses that would replicate offers, for example too many cafes, already in the area.
"It will cannibalise the sales of incumbent cafes and it is only a short-term strategy for the landlord," he said."It won't be viable."
Councillor Kara Cook said while vacant stores needed to be filled, a recent pop-up art gallery on the street looked promising.
Cr Cook said people were still cautious about returning to the cinemas at Bulimba and Hawthorne despite COVID-19 safety plans.
"We've seen a return of foot traffic but nowhere near pre-COVID levels," she said.
"Everyone needs to support local businesses right now.
"Especially in this area, where the two cinemas are the heart and soul of the community and we want them to survive and thrive, too."
Jocelyn Garcia is a journalist at the Brisbane Times, covering breaking news.