"Based on the evidence of nurses and returned travellers, much of which is uncontested, it is open to the Board [of inquiry} to find that there were shortcomings in meeting those needs," Mr Ihle said.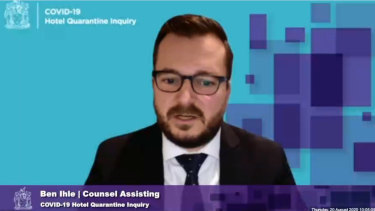 Their needs were the core work of the Department of Health and Human Services, he said.
Summarising the last week of evidence, Mr Ihle said there were conflicting directions and protocols given to those working in the program on the ground because there was no clear line of command nor an understanding about who was in charge.
The barrister said this led to different perspectives and understanding about where the "responsibility for matters of infection control and training lay."
Loading
The program was established within the 48 hours leading up to the first arrivals of returned international travellers in Melbourne on March 29.
Mr Ihle said the evidence showed ordinary government procurement practices were not followed and that a substantial percentage of security work went to a company, Unified Security, that had previously been refused inclusion on the government panel of preferred security contractors.
That company was almost entirely reliant on subcontractors, Mr Ihle said.
Though the inquiry heard last week the use of private security came at the recommendation of Victoria Police Chief Commissioner Graham Ashton, it is still not clear about who decided to use security instead of police.
Loading
"It has proved to be a contentious decision. And there is a range of views about whose decision it actually was," Mr Ihle said.
"More evidence will be called on that topic next week, including on what other options there might have been for security arrangements."
But in fresh evidence to the inquiry, Commander Tim Tully said Victoria Police was worried as early as April 15 that hotel guests were being allowed to leave the premises and by the following day, officers were reporting quarantine guests returning to the hotels carrying takeaway coffee cups.
Commander Tully said in his witness statement that he and his colleagues then met with the government officials running the program to ensure that those in charge of security at the hotels were clear about what was expected of them.
The inquiry's hearing continues.
Noel Towell is State Political Editor for The Age
Tammy Mills is the legal affairs reporter for The Age.