Attempting to build a world that provides both satisfying big-budget narrative adventures and an online squad-based loot-grinding platform, Marvel's Avengers is an extremely impressive effort that falls short on long-term incentives (at least so far), but nails the campaign.
This is a robust and beautiful brawler featuring six of Marvel's most iconic heroes, each with distinct play styles and powers. It's organised into a huge range of activities, from story-based missions you play on your own using specific characters, to online multiplayer regions where you take on objectives with your favourite Avengers alongside friends or the AI.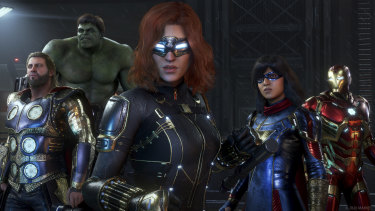 Tomb Raider veterans Crystal Dynamics took the reigns here, so a certain level of polish was to be expected. But even so I was surprised at just how good the story-based campaign is. Over more than a dozen hours (much more if you dive into optional side-quests), the game tells an excellent original Avengers tale about the heroes rebuilding their lives years after being implicated in a tragic explosion that killed or mutated countless San Franciscans.
You start as Kamala Khan, a teenage Avengers fan and reluctant hero, who brings the team back together and becomes Ms. Marvel over the course of the story. In the game, as in the character's 2014 comics, Khan's Muslim and Pakistani heritage brings a welcome perspective not often showcased in the medium, and overall she's a nuanced and likeable hero to have at the centre of the action. The other five — Black Widow, Captain America, Hulk, Iron Man and Thor — take inspiration from both the comics and the MCU films to create distinct but familiar versions of the iconic characters.