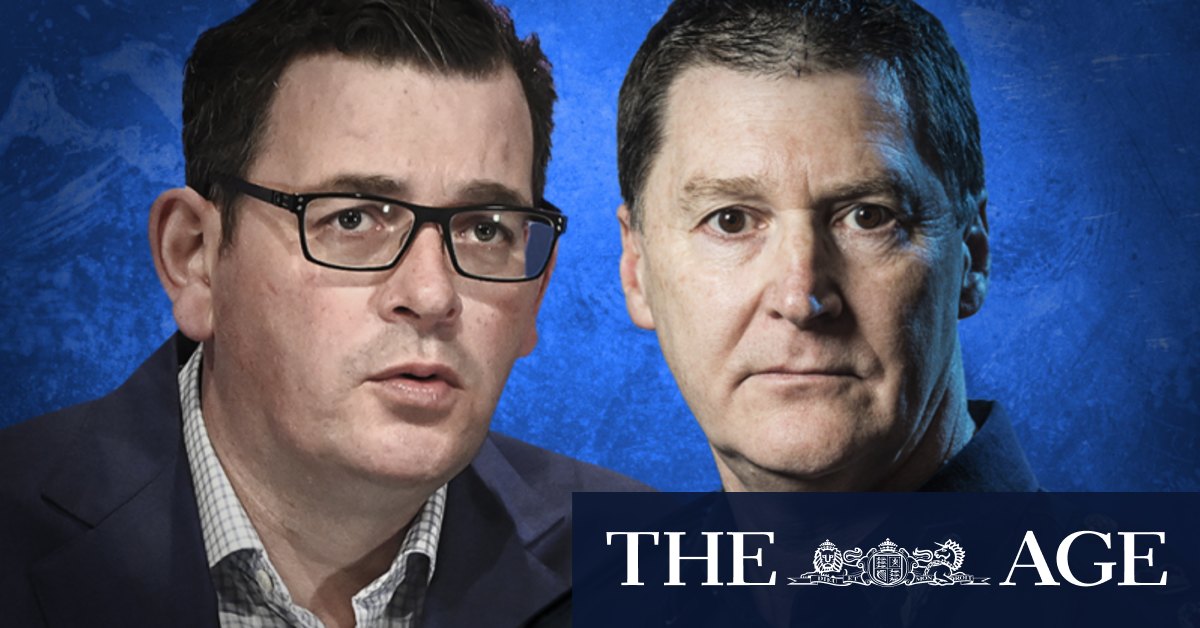 Loading
"We had never asked for a curfew," said Mr Patton.
On Wednesday, Mr Andrews said police believed the curfew would help with enforcement.
"[Police said] 'give us the clearest, simplest set of rules you can. And [give us] a curfew that says 'unless you've got a lawful reason to be outside after 8, soon 9pm, until 5am, then you can't be'.' It is much easier, it is much easier for Victoria Police," Mr Andrews said.
Mr Patton, however, said the police's policy department received a copy of the Chief Health Officer guidelines "a couple of hours" before the curfew was due to start.
"We haven't had any input into them," he said.
"It's not a decision that I was involved in. This is a decision that appears in the CHO directions. How it came to be there, I'm unaware."
On Thursday, Mr Andrews said he was unable to pinpoint who made the decision to establish a curfew.
He added that not all government decisions needed to be made by Professor Sutton, especially if they related to enforcement of rules that achieve a public health aim rather than public health rules themselves.
"Decisions are made by groups of people. And I can't necessarily pinpoint for you the exact individual and the exact moment that it was suggested that we put a curfew on," he said.
"It's important, though, not to fall into this trap where the only decisions the government can ever make about any matter are those that have been considered and advised by the Chief Health Officer," he said.
"The Chief Health Officer wants and provides, in many ways, very detailed advice, and that's when those matters relate directly to public health …
"The government is free to go beyond, the government is free to make some administrative decisions that make the enforcement of the principles that the Chief Health Officer has put forward much more achievable."
"Anyone who's displeased with that or doesn't think that's a proportionate measure, well, that's a decision that I've made … and as the leader of the government, I'll be accountable for that."
Loading
The opposition has said the decision to implement a curfew was a "captain's call", which Mr Andrews denied.
Mr Andrews reiterated that the decision to establish a curfew was designed to limit the movement of people and make the job of enforcing public health directions easier for police.
"We won't need a curfew forever. We will need it for so long as it serves a useful purpose in helping police to enforce rules," he said.
The opposition spokesman for police and community safety David Southwick on Thursday said the curfew must be scrapped.
"If Melbourne's draconian curfew isn't a health measure and it's not a policing measure – why is Daniel Andrews locking families in their homes?"
He said the night curfew has been in force for 58 days and has resulted in more than $6 million in fines.
"Daniel Andrews must come clean on his captain's call curfew and explain why he is treating Melbournians like prisoners," he said.
"The Premier has gone rogue and is making up cruel rules as he goes along, leaving all Victorians to pay the price."
Chief Health Officer Brett Sutton on Tuesday said it was not his decision to introduce the curfew and while he hadn't previously thought about whether it was a good idea, he believed it "probably" was.
Federal Health Minister Greg Hunt urged Mr Andrews to consider removing the curfew because it had not been recommended by Professor Sutton.
"We would like to see all and as many of the restrictions lifted as soon as the medical conditions allow, if there's no medical basis for something then obviously that's then something entirely within the remit of the Victorian government to address," said Mr Hunt, who earlier this week pressured the Victorian government to release more information about its modelling.
"And we'd encourage them to consider that in the coming days".
Mr Patton said it was beyond his "knowledge or expertise" whether the curfew had reduced COVID-19 infection numbers.
"I'm not trying to duck it but what it means is simply for us, there's been less movement overnight, that's very clear," he said.
"From our perspective, less people being around, our resources tell us with less movement we've seen less parties and things like that, so it may have, but I can't directly say."
The curfew, which will be extended to begin from 9pm after this Sunday, is slated to remain until October 26, or when Melbourne has a fortnightly average of five or fewer cases per day.
It was introduced on August 2 as part of Melbourne's stage four restrictions.
Michael is a state political reporter for The Age.
Simone is a crime reporter for The Age. Most recently she covered breaking news for The Age, and before that for The Australian in Melbourne.
Paul is a reporter for The Age.