de Minaur was in trouble on his serve as Thiem earned three break points at 0-40 but he couldn't seal the deal.
de Minaur battled back to deuce, then advantage before hitting a powerful winner.
He's now up 4-3 in the third set with Thiem to serve after the break.
Alex the Kid is fighting on despite the odds being against him.
He has just broken Thiem's serve. It's now 3-3 in the third set.
de Minaur has held serve, now trails 3-2 in the third set with Thiem to serve next.
Great fight from the Aussie despite having his battles with Thiem.
Strong service game from Thiem and de Minaur was shown headbutting his racket between a point.
The young Sydney talent will learn plenty from this loss. He will try and put a little scare into Thiem before they finish.
Thiem up 3-1 in the third sets with a 2-0 lead on sets.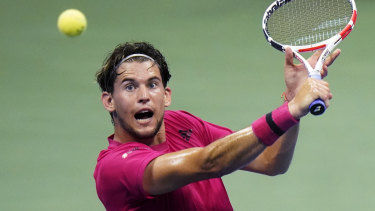 Both players ramped up the power shots that game and it was fun to watch.
de Minaur came out on top in this mini battle to hold his serve but he still trails 2-1 third set with Thiem to serve.
That was clinical from Thiem who held serve and now leads 2-0 in the third set.
de Minaur is fighting on and his shot-making stills asks some questions of the Austrian but when push comes to shove, Thiem shows he is the boss.
For all the fight and energy de Minaur is putting into this match, Thiem just keeps coming up with some stunning shots.
de Minaur looked to have put Thiem deep into the corner with a volley, only for Thiem to chase it down and put up a perfect lob over his head and into an impossible spot.
Thiem breaks de Minaur's serve, is up 1-0 and serving in this third set.
Could be over quickly but I won't count Alex out just yet. He is a fighter.
Thiem has burst out in that game and claimed the second set.
He is well on the way to the semi finals now but I'd love to see de Minaur put a scare into him in set number three.
Thiem up 6-1, 6-2.
de Minaur will serve to start.
Thiem is now up 5-2 and will be trying to knock over de Minaur's serve yet again to claim the second set.
Important moment from Alex as if he can hold it will show Thiem he won't be going down without a fight.
Couple of huge serves or finishing shots from Thiem as he holds serve and goes up 4-2 in the second set.
de Minaur is such a crafty fighter but Thiem is showing why he is so highly rated and ranked in world tennis.
This is the next level for Alex to chase….