Earlier on Thursday, the inquiry also heard a man who is suspected to have taken his own life in hotel quarantine received only one welfare check during his detention.
An authorised officer, a nurse and a security guard forced entry into the man's room at the Pan Pacific hotel on April 11 after realising he had not answered the phone for 24 hours.
The findings of Safer Care Victoria's review into the circumstances of the death have been shown to the inquiry investigating the hotel quarantine program.
The lead agency for health service safety found the detainee received one welfare check five days into his detention and it was the only welfare check made during the nine days before his death.
There were also at least another five unanswered phone calls to him and due to a lack of a system for documenting unanswered calls, the review team couldn't be certain if there were more calls that went unanswered.
The report stated the welfare check team were "unable to undertake welfare check calls to the planned schedule, as they did not have enough staff to match the required workload" and as a result, "initial welfare checks were often delayed, and subsequent checks were often infrequent".
"Evidence obtained in interviews indicated that it was not unusual for detainees who were not already identified as high risk to receive their first welfare check call around detainment day five to seven," the review found.
Authorities aimed to provide two sets of phone calls to quarantined returned travellers, one from a nurse conducting daily COVID-19 symptom checks and the other a call checking their wellbeing.
It was common, the report stated, for detainees not to answer the symptom check calls for innocuous reasons and unanswered calls didn't typically trigger immediate escalation, beyond attempting follow-up calls.
The review also identified that staff were not able to access all detainee health and welfare information they needed to provide adequate care due to a lack of a comprehensive, accessible and central repository for such information.
Information, the report said, was collected in a fragmented manner, involving "multiple entities and teams and multiple formats."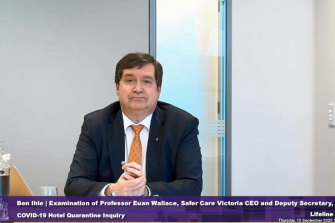 Professor Euan Wallace, chief executive of Safer Care Victoria, said hotel quarantine was established so quickly, within two days in late March, there wasn't time to think through all the eventualities.
There was no formal escalation policies to support clinicians to make decisions, he said.
"We would never ask a health service to stand up a program of this complexity in two days," he said.
The review team, according to the findings, noted that day-to-day operations were "marked by a lack of communication and co-ordination regarding detainee information collected through these fragmented channels."
If you or anyone you know needs support call Lifeline on 131 114, or Beyond Blue's coronavirus mental wellbeing support service on 1800 512 348.
Tammy Mills is the legal affairs reporter for The Age.