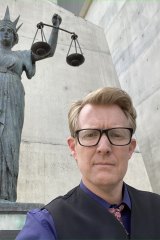 He found at least three contractors had withdrawn from working with Adani because of Galilee Blockade's protest activity, costing Adani millions.
"I am satisfied that the evidence supports to the necessary standard the conclusion that Mr Pennings by himself, and with others, has misused and will, unless restrained, continue to misuse confidential information with the purpose of frustrating or terminating the development of the mine and rail network," Justice Martin said in findings published on Friday morning.
Justice Martin granted Adani the injunction requiring Mr Pennings to take down posts on social media and not republish anything about the "Dob-In Campaign".
Mr Pennings said in a statement that Adani's multiple court actions against him "could bankrupt my family".
"I shouldn't have to sell our suburban family home to make a multi-billionaire even richer. So long as Adani threatens my family and the environment we all share I will do everything lawfully in my powers to stop them," he said.
"The urgent need to stop new thermal coal mines is much bigger than any one individual.
Loading
"The global movement to stop Adani's coal mine will not be deterred by the cold-hearted bullying tactics of a billionaire's mining company targeting one individual."
An Adani spokesperson said the injunction was requested to prevent Mr Pennings "continuing what we claim is a sustained campaign of harassment and intimidation against our business and contractors, whilst the civil legal proceedings that we have brought against him are under way".
The spokesperson said Adani had told Mr Pennings it would drop legal proceedings against him if he made a permanent undertaking to remove any information about the "Dob-In Campaign", removed all encouragement to provide confidential information, and stopped "what we allege is threatening behaviour" towards contractors and employees.
"Mr Pennings to date has not agreed to this undertaking and so we are proceeding with the civil case," the spokesperson said.
Lucy is the urban affairs reporter for the Brisbane Times, with a special interest in Brisbane City Council.